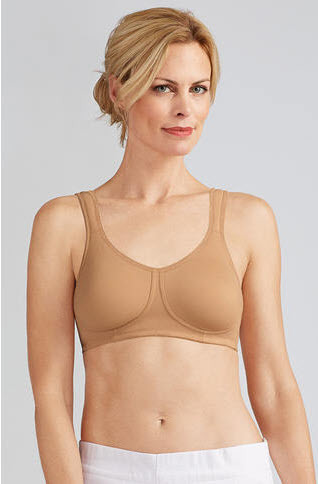 Post-mastectomy added comfort and functionality are essential in the bra you wear. Amoena mastectomy bras provide optimum comfort and design after your surgery.
A leading brand of Mastectomy bras, Amoena has been changing what it means to wear a bra after your mastectomy since 1975.
Comfort Features
After your surgery underwire bras may add pressure to already tender skin, making wearing a bra uncomfortable for some women. Amoena mastectomy bras offer wireless options, like the Hannah non-wired front closure bra, for this sensitive period.
Wide seams on the side of the bra conceal scars and add extra support, while a center front and wide under band keep the bra in place. If there is uneven tissue post-surgery, cup pockets allow you to place different sized inserts to help create a symmetrical silhouette.
Pockets inside bra cups are used to hold the prosthesis in place, and Amoena mastectomy bras are specifically tailored to offer a bra to fit every woman's unique needs.
Amoena mastectomy bras are designed with high-quality fabrics for added comfort. Katy wire-free bras and Marlena wire-free bras provide moisture wicking benefits with Naturexx® fabric finish. Mara wire-free mastectomy bras contain COOLMAX® ACTIVE breathable fabric in its bra pockets to help keep you cool.
Amoena mastectomy bras , like the Annette underwire mastectomy bra or Katy wire-free mastectomy bra, provide padded wider set straps to distribute the weight of breasts across your shoulders evenly.
Front closure bras allow for ease of use during recovery time, especially when your range of motion is diminished initially after surgery. The Frances leisure/recovery care front closure mastectomy bra is ideal for post-surgical or leisure wear, and it can be worn every day, or while you sleep because the ultra-soft fabric is soothing against sensitive skin.
Bra Fit
Your bra size changes after having a mastectomy, making it hard to find a properly fitting bra. At MastectomyShop.com, we provide step-by-step guides on how to fit your bra at home. Certified bra fitting specialists are available by phone to guide you through finding the perfect style and size when you buy Amoena mastectomy bras online.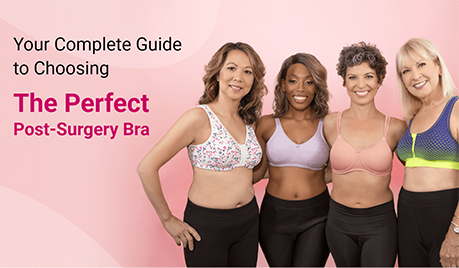 esigns
Amoena mastectomy bras come in a variety of styles to provide comfort for both every day and special occasion use. Pocketed strapless bras and seduction bras are available so you can continue to wear the outfits you love with added comfort.
If you prefer not to wear a bra at all, Amoena also offers built-in shelf bras, like the Valetta camisole with shelf bra, so you do not need to struggle with hooks. Leisure bras have light foam fabric which provides shape while lounging around the house without feeling restricted.
Amoena mastectomy bras also offer specially designed pocket sports bras for those who enjoy an active, healthy lifestyle.
For your post-mastectomy needs, Amoena mastectomy bras offer a line of post-surgery bras. These bras have the softest seams and fabrics, extra pockets, and front closures to help you heal comfortably.
There are a variety of brands available to provide you with comfort after your surgery. Whether you decide to reconstruct, wear a prosthesis, or not replace your breast tissue, soft fabrics and proper fit are still necessary. Amoena mastectomy bras are designed with these comfort needs in mind.