For women who feel insecure about their breasts, breast augmentation surgery is an excellent way to enhance the size or shape of their breasts and feel more confident in their appearance. This plastic surgery can be done using silicone breast implants or your own tissue. Recovery time for this surgery varies but is typically around two weeks.
Potential complications are associated with any type of surgery, and breast augmentation is no exception. Some common complications include infection, bleeding, and scarring. It is essential to wear the best post-surgical bra for breast augmentation to help minimize the risk of these complications. Many bras are designed for optimum recovery and comfort, available at Mastectomyshop.com.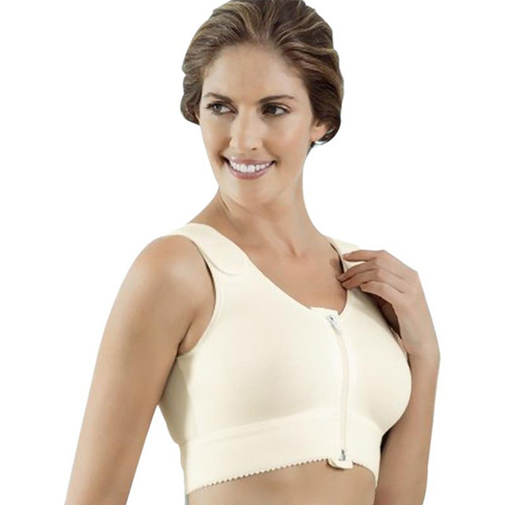 Post Surgical Compression Bras
One of the main benefits of wearing a bra designed for recovery after breast augmentation surgery is that it offers compression technology. Compression therapy can help to prevent complications such as lymphedema and implant dislocation. It can also help reduce soreness and inflammation across the chest and arms.
Providing compression and support can also help minimize swelling and speed up the healing process for operations ranging from a breast lift to breast reduction surgery. Most doctors recommend wearing this type of bra for up to six weeks after surgery.
The Anita Post Operative Compression Bra is a comfortable and breathable breast augmentation bra that provides gentle compression to help reduce swelling and promote healing. It is the best support bra for implants that also features adjustable straps and padded cups with a wide band under the bust area that supports your breasts and reduces strain on the neck and shoulders.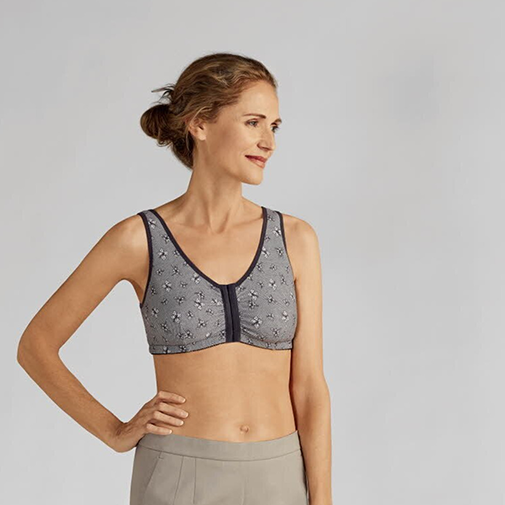 Leisure Bras
Leisure bras offer maximum comfort and flexibility after breast augmentation surgery. The high cotton content is gentle on your skin, while the front hook-and-eye closures make it easy to dress without injuring tender arms and shoulders. Leisure bras also offer added support for your back and neck as you get used to the added weight of the implants on your chest.
Amoena Frances Leisure Care Front Closure Mastectomy Bra is one of the best bras post breast augmentation, designed with your comfort and style in mind. The front closure design makes it easy to put on and take off, while the soft, stretchy material ensures a comfortable fit. The Pretty in Print fabric is stylish and fashionable, making this bra perfect for any occasion.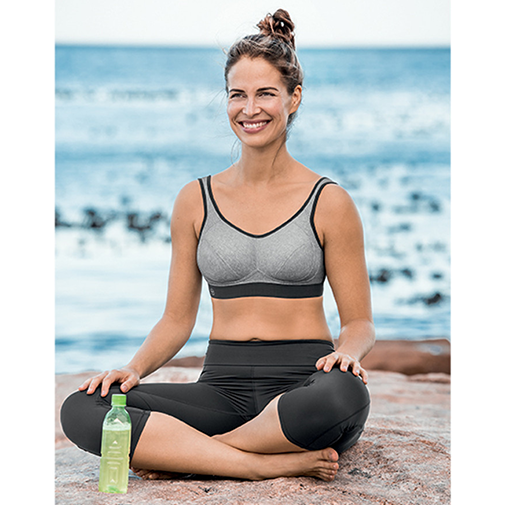 Sports Bras
Although you may not be able to work out for several weeks following surgery, after the initial healing phase is complete, exercise can be highly beneficial for your recovery. However, wearing a high-impact non-underwire bra after breast augmentation surgery is critical to reduce bounce and keep your implants in position. A sports bra can also work as an effective alternative to your compression bras to minimize swelling and discomfort. The Anita Extreme Control Post Mastectomy Bra is a sports bra with three-section outer cups and smooth fabrics for optimal support. The bra features terry cloth pockets on either side for perspiration management, making it the best bra post breast augmentation for women who want to stay active. The breathable ergonomic back is crafted from mesh fabric, and the padded straps guarantee comfort and prevent slippage.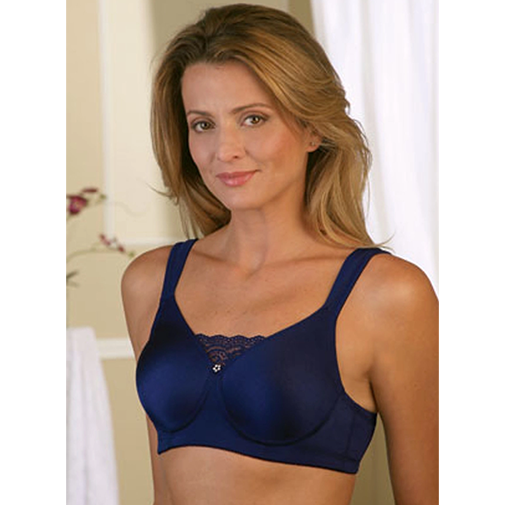 Seamless Bras
Seamless bras help to avoid irritation and sensitivity after breast augmentation surgery. They also fit discreetly under form-fitting garments so you can feel confident showing off your new body. Most plastic surgeons recommend avoiding underwire bras and wearing a seamless bra for the first few weeks after surgery. This keeps your breasts supported and comfortable as they heal, preventing skin irritation and damage.
The Jodee Soft and Smooth Molded Seamless Mastectomy Bra is ideal for wearing under close-fitting garments like dresses or t-shirts. It features molded, seamless cups that provide ample coverage and a comfortable fit. The extra-wide straps are padded for enhanced shoulder comfort. A small swatch of stretch lace gives coverage across the center of your chest, so it is ideal for wearing with low-cut tops and dresses.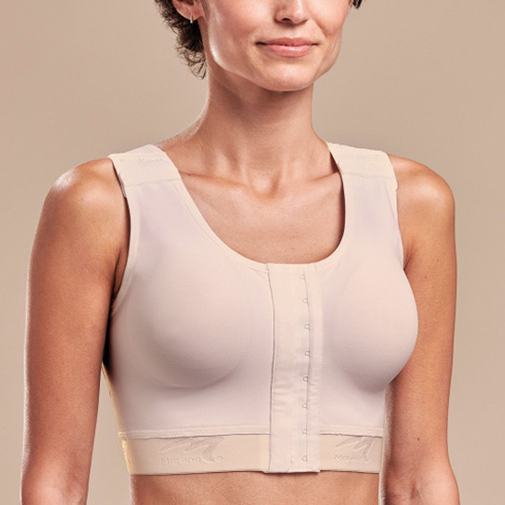 Sleep Bras
Sleep bras are some of the best bras to wear after breast augmentation as they support and help preserve the shape of your breasts after breast augmentation surgery. They are made from soft, flexible materials that make them comfortable to sleep in and prevent the straps from digging into your skin. They can be worn right after surgery to help keep your breasts supported and comfortable as you heal.
The Marena Caress High-Coverage Pocketed Bra is the perfect choice for women who want both style and comfort. The FlexFit™ pocketed cups adjust to your changing breast volume and shape as the implants drop and fluff over the several weeks following surgery. The padded hook-&-eye shoulder closure ensures maximum comfort and allows for easy management of drainage tubes and incision site cleaning.
The extended under bust band length avoids inframammary folding, making this bra the best bra for implants for women with larger busts, while the soft, elastic bottom band ensures a comfortable fit.
Visit a Professional Fitter Before and After Surgery
Choosing a bra following a breast augmentation can be challenging. It can be helpful to have a professional fitter help take measurements before and after surgery to find the ideal cup and band size to find the best bras after breast augmentation. At Mastectomyshop.com, we offer a wide range of products for breast surgery and mastectomy patients, including bras, prostheses, and swimwear. Visit our website today to find the best bra for breast augmentation recovery and get it delivered to your home.