If you are one of the many women who choose breast implants or augmentation after a mastectomy, you may be in a rush to go bra shopping and buy new bras to fit your new body. But there are some important considerations to think about when it comes to wearing a bra after plastic surgery. To help you choose the right selection of bras for your wardrobe, here are our five best bras for implants and breast augmentation recovery.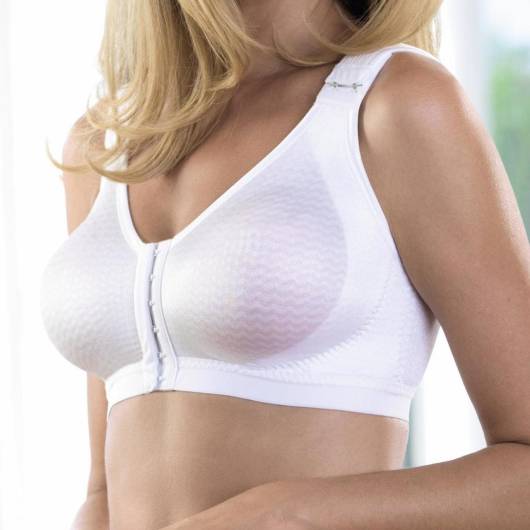 1. Post Surgical Compression Bras
Your plastic surgeon will suggest that you wear a post-surgical bra immediately after your implant and breast augmentation surgery. Wearing bras that offer compression technology is essential to prevent complications such as lymphedema and breast implant dislocation.
You may feel some soreness across your chest and arms after surgery. The Anita Post Operative Compression Bra features over-the-shoulder Velcro straps and front closure which has both hook-and-eye and zippered fasteners to allow for quick and easy dressing, changing drainage tubes and cleaning the incision site.
The bra uses carefully controlled compression around the surgical site to promote the flow of blood and lymph fluid. The compression bra is also compatible with a compression chest belt which applies gentle pressure over the top of the chest to prevent implants from rising high on the chest wall.
2. Leisure Bras
Rest is a vital part of the healing process to allow your body to gradually recover and become accustomed to your new implants. To get adequate rest you need a bra that offers maximum comfort and flexibility. A leisure bra is constructed from the softest material and offers ample features to increase your comfort while relaxing at home.
The Amoena Frances Recovery Leisure Bra features a high cotton content which is kind and gentle to your skin after breast augmentation surgery. Front hook-and-eye closures allow for easy dressing to prevent injuring tender arms and shoulders, it also offers added support for your back and neck as you get used to the added weight of the implants on your chest.
Extra-wide straps flow into a wide back panel that helps to evenly distribute the weight of your augmented breasts across your shoulders to avoid neck pain.
3. Sports Bras
It can take months before your implants settle into their final position but that doesn't mean that you need to forgo your favorite workout while you recover. A high-quality sports bra offers the support you need to reduce bounce and keep your implants in position while you exercise.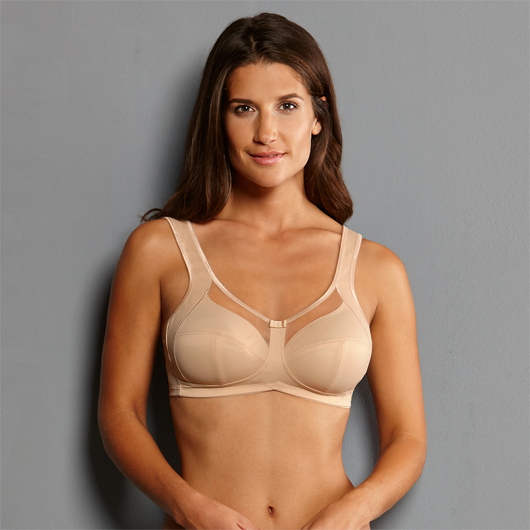 The Anita Extreme Control Post Mastectomy Sports Bra offers features that provide comfort and support for your implants and natural breast tissue. Three-panel cups and extra wide elastic bands provide gentle compression that separate and lift your breasts to keep them secure during your workout. The bra cups have a terry cloth lining to wick away moisture, while an ergonomic tailored back constructed from lightweight mesh allows for optimal breathability and temperature control.
4. Seamless Bras
Scar tissue from breast augmentation can feel itchy and sensitive for months after you have recovered from surgery. To avoid irritation, a seamless bra is an essential part of your post-surgical wardrobe. Seamless bras also fit discreetly under form-fitting garments so you can feel confident showing off your new body.
There is a huge variety of seamless bra styles to choose from, but the Jodee Soft and Smooth Seamless bra offers molded cups to lift and enhance your new bust shape. The bra also features wide padded straps to spread the weight of your implants across your shoulders for better comfort and wide underbust cups provide added support.
5. Sleep Bras
Your doctor may request that you sleep in your post-surgical bras for at least six weeks after surgery to preserve the shape of your implants. However, many post-surgical vests and bras can feel uncomfortable while you sleep. The right sleep bra constructed from ultra-soft flexible materials helps to keep you secure while letting you get a good night's rest.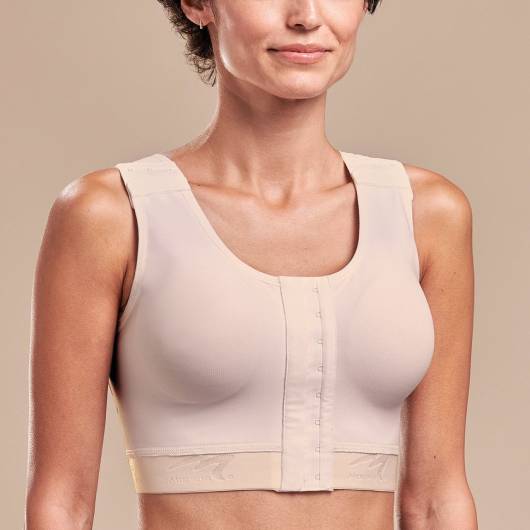 The Marena Caress High Coverage Bra features a longline design and wide straps that feel more like your favorite sleep camisole than a bra. The TriFlex fabric offers mild compression as well as moisture-wicking and temperature control technology to keep you cool and dry all night long. The specialized fabric can maintain consistent pressure without binding and has Silvadur antimicrobial protection to keep your bra hygienically clean.
Tips for Wearing a Bra After Breast Augmentation and Implants
Avoid Underwires
While underwire bras do offer outstanding support for your reconstructed breast, it is not recommended that you wear an underwire bra for at least 3-4 months after surgery as wires can easily dig into implants and irritate scar tissue making it more visible.
Visit a Professional Fitter Before and After Surgery
To have your post-surgery bra ready to wear immediately after your surgery, you will need to go for a bra fitting before your breast augmentation. However, for the rest of your bras, visit a certified fitter approximately 6-8 weeks after surgery to allow the swelling around your chest to subside so that the fitter can get accurate measurements cup size and band size.
Final Thoughts
Finding the right bra size is just as important as shopping for the right bra, so visit a fitter to get the ideal bra for your body. Find out more about the amazing selection of post-surgical bras we have to offer at Mastectomyshop.com by calling our friendly support staff at (877)-912-0775.