Selecting a comfortable nursing bra is a crucial step in making the transition to motherhood as seamless as possible. Nursing bras provide more than just aesthetic appeal; they offer much-needed support, comfort, and functionality that can impact your well-being and ease your breastfeeding journey.
The ideal nursing bra should adapt to your changing body, facilitate quick and straightforward feeding sessions, and provide excellent support to mitigate discomfort.
Our comprehensive guide will help you navigate various aspects of choosing the most comfortable nursing bra. From material quality to fit and functionality, the following tips offer expert insights to help you find a bra that best suits your postpartum needs.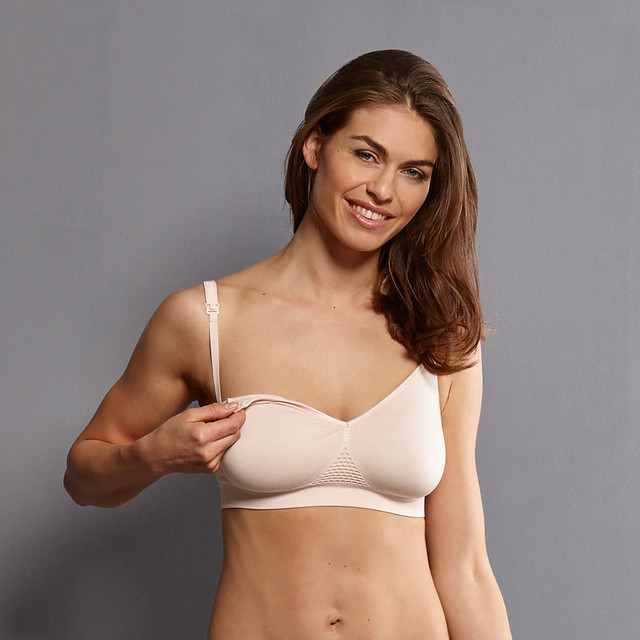 Understanding the Importance of a Comfortable Nursing Bra
A comfortable nursing bra is vital during the physically and emotionally demanding period of a new mother's life. A well-fitting, quality nursing bra offers crucial support to the ligaments and tissues of the breast, reducing the risk of stretch marks and sagging as the breasts rapidly swell and shrink during breastfeeding.
Many new mothers also experience back and neck pain due to prolonged sitting and an uncomfortable posture while breastfeeding. Nursing bras can alleviate discomfort by supporting and evenly distributing the weight of the breasts across the shoulders.
Nursing bras are also designed for maximum functionality; easy one-handed clips and adjustable straps enable quicker, hassle-free nursing sessions.
Tips for Finding a Comfortable Nursing Bra
Finding the right bra can be challenging if you are a new mother. You need a comfortable yet supportive bra packed with features that make nursing simple. The following tips can help you find the right bra for your postpartum body.
Choose the Right Fabric for Ultimate Comfort
Choosing a nursing bra with a suitable fabric is essential for optimal comfort and health. Materials like cotton and high-performance poly-blends are popular because they are soft against the skin, breathable, and hypoallergenic. Breathability is vital for reducing sweat and the risk of skin irritations or infections like candida.
Some advanced fabrics even have anti-microbial properties to fend off bacteria, further ensuring a healthier skin environment. Moisture-wicking properties are also beneficial; they draw moisture away from the skin, keeping you dry and comfortable during frequent feedings.
Ensure the Perfect Size and Fit for a Smooth Nursing Experience
Ensuring your nursing bra's perfect size and fit is crucial for a smooth nursing experience. A poorly fitted bra can lead to discomfort, back pain, and issues like blocked milk ducts, which can lead to mastitis, a painful infection.
To find the right size, consider getting professionally fitted. A certified fitter can measure not just the bust but also the underbust and can recommend the best styles for your shape.
Remember that your breast size may fluctuate during pregnancy and postpartum, so opt for a bra with adjustable straps and multiple hook settings for flexibility or stretchy, non-molded cups.
A well-fitting bra should offer adequate support without squeezing or pinching the breast tissue, ensuring you and your baby have a comfortable nursing experience.
Look for Special Design Features for Enhanced Functionality
Special design features can enhance functionality when selecting a nursing bra, making the nursing process smoother. For instance, quick-release or one-handed clips make unfastening the cup for breastfeeding easier, enabling a smoother experience.
Some bras also come with built-in pockets for nursing pads, which can benefit mothers experiencing leakage. Another feature to consider is an inner sling or support band, which can offer extra support while the cup is down, while wide, cushioned straps distribute weight more evenly, reducing the risk of shoulder pain or digging.
Buy Your Nursing Bra at the Right Time
Buying too early or late in your pregnancy may result in an ill-fitting bra due to body changes. Ideally, you should buy a nursing bra during the third trimester, around the 36th week of pregnancy, when your breasts have mostly reached the size they'll be for breastfeeding.
Consider buying at least two bras for rotation; this allows you to wash your bras frequently to avoid infection and skin rashes.
You should also re-evaluate your size after the baby is born, as milk supply and postpartum weight loss can further affect breast size.
Prioritize Strong Support to Minimize Discomfort and Muscle Strain
Strong support in a nursing bra is not just a luxury; it's necessary to minimize discomfort and muscle strain. The added weight of milk-filled breasts can stress your back, neck, and shoulders.
A supportive bra will feature wide straps, a sturdy underband and multiple hook-and-eye closures for better weight distribution and ease of adjustment. Some bras come with built-in inner slings or padding to provide extra lift and keep the breasts in place.
High-quality supportive bras can also help prevent issues like ligament strain or sagging. Ensure you try on different styles and shapes to find the one that offers the most secure fit.
Choose Flexibility to Adapt to Your Changing Shape
Choosing a flexible nursing bra is essential to adapt to your body's changing shape, particularly during the initial post-partum period and as your milk supply stabilizes.
For this reason, look for bras that feature stretchable fabric, adjustable straps, and multiple hook-and-eye closures. A flexible fit allows the bra to accommodate fluctuations in breast size, which is common during milk production and breastfeeding cycles. Some bras also offer removable padding or inserts, offering additional adaptability.
A flexible bra can transition with you through different stages of motherhood, from the late stages of pregnancy to breastfeeding and beyond. Investing in a flexible nursing bra ensures not only your comfort but also the longevity of the garment.
Choose Seamless or Wireless Designs
Choosing seamless or wireless designs in nursing bras can offer unparalleled comfort, especially during extended wear. Seamless bras have no rough edges or stitching that might irritate the skin or lead to chafing. This is vital considering the sensitive nature of a nursing mother's skin and the constant skin-to-skin contact during breastfeeding.
Wireless designs eliminate the potential discomfort of underwires digging into the skin or pressing on milk ducts, which can lead to blockages or mastitis. Furthermore, a wireless design can adapt better to the changing shape of the breast throughout the day.
Buy a Sleep Nursing Bra
During the first several months of your baby's life, you'll need to feed them every 2-4 hours, which means midnight and early morning feeds. Your milk production increases at night, leading to swollen breasts. A sleep nursing bra not only helps support the weight of your breasts while sleeping but also allows for quick and easy nighttime feeds or pumping sessions.
A sleep nursing bra also lets you wear nursing pads at night to prevent leakage through your pajamas or bedding.
Ensure your sleep nursing bra is non-wired, and consider a model that slips over your head rather than using fasteners. This makes it more comfortable to sleep on your back without worrying about metal hardware digging into your spine.
Invest in Quality Over Quantity
Investing in quality over quantity in nursing bras can ensure maximum comfort, durability, and overall satisfaction. While it may be tempting to stock up on cheaper options, these often wear out faster and may not provide the support and comfort you need.
High-quality nursing bras from trusted brands like Anita and Leonisa are designed with strong, breathable fabric, adjustable straps, multiple hook-and-eye closures, and other functional features that make nursing easier.
They also tend to be more durable, meaning you'll spend less over time replacing worn-out bras. Investing in two or three high-quality bras that meet all your needs can be far more beneficial than buying multiple less effective, lower-quality options.
Choose Neutrals Rather Than Patterned Styles
Choosing neutral-colored nursing bras provides a practical and versatile choice for new mothers. Neutral tones like beige, white, or black are more likely to blend seamlessly under various clothing, from everyday casual to more formal attire. This is particularly beneficial for nursing mothers in public or at work who prefer a less conspicuous look.
Top Nursing Bras
At Mastectomyshop.com, we understand that finding the right nursing bra can be challenging. The following are top bras from industry-leading brands with many features to support your breastfeeding journey.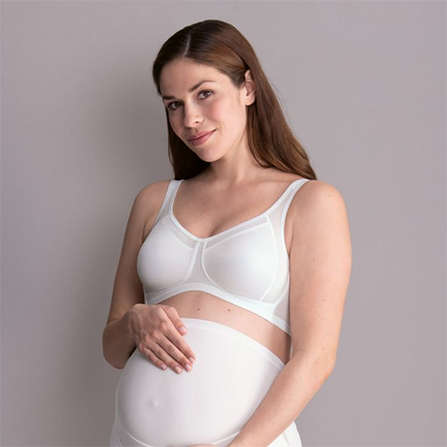 Anita Basic Maternity Bra
The Anita Basic Maternity Bra combines a simple design with a high comfort level, making it an essential choice for expectant and new mothers. Crafted from a blend of 40% Nylon, 35% Polyester, 15% Cotton, and 10% Elastane, this bra offers elasticated fabric for support and relief from breast discomfort while helping to prevent stretch marks by allowing room for growth. Incorporated side support adds stability to the breasts.
Available in sizes 32 to 44 and cup sizes B to G, the bra features seamlessly preformed cups, marquisette-reinforced straps in larger sizes, and power mesh lining for added support.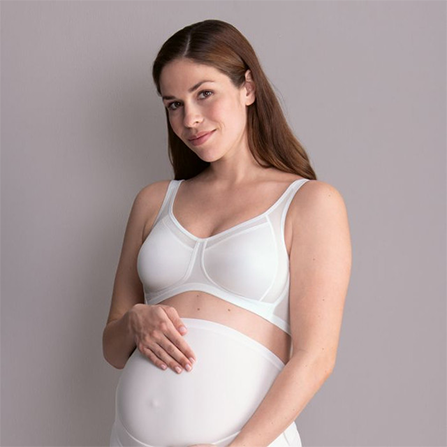 Leonisa Wireless Back Support Nursing Bra
The Leonisa Wireless Back Support Nursing Bra is a new mom's dream come true, offering both comfort and practicality. Made with cutting-edge SkinFuse® technology, this bra feels soft, smooth, and almost invisible under clothing. It features full-coverage wireless cups and a wide elastic underbust band for maximum support.
Specialty bands on the back are designed to improve your posture, while the interior structure keeps your bust in place during nursing. Wide, adjustable straps ensure comfortable, long-lasting wear, and integrated cup clips allow you to nurse your baby without removing the bra.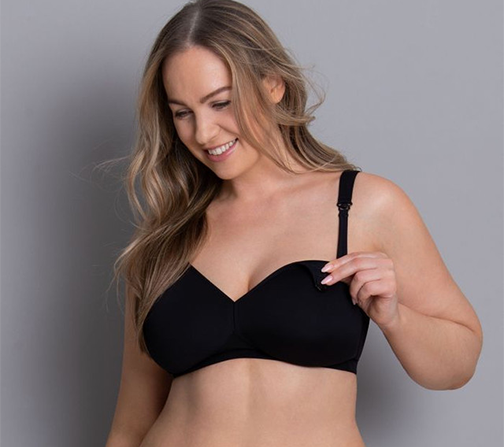 Anita Miss Anita Wireless Nursing Bra With Spacer Cups
The Anita Miss Anita Wireless Nursing Bra with Spacer Cups is designed with an elegant, low-cut, wide neckline to enhance your silhouette while being practical for breastfeeding. Made of 48% Nylon, 37% Polyester, 10% Elastane, and 5% Polyurethane, it features breathable spacer fabric cups for a cool body temperature.
The nursing pads are discreet, and the straps are specially designed to increase with size range, ensuring they won't slip during feedings. With power mesh lining in the back for added support, this bra combines beauty and utility in one seamless package.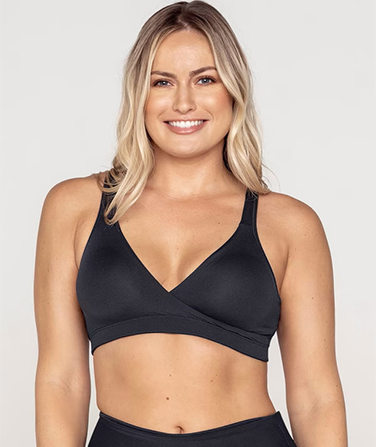 Leonisa Multipurpose Pullover Nursing Bra
The Leonisa Multipurpose Pullover Nursing Bra is an all-in-one solution for women looking for comfort, functionality, and adaptability. This bra is ideal for early pregnancy purchases, as its soft, light fabric and full-coverage cups are designed to stretch with your body, offering a perfect fit as you go through various stages of pregnancy and nursing. The hookless, wireless design eliminates common pressure points, making it an excellent sleep bra.
Enhanced with antibacterial technology, it ensures you feel fresh all day long. The removable foam contour padding and a gentle, elasticated underbust band offer optimal support without compromising comfort, while the wider straps ensure the shoulders are free from strain.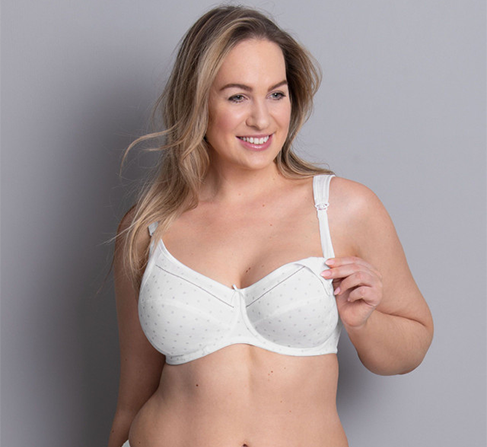 Anita Miss Cotton Underwire Nursing Bra
While standard underwire bras can dig into delicate breast tissue, the Anita Miss Cotton Underwire Nursing Bra offers a seamless blend of functionality and comfort, making it a top choice for breastfeeding mothers.
Designed with textured cotton fabric, it provides breathability and a concealing effect, ensuring nursing pads remain nearly invisible. The 3-part cup design and underwire offer precision fit and additional power net lining provides support up to cup size J for ladies with a bigger bust. Attached to the breast support, the comfort straps facilitate stress-free breastfeeding.
Caring for Your Nursing Bra
Caring for your nursing bra is an overlooked but crucial aspect of maintaining the bra's lifespan and ensuring your comfort. Nursing bras are exposed to lotions, breast milk, sweat, and spit-up, which means they require special attention to stay clean and functional.
A well-cared-for bra can provide consistent support, maintain its elasticity, and offer you the comfort needed during this special time. Use the following practical tips to take care of your nursing bras:
Read the care label: Always check the care label on your nursing bra to follow manufacturer guidelines. This will give you information on wash and dry procedures for the fabric type.
Hand wash if possible: Hand washing in cold water with mild detergent is the gentlest way to clean your nursing bra. This helps maintain the shape and elasticity of the fabric.
Use a lingerie bag: New moms are busy, and breastfeeding and diapering multiple times daily means that machine washing is sometimes unavoidable. If you use the washer, use a lingerie bag and secure any clasps together to protect the bra from snagging on other clothes and reduce wear and tear.
Avoid harsh detergents: Strong detergents and bleach can break down the fabric's elasticity and irritate sensitive skin. Opt for mild or organic detergents instead.
Air dry: Tumble drying can damage the fibers and warp the cups and underwires in your nursing bra. Air drying is the best option to maintain shape and elasticity. Lay the bra flat on a towel to dry, reshaping the cups as needed. You can place clean rolled-up socks under the cups to help preserve their shape.
Rotate frequently: Having multiple bras that you can rotate through reduces the stress on each individual bra, prolonging its life. Keep two nursing bras and two sleep bras in your wardrobe.
Spot treat stains: Accidental spills are common. Spot treat any stains with a mild detergent or an enzymatic spray as soon as possible to prevent them from setting.
Store properly: Use padded hangers or lay them flat in a drawer. Do not fold one cup into the other, which may distort the bra's shape.
Inspect regularly: Check for any signs of wear and tear, like loose threads or damaged clasps, and repair them promptly to prevent further damage.
Support Your Body on Your Breastfeeding Journey
The time you spend breastfeeding your newborn is a special time that helps you bond and create precious memories with your little one. A comfortable, supportive nursing bra can help simplify your nursing sessions and protect your back.
Explore the complete selection of comfortable nursing bras and maternity products at Mastectomyshop.com.