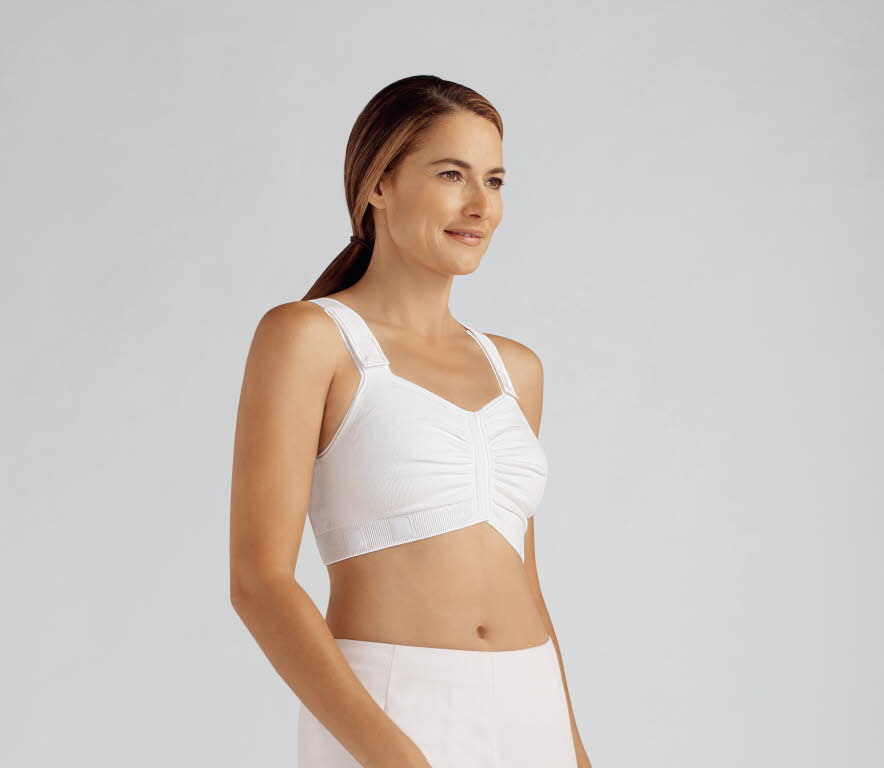 Investing in a supportive recovery bra is essential for anyone who has undergone a mastectomy. With the selection of exceptional recovery wear available online today, such as Amoena post-mastectomy bras, finding the right post-surgery bra is easier than ever before.
During the recovery period, breasts may be swollen and sensitive, and you will likely require extra support and added comfort to ensure the tissues and skin heal properly. This makes choosing the correct combination of fit, comfort, and style a necessity.
Comfort
When you buy Amoena post-mastectomy bras online, you will find that recovery bras are meticulously designed to be more conducive to the healing process. Recovery wear should never include certain design elements that you might find in a standard bra, such as underwire.
Instead, recovery bras are designed with your needs in mind and include various recovery features. This can include frontal closures, underwire-free designs, cups, and wider bands.
Front clasps
Standard bras are traditionally designed with a closure that is located at the back of the bra. Typical sports bras lack a clasp entirely and must be removed over the head.
Because movement is limited at the beginning of the recovery period, recovery bras should always feature front clasps that are easy to maneuver, such as zippers or hook-and-eye closures.
Bras with hook-and-eye closures are often adjustable and allow for the bra to be worn at the tightest setting for compression at the beginning of the healing period. They can then be gradually loosened.
Fabric
Recovery bras will utilize materials, such as powernet, that compress the chest area and afford maximum support. It is best to look for models that have a high cotton content for breathability. Cotton is also gentler on the skin.
Though they may feel constricting when first worn, this will pass as the wearer becomes used to the feeling and the swelling reduces.
Underbands, straps, and cups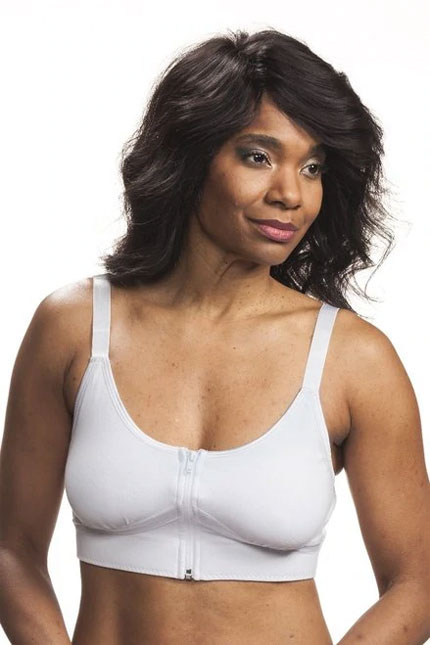 Recovery bras feature thicker, adjustable bands that support the chest at every stage of recovery. The adjustability of the straps allows the wearer to choose their own custom fit and adapt the length of the straps to their needs.
The comfortable elastic straps should be thicker than those of a standard bra to afford maximum lift and control.
Recovery bras also utilize soft, seamless cups that are underwire-free. These cups help to protect the delicate breast tissues as the chest heals. They may also include pockets for holding drainage bags.
Underbands take the place of the traditional underwire to support the chest and avoid irritation to incision areas and scar tissue.
Style
Recovery bras typically look like sports bras, but they have seamless cups rather than moldable cups and also feature extra padding.
The style of recovery bra that you choose will depend on your procedure. Look for deep front and side panels that afford support and coverage for your sensitive tissue.
Fit
Every woman knows that bra sizing can be challenging in any situation, but for those who have undergone a mastectomy, the fit must be a primary concern.
It is essential to plan ahead and have an adjustable post-surgery bra on hand before the surgery takes place.
Because the size you need may vary according to the amount of swelling you experience or change dramatically due to weight fluctuation, it is best to purchase the majority of your recovery bras post-surgery, after you have a better idea of your needs.
The variability of styles and fits of post-mastectomy bras available online make your post-recovery period care-free and comfortable as possible.