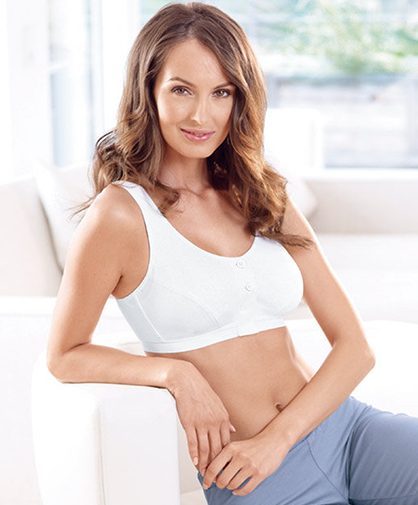 Finding the right post-mastectomy clothing can be a costly trial and error process if you don't know what to look for. So we've compiled a guide to make your shopping simpler.
In this guide, explore great options across all styles of post-mastectomy clothing so you can begin to create a wardrobe that aligns with your needs and your personal style.
Post-Surgery Recovery Wear
Recovery wear, like post-surgical bras and compression garments, are often the first line of defense against complications that may arise after breast surgery, such as infection, soreness, and swelling.
Post-Surgery Bra
After breast surgery, it's vital to keep your surgical site clean and protected to avoid accidental damage and other post-surgical concerns like lymphedema. To protect your breast area and aid recovery after a mastectomy or reconstructive surgery, invest in post-surgery recovery wear, such as a post-surgical bra or bra kit.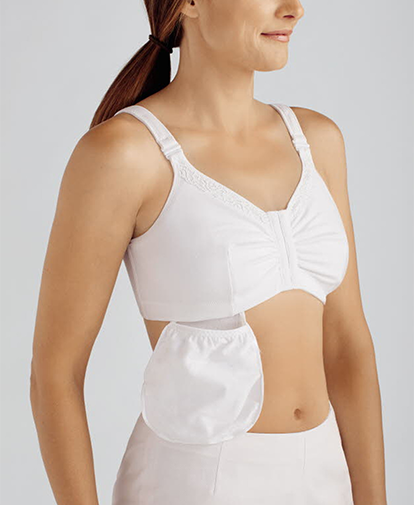 The Amoena Hannah Mastectomy Bra Kit includes two fiberfill breast forms and two removable drain pouches to help with drain management. Its front closures, ultra-soft fabric, and padded straps will keep you comfortable and reduce your risk of infection during early recovery.
Compression Garments
If you risk developing lymphedema, a common post-surgery condition in breast cancer patients, include compression garments in your post-mastectomy clothing collection. Compression bras, stockings, leggings, sleeves, and bandages offer the gentle compression required to reduce the swelling common in lymphedema.
Swell Spots are also available in a range of shapes and sizes that help reduce fibrosis and swelling in your breast area following surgery. If you choose to wear a Swell Spot you can tuck it into your sports bra or use it with the Wear Ease Compression Bra.
Athletic Wear
Gentle exercise can help you regain your range of motion and flexibility after surgery. Adding movement to your routine can also help improve your aerobic capacity and reduce your risk of lymphedema, which can assist in recovery.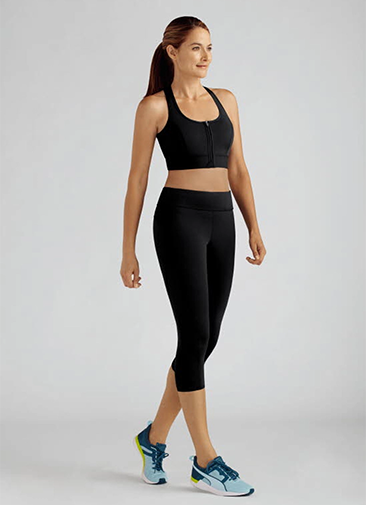 Sports Bras
Most mastectomy sports bras are designed with the same helpful features included in traditional mastectomy bras, like gentle compression, front closures, and wide straps. The Amoena Zipper Support Sports Bra is one of the best supportive options. Its wide rounded neck, racerback, and front zipper make the bra easy to put on and take off.
Sports Tops
Sports tops, like the Amoena Mastectomy Sports Top, are ideal for gentler workouts. Made with 26% XTRA® LIFE LYCRA™ for durability, this racerback top has a pink pattern on each side that adds interest and naturally slims.
If you want more coverage when exercising, choose a sports top that falls below the waist for the most comfortable fit. The Ameona top has an integrated shelf bra that accommodates a breast prosthesis or shapers.
Leggings
Complete your athletic look with a comfortable pair of leggings or sports tights. The Anita Sports Tights are made of breathable, high-quality microfiber polyester that hugs your figure and removes moisture to keep you cool. Its wide waistband is smooth and prevents slippage, and its ¾-length creates a classic, sporty silhouette. The leggings even come with reflector strips that ensure your safety when exercising in low light.
Leisurewear
Embrace comfort day and night by adding leisurewear products like joggers, robes, and wrap gowns to your post-mastectomy wardrobe.
Joggers
Trendy and cozy joggers offer a flattering fit for bodies of all shapes and sizes. The Brobe Comfort Joggers are great everyday pants to wear during your recovery. Made from a cotton blend for durability, the Brobe joggers come with pockets and stylish ruched bottoms. Like all good joggers, these pants flatter your natural curves, and the elastic drawstring waistband allows you to adjust the fit to your comfort.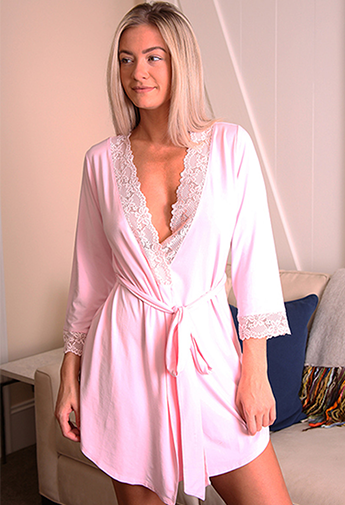 Robes
A robe is an excellent post-mastectomy clothing option for women in all stages of recovery from surgery. When shopping, look for a robe made of soft, lightweight material that won't irritate your surgical site or chafe your sensitive skin.
The Undie Couture Jersey Lace Robe has a delicate scalloped lace trim that offers a subtle feminine touch. Its ¾-length sleeves do not restrict your range of motion, and you can use or remove the tie belt as needed. There's even an inner tie that allows you to customize your fit. Choose between heavenly pink, ivory, or black.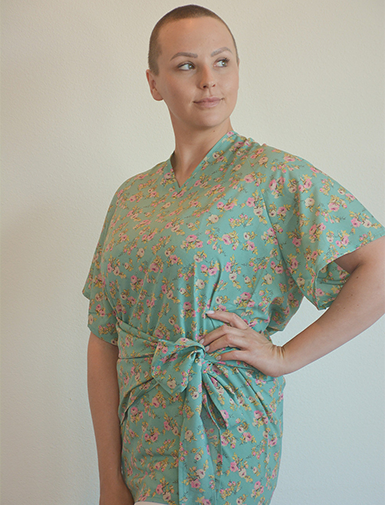 Wrap Gowns
Gowns like the Radiant Wrap Designer Gown offer easy comfort during recovery. Radiant wrap gowns are super streamlined: no velcro, snaps, buttons, or other extraneous ties. Made with 100% polyester, these gowns are strong and lightweight, and since one size fits all (up to 2XL), you don't have to worry about taking measurements. Each wrap comes with a matching tote bag.
Camisoles and Tank Tops
Camis and tanks are great everyday tops to wear on their own or underneath your outfit. The right top for you depends on the features you are looking for. To make your shopping easier, here are some of our favorite tops based on their specific features:
Drain management: the Amoena Michelle Mastectomy Camisole is a post-surgical garment with removable drain pouches that can make your healing process more comfortable.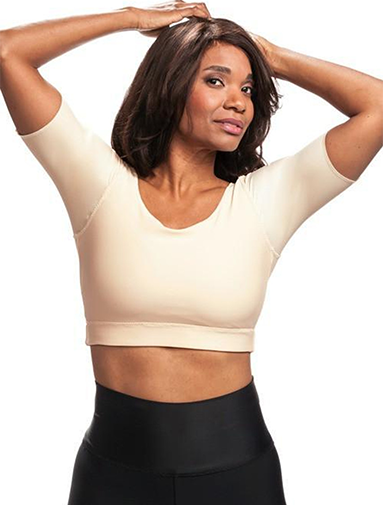 Compression: the Wear Ease Compression Crop Top is ideal for women who only need gentle compression on their upper torso. For total torso compression, a bodysuit can be a great option.
Petite: women with a petite figure will love the Wear Ease Compression Camisole, a stylish alternative to a compression bra that offers the same relief from swelling. The cami comes with pockets for breast forms, and you can wear it instead of a bra.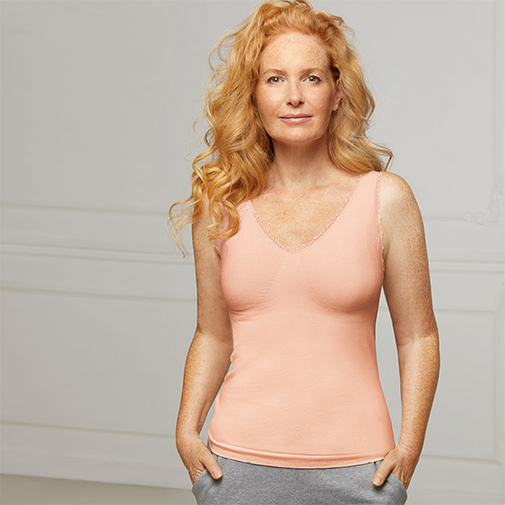 High Cotton content: the Amoena Kitty Mastectomy Top is made from 69% cotton for ultimate comfort. It comes with removable, molded cups, pockets, and no uncomfortable seams or closures that can irritate your skin. Its rose nude color and delicate trim give the top its subtle elegance.
Slippers
Complete your loungewear collection with a pair of Undie Couture Criss-Cross Slide Slippers and pamper your feet. These faux fur slippers are incredibly soft and fuzzy and are available in black, gray, ivory, and pink.
Maternity Clothing
Pregnancy can bring a host of new aches and discomfort that can feel overwhelming on top of your recovery from breast cancer surgery. It's important to buy maternity clothing that makes you feel confident and comfortable so take care of yourself with post-mastectomy maternity bras, briefs, belts, and even full-coverage maternity swimsuits.
Post-Mastectomy Bras
There is no shortage of post-mastectomy bra options, making it challenging to know what to look for. You probably won't find every recommended feature all in a single bra, but if you know your priorities, you can narrow down your choices.
To make it easier, keep these features in mind to find your best bra after mastectomy:
Pockets
Front closure
Wide, adjustable straps
Wire-free design
Seamless design
Soft cups
Wide underband
High cotton content
High neckline and arm holes
Depending on your specific needs, some bra styles may be more appropriate. For example, check that the bra's fabric is soft and comfortable if you have sensitive skin.
If you foresee dressing and undressing being problematic, you may want to opt for a front closure bra with zippers or hook and eye closures that are easy to access. There are also plus size bras available which may feel more comfortable for those with a larger cup size.
Shop Post-Mastectomy Clothing at Mastecomyshop.com
Find comfortable, high-quality post-mastectomy clothing for your recovery wardrobe at Mastectomyshop.com. We also offer a range of breast forms, partials, and shapers, including non-silicone prostheses and swim forms that are safe to wear in the pool or ocean.
If you're looking for Breast Cancer Awareness Gifts for a loved one to show your support, a tote bag, umbrella, lapel pin, or keychain is a great place to start.
For more information about any of our products contact us at (877) 413-2272. If you'd like to arrange a personal in-person or virtual fitting, contact A Fitting Experience Mastectomy Shoppe for assistance.
Their compassionate licensed and certified fitters can guide you on the most suitable products to include in your post-mastectomy wardrobe for each stage of your recovery. They are HIPAA compliant and can assist in obtaining referral authorizations and prescriptions to bill your health insurance, so you can focus on healing.