In the days following any type of surgery, a recovery process is required to ensure the safest and fastest healing. For anyone undergoing a breast lift, this recovery takes time and patience. Whether you're seeking to match a natural breast with a reconstructed one after a partial mastectomy or to achieve symmetry after some time passes, a breast lift can provide a boost in confidence and promote a positive self-image.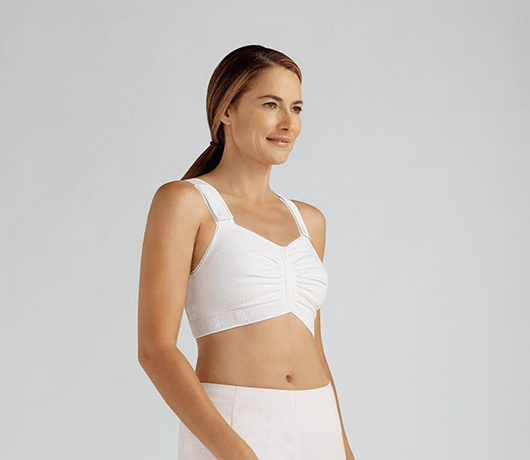 One of the requirements most doctors recommend is wearing a surgical bra during the recovery period following your surgery. While you may be excited to dress up your new and improved breasts, starting with the plain surgical bra is essential.
What is a Breast Lift?
A breast lift, medically known as mastopexy, is a type of surgical procedure undertaken by a plastic surgeon with the purpose of changing the shape or other feature of the breast. This is different from inserting a breast implant that comes in certain sizes and is primarily used to increase volume.
Excess skin is skillfully removed during the plastic surgery, and the remaining breast tissue is reshaped to lift the breast. A breast lift counteracts sagging and can also reposition the nipple and areolae, the darker skin surrounding the nipple.
Breast lifts often take place at the same time as breast augmentation or breast reduction. The procedure can also be done at the same time as your partial mastectomy, depending on your circumstances and your doctor's advice.
What is Different About a Surgical Bra?
A surgical bra is specially designed for providing support to foster healing. Usually, it is made of soft, breathable fabric, adjustable straps, and may even have cutouts for surgical drains. The bra offers greater coverage than regular bras, much like sports bras, and provides a gentle lift and slight compression. Another feature to look for is a front closure for easy dressing.
Why is it Necessary to Wear a Surgical Bra after a Breast Lift?
Following your breast lift surgery, your chest tissue is sensitive and needs time to heal. Movement can lead to discomfort, and even cause pulled stitches due to the breast's weight.
There are several reasons why wearing a surgical bra is necessary following a breast lift. You may want to think of them as a comfortable type of bandage that:
Provides the right amount of support needed following surgery, allowing you to return to some of your daily activities, such as walking without bouncing or shifting your breasts.

Keeps the new shape of your breast stable and in place.

Allows your breast tissue and body to heal in the breast's new position.
Keeps breast tissue elevated away from stitches, keeping them safe from irritation.
Prevents the breast from drooping downwards after the healing process is complete.
Lessens stress on your skin, especially as it heals.
Helps incision sites heal and fade by keeping excess pressure off of them. Pressure on these sites can lead to inflammation and increased scarring.
Provides gentle compression, lessening the chances of lymphedema and excessive swelling. The compression assists the body's blood circulation and proper drainage of the body's byproducts, and wearing a compression bra is often recommended following any type of breast surgery.
You'll need to wear your surgical bra constantly around the clock, even sleeping in it. Tossing and turning while sleeping can wreak havoc and change the shape of your breast.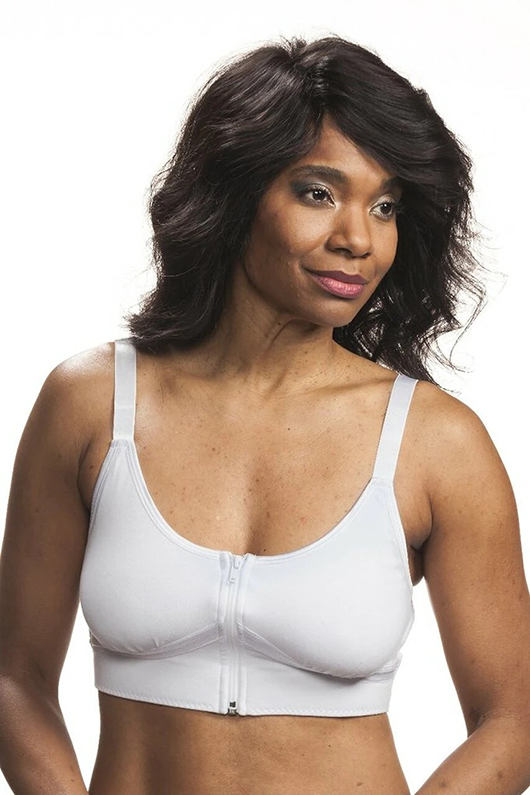 Look for a comfortable design for your body frame, such as the easy-to-slip-on Allyson Post-Surgical Bra by Wear Ease. Made for women following any type of breast surgery, the bra is made of soft combed cotton, comfortable adjustable straps, and a smooth wide bottom band. It's the perfect bra to wear all day and also sleep in at night.
How Long is Wearing a Surgical Bra Necessary?
Your plastic surgeon determines the length of time you need to wear a surgical bra following a breast lift. To begin, you will start wearing the bra 24 hours a day. Within a few days, you may be able to take it off for an hour or so but will still need to keep it on overnight as you sleep.
Expect to wear your surgical bra for a few weeks or up to a month, depending on your surgery, healing abilities, and your doctor's recommendations.
It's a good idea to add more than one surgical bra to your wardrobe so you can switch them out every 2-3 days for washing. One to consider adding to your post-surgery days is the Anita Post Operative Compression Bra. The straps on this bra are easy to adjust and come with a Velcro-type fastener for convenience. Its wide band and strap design promotes healing and prevents tissue irritation.
Visit Mastectomyshop.com for All Your Bra Needs
Surgical bras provide comfort and support to allow your body to heal naturally. You'll need a few of these on hand to wear after your breast lift. Mastectomyshop.com carries a variety of brands and styles suitable for full day and night wearing. We stock bras for all your needs, from pocketed mastectomy bras to a comfortable sports bra. Explore our range online or call us today at (877) 413-2272 for assistance.