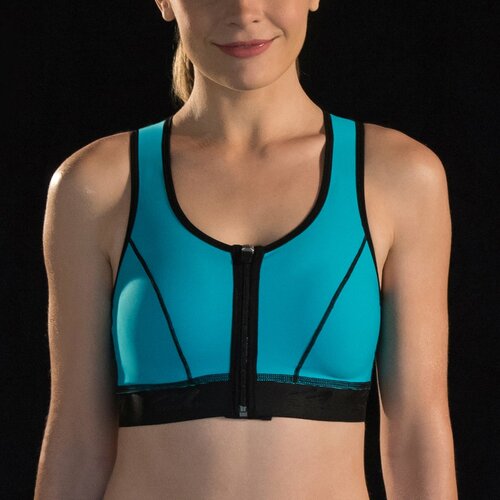 Your doctor may clear you to resume your regular exercise routine in the months following breast cancer surgery. Exercise can be an excellent way to regain your strength and flexibility post-surgery and promote better mental health, helping boost your self-esteem.
However, to get the most out of your workout and avoid damaging sensitive breast tissue, you need to support your breasts and breast forms. Unfortunately, standard everyday bras don't provide the level of support you need. After breast surgery, you need a selection of sports bras that offer the right balance of support and comfort for your activity level.
Which Level of Support Do I Need?
You may think that your need for a sports bra is dependent entirely on your cup size, but even women with small breasts are at risk of damaging their ligaments or hurting their back if they work out without the appropriate support. One of the best ways to determine the type of sports bra you need is to find out whether your workouts are low, medium, or high impact.
Perhaps you have heard the term "impact" used when describing running shoes, where it is used to describe the pressure certain activities have on your joints. It is also used to talk about sports bras, referring to an activity's effect on the breasts.
Low Impact Sports Bras
Ideal for sports with little or no breast bounce, such as yoga, pilates, or walking, low impact bras offer gentle support and are comfortable enough to be worn all day long. If you wear a small cup size, these bras may be supportive enough for slightly more vigorous exercise, such as cycling, whereas women with larger breasts may find this style is only suitable for wearing around the house.
Medium Impact Sports Bras
This style is versatile, with more support than low impact sports bras but less compression than a high impact model. For many women, this level of support is appropriate for activities such as using the elliptical, cycling, or weight training.
High Impact Sports Bras
Offering good support for high impact activities, this bra style tends to have a high level of compression, sturdy shoulder straps, and a wide bottom band. They are ideal for any sport that involves jumping or bouncing, such as running, HIIT, dancing, horseback riding, and kickboxing. High impact bras are particularly popular with women who wear a larger cup size as they offer high support to all sizes, elevating pain during and after a workout.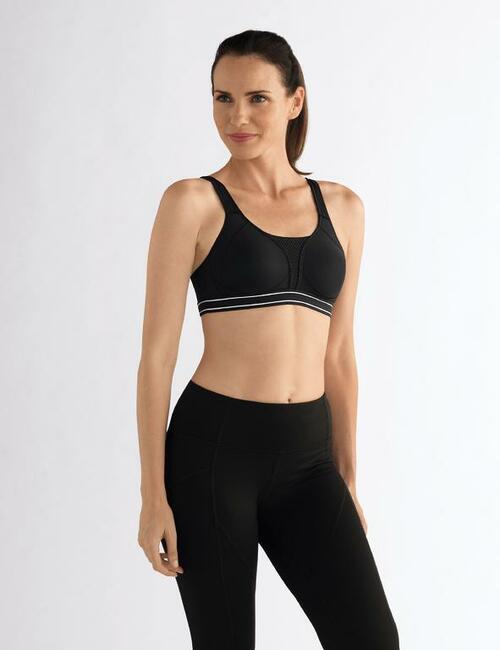 Encapsulation or Compression Bras: Which is Right for Me?
The two main ways that sports bras give support: encapsulation and compression. Wondering which one is right for you? That depends on several factors, including the type of exercise you do and the size of your breasts.
Compression Sports Bras
These bras work by pushing your breasts against your body to give support and restrict breast movement. They can be super comfortable because they tend to be wire-free; however, some women with larger breasts find that the pushing together causes chafing and creates an unattractive silhouette.
Encapsulation Sports Bras
Encapsulation bras have a separate cup for each breast, typically with an underwire or a molded cup, that keeps the breasts apart and provides individual support. They are usually more supportive (and restrictive) than compression bras and are suitable for high impact sports, particularly for women with bigger breasts.
Encapsulation-Compression Sports Bras
If you're looking for the highest level of support, opt for an encapsulation-compression sports bra. These separate the breasts and push them against the body and are perfect for extremely high impact sports, especially if you have a larger bust.
Support Features to Look for in Mastectomy Sports Bras
For optimal support, there are several essential features to look for when shopping for mastectomy sports bras, including:
Performance Fabrics
To help regulate your temperature and minimize damage to your skin from excess sweat, look for sports bras made from high-performance fabrics made from a blend of natural fibers combined with stretch moisture-wicking materials such as Gore-tex or polyester.
Mesh panels in the side and back bands allow heat to escape from your body and facilitate evaporation to keep you cool and dry no matter your activity level.
Wide Bands
Your bra bands provide the majority of the support in a good sports bra. The front band should extend below the bra cups onto the lower chest, and the rear panels should run from side to side across the entire back.
If you have a larger bust size or wear breast forms larger than a C cup, opt for a sports bra with extra-wide bands to reduce breast bounce.
Secure Fasteners
A good sports bra should offer both support and comfort. Standard bra closures can cause friction on the skin during intense activity. Sports bras should offer triple hook-and-eye closures with a padded flap to prevent irritation.
Alternatively, front closures, either zippered or hook-and-eye, can offer additional support, and they allow for easier dressing if you suffer from limited mobility following your mastectomy surgery.
Adjustable Straps
Bra straps act as secondary support to your bra bands. Adjustable bands enable you to find the perfect fit for your body. You can also find sports bras with racerback, criss-cross, or thicker tank top straps to lift and secure your breasts and breast forms for a higher level of support for high-intensity exercise.
Top Sports Bras for All Activity Levels
At mastectomyshop.com, we have an extensive selection of stunning and supportive sports bras to suit any activity level, whether you enjoy gentle yoga, hiking, or intense CrossFit sessions.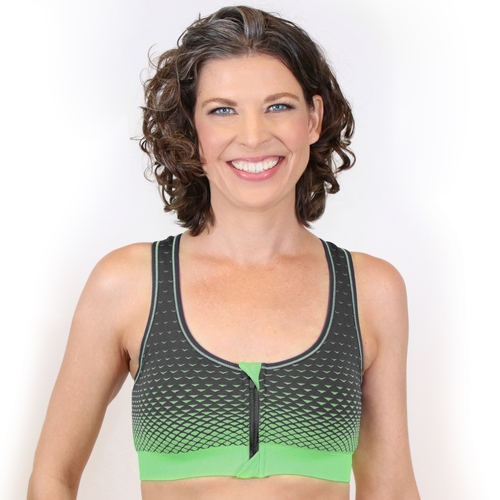 The ABC Active Bra is ideal for low to medium-intensity exercise. The high rounded neckline and flat racerback are easily concealable under most activewear. The breathable polyester/elastane blend fabric ensures you stay cool and collected during your workout session.
The front zippered closure features top and bottom padded covers to protect the delicate skin on your chest from damage. The wire-free design comes with soft molded cups that offer additional coverage and support but can be removed if you prefer.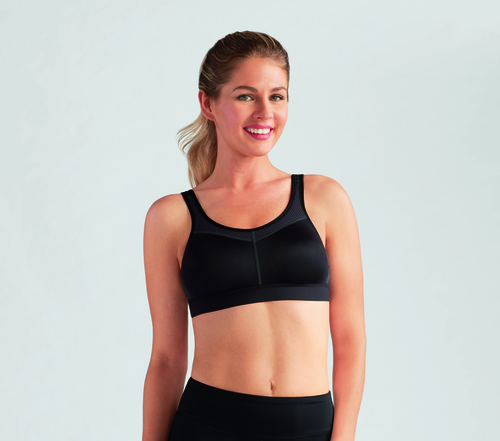 If you are an avid hiker, enjoy recreational dance classes, or love hitting a few balls on the tennis court, the Amoena Power Wire-Free bra is the perfect choice for moderate-intensity exercise.
Molded cups with a center seam separate and encapsulate your breasts, while the wide bottom band ensures the bra has a snug fit. The cups feature COOLMAX® ACTIVE fabric pockets to hold breast forms while reducing irritation due to perspiration.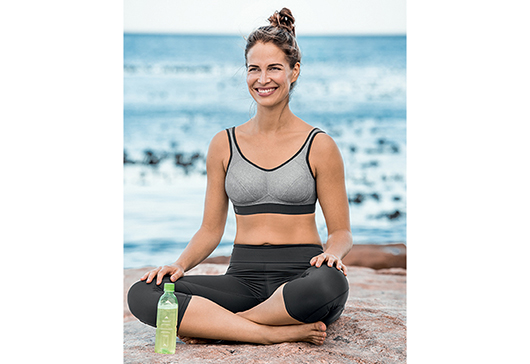 When you are ready to take your exercise routine to the next level, the Anita Extreme Control bra offers you the high-intensity support you need. Ideal for avid joggers or aerobics enthusiasts, this bra features three-section cups designed to both encapsulate and compress your breast tissue for ultimate security.
The functionally tailored back comes with breathable mesh for temperature control, and the adjustable straps are padded to prevent slippage and improve comfort while you exercise.
Shop Supportive Sports Bras at Mastectomyshop.com
You can find the perfect sports bras for your wardrobe at mastectomyshop.com. Explore our complete range online or call us at (877) 413-2272 to speak with one of our experienced staff about finding the right kind of support for your activity level.