Physical activity is an integral part of a healthy lifestyle, but getting back to your exercise routine can be challenging after surgery. After being diagnosed with breast cancer, 35.5% of American women have a mastectomy. With the right sports bra, you can get back to the gym post-op while feeling supported and comfortable.
Why Wear a Sports Bra After Mastectomy?
Following a mastectomy, your surgeon is likely to recommend wearing a sports bra for at least two weeks post-op because it has no underwire and is gentle on the skin. This reduces the amount of pressure on your breast tissue area, which may swell during the healing process.
Even once your body recovers from the operation, you'll want a mastectomy sports bra for when you hit the gym or go for a run. Choosing a bra with the right fit and support features can help you enjoy your exercise routine again and feel balanced.
How Long After a Mastectomy Can You Be Physically Active?
Although you might be anxious to return to an active lifestyle, your body needs time to heal following a mastectomy. You'll typically need to rest for at least 4-6 weeks post-op before you gradually introduce some light exercise into your routine. Light workouts might include going for walks or gentle movements with 2 lb. weights.
Talk to your surgeon about when it's safe to resume your regular physical activity after a mastectomy and follow their recommendations closely.
Features to Look for in Supportive Post-Mastectomy Bra
Shopping for a sports bra post-surgery means looking for bra options that include specific features. You'll want a sports bra with:
Soft fabric
To avoid chafing and other uncomfortable irritations while you're at the gym, choose a mastectomy sports bra in a soft fabric that lets your skin breathe. Cotton microfiber or polyester blends are excellent materials for a comfortable bra that is also moisture-wicking. Soft stitching is also important to look for to ensure the seams don't rub on your skin.
A mesh racerback is also a desirable feature that lets you make the most of your workout session.
Wider straps
When you're working out, you'll want to alleviate the tension on your shoulders while providing adequate support for your prosthesis. Choosing a sports bra that features wide shoulder straps allows the pressure from the weight distribution of your breast forms to spread over a wider area. You'll be able to work out for longer without the straps sliding around or digging into your shoulders.
A sports bra with adjustable straps is an excellent investment because you can alter the fit depending on how you feel during the workout. If you require more support during a cardio burst, you can tighten your straps or loosen them when you're relaxing with a gentle yoga flow.
Broad underband for support
A lot of the support a sports bra provides comes from the underband. Look for an underband that is thicker and offers a regular bra-like fastener for additional support. If you choose to wear prosthetic breast forms after a mastectomy, a wider underband can help limit bounce during vigorous physical exercise, keeping them firmly in place.
Pockets for your breast forms
A sports bra featuring pockets is essential for women who want to wear temporary breast forms following a mastectomy. Post-mastectomy bras for physical activity should have deep front and side panels with pockets that can hold the cup securely.
Depending on your comfort level, you may want to consider the neckline of the sports bra to ensure it covers your breast forms and chest to your liking.
Cup separation
Whether you're wearing a permanent external prosthesis or temporary breast forms, you'll want to select a sports bra that features cup separation. This shape allows you to move freely without your prosthesis or inserts shifting out of place.
Front closure
Regardless of whether you're wearing a prosthesis or have undergone reconstructive surgery, a sports bra with a front closure can make it easier to get the right fit and adjust your bra as needed. Front closures sit in a way that doesn't irritate your sternum, offering maximum comfort while you work out.
The Best Bras for Support and Comfort
Following a mastectomy, you'll want to feel comfortable and supported during your workouts. A sports bra from Mastectomyshop.com can help you get back to doing what you love.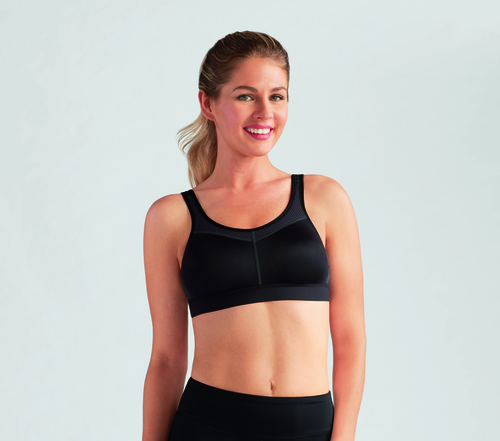 The Amoena Power Bra offers the perfect combination of supportive features and ultra-soft fabric to make it one of the most comfortable mastectomy sports bras available.
The full coverage molded cups have a center seam that compresses and encapsulates your breasts. This provides optimal support and minimizes breast bounce for medium-level intensity activities. The bra is crafted from COOLMAX® ACTIVE fabric wicks away moisture to help manage perspiration and keep you cool and dry during your workout.
The cups feature bilateral interior pockets perfect for women who've had a double mastectomy and choose to wear breast forms, and the extra-wide but under bust band helps keep the bra from riding up.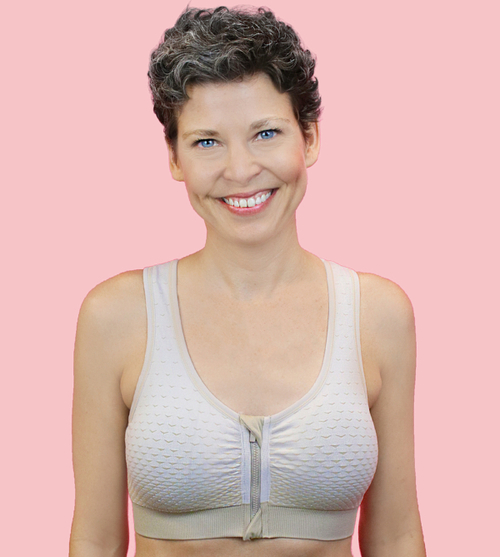 The ABC Active Mastectomy bra is not only ideal for low-impact sports, but it's also the perfect post-surgical bra for breast cancer survivors. The zippered front closure bra is easy to put on and take off for women with limited arm mobility after breast cancer surgery.
The polyester-elastane blend fabric is highly breathable to boost airflow while you exercise. It also offers mild stretch to shape and hold your breasts place without the need for painful underwires.
The functional racerback design fits discreetly under any activewear, and the interior pockets are made from nylon to securely hold lightweight foam breast forms.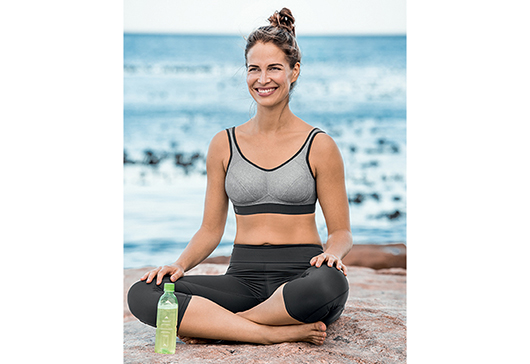 For high-impact sports or active women with a larger cup size, the Anita Extreme Control Bra offers firm support without sacrificing comfort.
This bra features a three-section outer cup that separates and lifts your breasts to keep them in place, even during vigorous exercise. The tailored mesh back provides exceptional breathability for optimal temperature regulation, while terry cloth pockets on either side of the bra are designed for sweat management.
The padded straps are ergonomically-shaped for maximum comfort and minimize strain on the neck and shoulders due to breast movement. An extra-wide elastic under bust band offers a high level of support and helps to secure breast forms.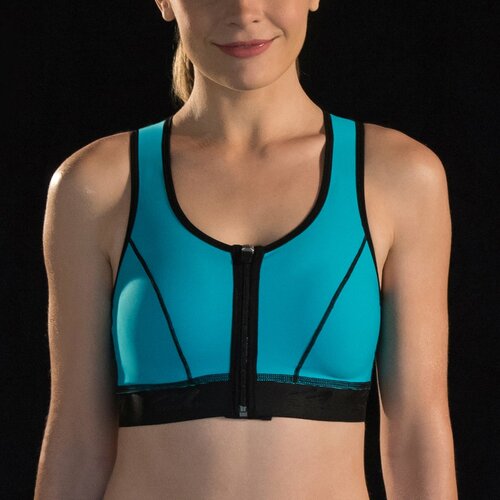 For a sports bra custom-made for your body, opt for the Marena model. The Marena is a class I medical device, and each bra is made to order from the company's patented super soft fabric. The front-locking zippered closure comes with a cover to reduce irritation against your chest wall.
The smooth two-part cups flow into extra-wide padded straps and a high back designed to lift and support your breast during high-impact activities.
For Supportive, Comfortable Sports Bras, Visit Mastectomyshop.com
After a mastectomy, exercise can be an excellent way to help your body recover. However, you need a comfortable, supportive sports bra to keep your breasts and breast forms in place to prevent injury.
Mastectomyshop.com offers the best range of mastectomy sports bras online. We carry high-quality products from trusted lingerie brands, and our customer service representatives are available to help you find the perfect bra via instant chat.
Explore our full selection of mastectomy products today.