Should I wear a mastectomy bra? Where can I find one? What size will I be? What is a bra pocket? Breast cancer surgery already takes a huge physical and emotional toll on a woman, but there are so many questions that come after a mastectomy about dressing our new, changed bodies.
A mastectomy, whether one or both breasts are removed, has a major impact on a woman's body, and the bra you choose should be designed with sensitivity to these new physical challenges. Post surgery, women can suffer soreness in the chest and shoulder and in the underarm area, soreness and sensitivity at the site of the incision, and tingling and itchiness in the surrounding areas.
Particularly in the first year, when the body is still healing, the affected areas can still be very sore and tender, and so it's important to choose your bra wisely and find one that both provides support and comfort and makes you feel beautiful.
Mastectomy Bra Features to Look For
Features to look for in post mastectomy bras are soft seams, a wide, supportive underband, deep front and side panels, fully adjustable straps, and no underwires.
Look for 100% cotton mastectomy bras for their comfort and breathability, and because skin post-surgery is particularly sensitive. Also, regular bras can contain toxic materials such as bleaching agents that post-surgery women should steer clear of.
Mastectomy Bra Brands
Several fine manufacturers make specialty mastectomy bras. Among the most popular are the Almost U, which features a trendy cami-style bandeau camisole bra. Its gorgeous lace insert provides additional coverage. The bra has easy side-entry pockets to insert a prosthesis.
Amoena prides itself on bras that will restore your confidence with their natural fit and form. With a wide variety to choose from, include front-fastening bras that make them easier to take them on and off, you can select a size that matches your original breast size, and a style that makes you feel both beautiful and comfortable.
Classique offers a wide selection of mastectomy bras, including sexy undergarments with lace trim.
Many of Jodee's post-mastectomy bras feature extra back support, that firmly pull the shoulders back, and improve posture, which is important for post-mastectomy recovery.
Other popular makers of mastectomy bras are Almost U, Trulife, Coobie, LuisaLuisa, and Nearly Me.
Whether it's Zumba or yoga or cycling, it's important for women return to the physical activities they love after mastectomy surgery, both for their physical and emotional wellbeing. And so many manufacturers offer sports bras that are both beautiful and functional. The Nearly Me sports bra, for example, offers a feminine appearance with modest coverage of the chest wall, and a soft backing on the band that offers comfort and smoothness against the skin.
Anita features a seamless wire-free soft bustier bra without pockets, and with double-layered, pre-shaped cups made of cozy microfibre as well as wide, soft edging bands that ensure pressure-free comfort.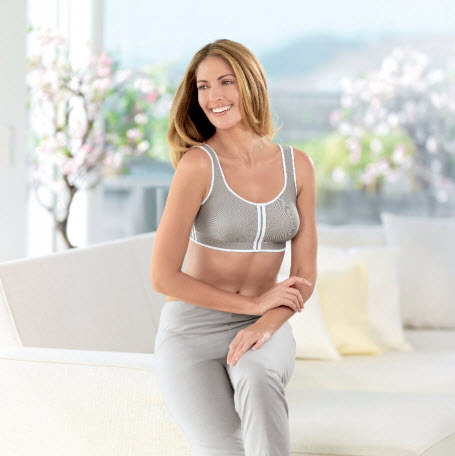 Breast Forms
Some bra manufacturers, such as Amoena, make their own line of prosthetics – or breast forms. The proper prosthesis in terms of weight and size are virtually undetectable and can transform your figure, so you feel as confident and beautiful in your clothes as you ever did.
Buy cotton mastectomy bras online at Mastectomyshop.com, which also includes an online fitting feature.