Finding the perfect swimwear is a challenge but finding swimwear after reconstructive surgery can feel like an extra challenge. However, it's possible to find the right swimsuit that helps you feel comfortable and supported and helps you enjoy all the warm months have to offer. Here's MastectomyShop.com's tips on how to choose post-mastectomy swimwear.
Choosing Post-Mastectomy Swimwear: A Recommendation
Finding swimwear after breast cancer is, first and foremost, about checking a few key boxes. First, you want adjustable straps that can make your swimming experience customizable and comfortable. Second, you want pocketed swimwear that can keep your breast forms secure. As you search for the perfect fit, you may find yourself drawn to a more conservative high neckline to cover any scars or to soft cups that feel comfortable against your sensitive chest area.
It's also highly recommended that you see a skilled, professional fitter before you buy your swimsuit. At MastectomyShop.com our fitters are trained to help you find breast forms that suit your needs and help you find your true size post-mastectomy. In addition, your fitter can give you guidance as you try to find the right swimsuit for your figure and lifestyle.
Trendy Mastectomy Swimwear
Fortunately, there are many options for mastectomy swimwear on the market. This gives you the chance to not just find a swimsuit that's comfortable, but to also find a swimsuit that matches your sense of personal style. Here are two of our favorites at MastectomyShop.com.
1. Amoena Tenerife Swimsuit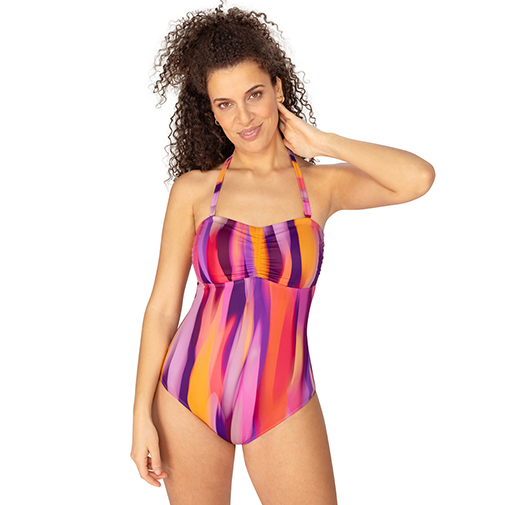 This beautiful one-piece swimsuit has a trendy bandeau bustline, bilateral pockets to hold your breast forms securely in place, and straps that make the suit incredibly easy to adjust.
2. Penbrooke Shirred Front Girl Leg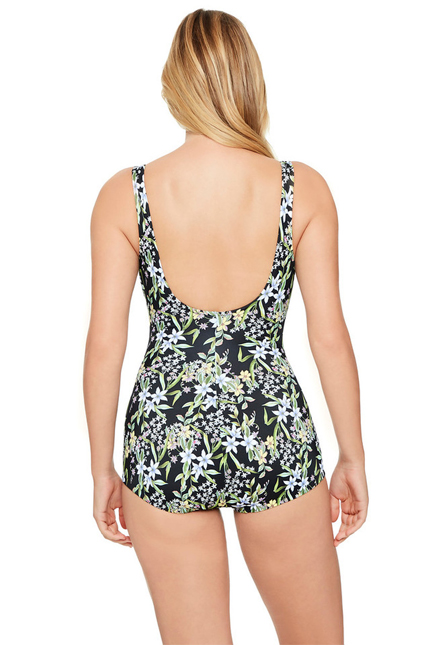 This swimsuit features soft, comfortable cups and tummy control coupled with a vintage-inspired design for a fashionable, retro look.
Post-Mastectomy Bathing Suit Buying Tips
As you get ready to buy your bathing suit, it's useful to think about breast forms you'll be wearing as you swim. Here at the MastectomyShop.com, we offer custom-made swim forms. This not only means that you don't have to swim with your daily breast prosthesis, but it also means that you can choose a prosthesis that's made specifically for water-based activities.
Our swim forms are designed to stay in place, resist slipping, and to be lightweight and comfortable against your chest. Here are our tips for finding the perfect swim form and bathing suit match:
1. Choose a swim form that is close to your natural shape 2. Select a swimsuit that works with that natural shape
Finding the Right Clothing and Swimwear After Breast Surgery
Again, finding the right clothing and swimwear after breast surgery can seem difficult, but it doesn't have to be. Here are our answers to some of our most frequently-addressed clothing and swimwear topics:
Wearing backless clothing after breast surgery
If you want to wear backless clothing after breast surgery, go for it. Swimsuits with low, scooping backs can still offer ample support.
Wearing low necklines after breast surgery
The necklines you wear after breast surgery are an entirely personal choice. Some people show their scars as a badge of courage, while others feel self-conscious. If you choose to rock a low neckline, prioritize comfort and support--you don't want clothing rubbing or chafing against any low-lying scar tissue.
Wearing a breast prosthesis without a bra
Mastectomy swimsuits are designed to be optimally comfortable and feature soft, supportive cups, so you don't have to worry about not wearing your everyday bra. However, bear in mind that breast prostheses are designed to be worn with a pocketed bra or swim top. To go without would be to lack the necessary support.
Wearing a breast prosthesis with strapless clothes and narrow straps
Narrow straps and strapless clothing with a breast prosthesis can pose a challenge to women post-mastectomy. However, there are options on the market that enable you to still make the most of these styles. For instance, our Penbrooke One-Shoulder Mio swimsuit is designed to provide mastectomy patients with that sought-after combination of carefree style and ample support. As for narrow straps, the same rule applies: find something that's comfortable.
What Swimwear to Wear with a Breast Prosthesis
At some point, it all comes down to what makes you feel comfortable and what styles you like. Of course, your comfort is going to be maximized if you choose a swimsuit that supports the type and size of prostheses you prefer. Opting for mastectomy-specific swimwear can keep you well-supported and comfortable, in addition to preventing any rubbing or chafing.
Going Without a Prosthesis
Of course, if you prefer to go without a prosthesis, that's entirely your choice. There's no 'right way' to approach life post-mastectomy. Whether you choose swim forms, reconstruction, or just going without, it's up to you.
A Complete Guide to Mastectomy Swimwear
Get fitted
Getting fitted by a professional can help you find your true size, plus the fitter can answer your swimwear questions.
Find a trend you love.
Ask yourself what trend is the most 'you' and what will help you feel comfortable.
Invest in custom swim forms.
Custom swim forms are made for the water and can help you feel secure as you swim.
Weigh the pros and cons of different styles
Every mastectomy patient has a different story, and a unique style.
What is a Prosthesis?
A breast prosthesis (also known as a breast form) is a foam or silicone imitation breast that allows wearers to assume their previous shape.
Frequently Asked Questions About Prostheses
What is the difference between a swim form and a normal prosthesis?
Swim forms are made out of specially-designed lightweight silicone that's made to be optimally comfortable in the water. Everyday prostheses can be made from silicone, foam, and other materials.
What are the types of prostheses that MastectomyShop.com offers?
At MastectomyShop.com, we offer swim prostheses, leisure forms, traditional weight forms, lightweight forms, partial forms and shapers, and permaforms. There's something for everyone, and we strive to provide all of our customers with the help and support on their post-mastectomy journey. Call (954)-978-8287 today to speak to a caring and knowledgeable customer service representative.