A post-surgery bra is essential to your healing process if you've had any type of breast surgery, such as a mastectomy, breast lift, breast enhancement, or breast reduction. A post-surgical bra provides the necessary support to reduce discomfort and pain during the recovery period and prevents problems like swelling and implant movement.
Explore the ins and outs of breast surgery recovery bras to find a post-op bra that meets your needs.
Initial Recovery Period
Your doctor or plastic surgeon will prescribe a medical-grade compression bra or vest to aid healing after your breast cancer surgery, reconstruction, or augmentation. These garments provide firm pressure in key areas around your chest and underarms to boost blood flow and improve lymphatic drainage.
Proper drainage is crucial in the first several weeks of your recovery. Excess lymph fluid at the surgical site can lead to infection and slow down the healing process. It can also contribute to swelling in the extremities known as lymphedema, a common side effect of cancer treatments, especially if you have had a lymph node removal.
Compression bras are also critical for women who have undergone breast reconstruction or augmentation with implants. The firm pressure helps keep the implants in place and prevent dislocation as the breast implants settle into their final position.
There are several pressure grades available. However, for the first two to three weeks, you'll need to wear a firm/high-pressure bra day and night. Purchase two or three high-quality compression bras so you can rotate and wash them frequently. This ensures you keep the surgical sites clean and sanitary.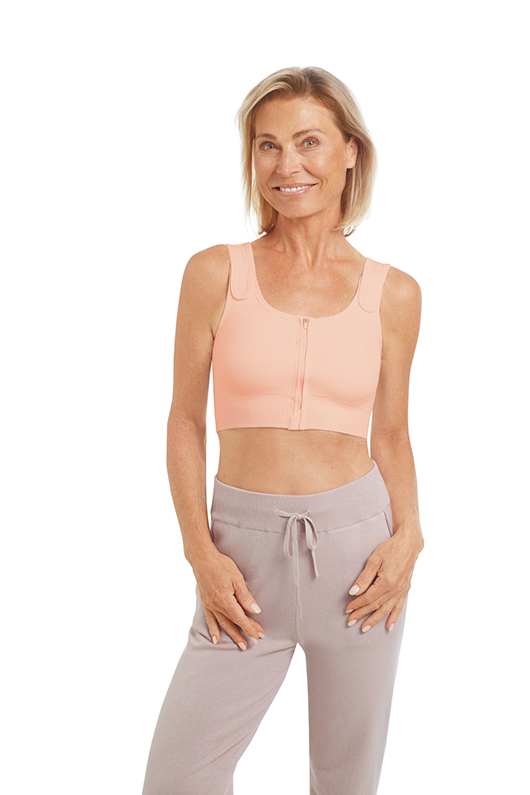 One of the best post-operative compression bras is Amoena Pamela Seamless High Compression Mastectomy Bra. The bra is pre-washed and disinfected, making it suitable for clinical use so you can wear it immediately after your surgery. The seamless construction ensures that it won't irritate scars or sutures. The preformed cups have a special knitted panel that helps stabilize the operated breasts, and targeted pressure helps increase the flow of lymph fluid.
Long-Term Recovery Period
Once the surgical site has healed and any stitches have been removed, you can stop wearing the medical-grade compression bras and switch to bras that offer lower pressure, such as a sports bra.
Sports bras
Sports bras are ideal because they naturally encapsulate and compress breast tissue. You'll need to continue to wear your sports bra at night to support your posture and reconstructed breast until they are fully healed.
However, when looking for a sports bra, choose a non-underwire design. Doctors recommend against wearing an underwire bra after breast surgery because the wires can dig into surgical sites and damage the underlying tissue.
The Amoena Power Wire-Free Medium Support Bra is an excellent choice for women in the final phase of their recovery. Designed for medium intensity activity, the bra features a central seam to separate the molded cups to encapsulate the breast tissue, holding it firmly against your body.
The cups feature COOLMAX® Active fabric developed to wick away moisture and help regulate your body temperature. This feature is perfect for mastectomy patients also undergoing chemotherapy who may be experiencing temperature fluctuations.
Leisure bras
If you have decided to forgo plastic surgery to reconstruct your breasts, you do not need to wear a sports bra after your initial recovery. Instead, you can wear a bra designed for optimal comfort while still offering ample support for your remaining breast tissue and breast forms.
A leisure bra is a perfect addition to your lingerie wardrobe for support and comfort while you recover from breast cancer surgery. These bras are made from ultrasoft materials and typically have a seamless construction for optimal comfort.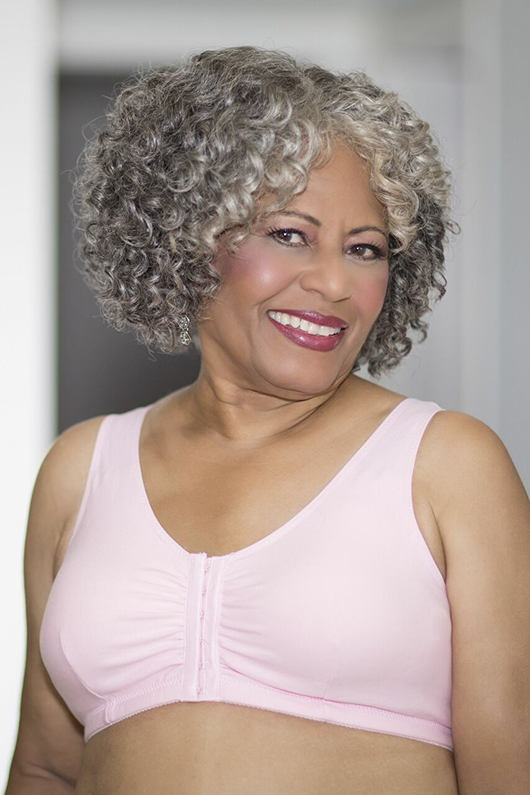 The ABC Leisure Mastectomy Bra is crafted from a smooth stretch knit fabric cut in a relaxed fit to provide you with one of the most comfortable bras you'll ever own. The hook-and-eye front closure allows for easy dressing; ideal if you still have a limited range of motion after your surgery. The extra-wide straps flow into a high back that hugs your body and offers maximum support without placing undue pressure on your chest.
How to Choose the Right Post Op Bra
There are numerous post-operative recovery bras available, and it can be challenging to know which one to choose for your body. When shopping for a breast surgery recovery bra, follow these tips:
Go for a fitting. A personalized fitting with a certified mastectomy fitter ensures you'll get the right bra size for the most comfortable fit. They can also fit you for breast forms at the same time.

Look for adjustable features. Adjustable straps, multiple hook-and-eye closures, and Velcro straps allow you to create a bra that provides you with the best support possible.

Choose breathable fabrics. It's critical that you allow your skin to breathe during your recovery. This can help prevent infection and speed up the healing process. Opt for performance fabric blends such as cotton-polyester, microfiber, or spandex. These lightweight materials offer optimal breathability for perspiration and heat management.

Buy the bra before the surgery. Purchase your post-operative bra before your surgery so you can wear it immediately. The sooner you use compression therapy after your operation, the better the results. For sports and leisure bras, wait until the swelling subsides before making a purchase.
Discover the Best Selection of Breast Surgery Recovery Bras at Mastectomyshop.com
At Mastectomyshop.com, we stock high-quality recovery, sports, and leisure bras from trusted brands. Browse our full range to find the perfect bra to keep you comfortable and supported through your recovery from breast surgery.