Shopping for stylish, flattering, and affordable swimsuits can seem like an impossible task, particularly if you wear a breast form. However, many swimwear brands offer women quality bathing suits at a reasonable price; you just have to know where to look.
For budget-friendly looks this swimsuit season, here are some of the best swimwear options for 2021 from mastectomyshop.com. Whether you have had a unilateral, bilateral, or partial mastectomy, we have stunning swimwear options, ranging from chic and modern to floral and flirty.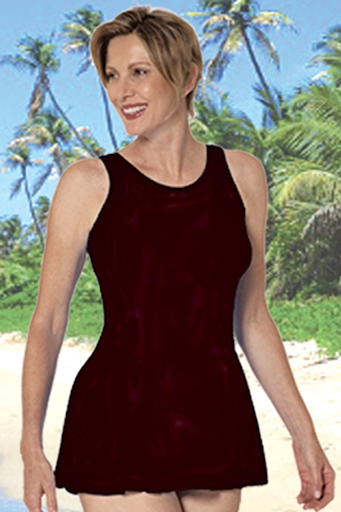 T.H.E Collection Draped Front One Piece
T.H.E Collection Draped Front One Piece is an elegant one-piece that is chic and flattering while also streamlined and comfortable for those who like to get in a few laps while on vacation.
The stylish front drapery creates a flattering shape that, along with the tummy slimming lining, gives you curves in all the right places while subtly disguising the areas you might feel self-conscious about. The legs are cut at a modest height, offering good coverage.
One of the most striking features of this stunning bathing suit is the gathered detail around the bust, which creates a shape-enhancing curve while still providing coverage for high-lying surgical scars.
The pocketed bra is ideal for breast forms and shapers and gives extra support and protection, no matter how active you are. Unlike some pretty swimwear, this swimsuit also has sturdy straps that offer great support to women with bigger busts.
This stylish mastectomy one-piece is available in three summery prints that look great on any skin tone. It is thoughtfully designed to make you look great and feel comfortable and confident on the beach or by the side of the pool, so all you need to worry about is having fun.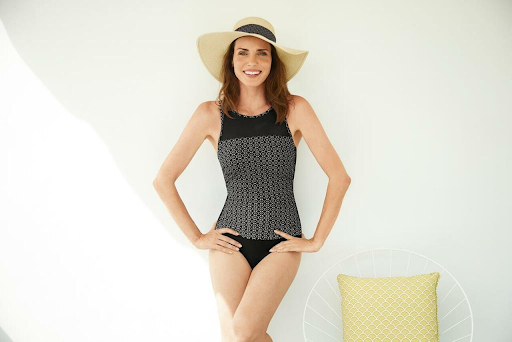 Amoena Ayon Half Bodice Swimsuit
If you're looking for a chic, modern swimsuit that can help you hit the beach with confidence, this Amoena Ayon Half Bodice is the ideal choice. Black and white never go out of style, and the subtle geometric pattern of the bodice, which is picked up in the piping detailing around the neckline and straps, gives this suit a contemporary feel that looks fantastic on women of all ages.
After undergoing a mastectomy or radiotherapy, you may have surgery or burn scars that you would prefer to cover up or protect from the sun; this one-piece's high neckline provides all the protection you need without compromising on style. Although the pocketed bra cups will keep your breast form securely in place as you swim or lounge by the pool, many women love the extra security that comes with a high neckline.
The gently scooped back in slimming black gives this swimming costume a sexy silhouette, and the adjustable straps allow you to adjust it to get the perfect fit. This suit is made to last with LYCRA® XTRA LIFE™ which has a high chlorine resistance and long-lasting shape fit and shape retention. Available in a wide size range and at a great price point, the Amoena Ayon Half Bodice is a swimsuit you can rely on.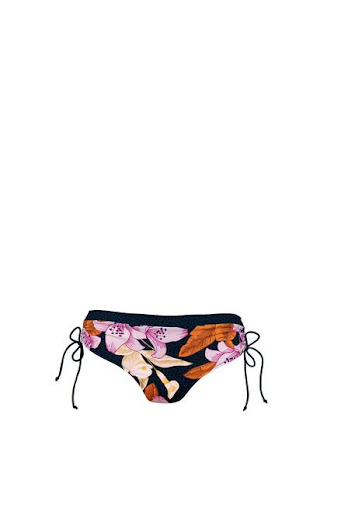 Anita Ebru Hawaii Mix and Match Briefs
If you find yourself a great pair of bikini bottoms, you can mix and match them with various tankini or bikini tops to create different looks to suit your style. These Anita Abru Hawaii briefs are ideal for pairing with any plain-colored bikini or tankini top because they have a fun floral pattern in muted tones.
The bottoms have a pretty ruched effect that can be tightened or loosened with a black drawstring to get the perfect fit, making them super flattering for all body types. The black waistband and contrast black stitching gives the briefs a sporty look and offers extra coverage and durability.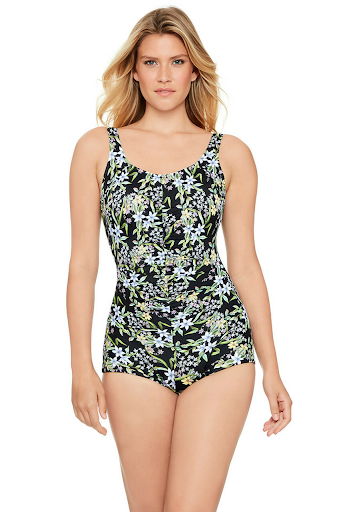 Penbrooke Shirred Front Girl Leg Swimsuit
Floral prints never go out of style and the muted blooms on this Penbrooke Shirred Front Swimsuit are so pretty you will want to wear it year after year. The shirred front with central seam, along with the busy pattern, cleverly tricks the eye to disguise areas you are self-conscious about and enhance your curves in the right places.
For many women, wearing a bathing suit in public can be nerve-wracking, especially after a mastectomy. This elegant swimsuit has been designed to flatter a woman's shape and make her feel covered up without looking matronly or dowdy. The legs are cut low, offering good coverage on the bottom and thighs, while the neckline is higher than most, which is great for covering scars. The suit also has discreet tummy control, creating a streamlined silhouette.
The swimsuit's scooped back allows you to show off some skin, while the thick straps ensure you are comfortable and supported, no matter your bra size. The bathing suit has soft cups that feel good against sensitive skin and keep even the most active beach-goer secure.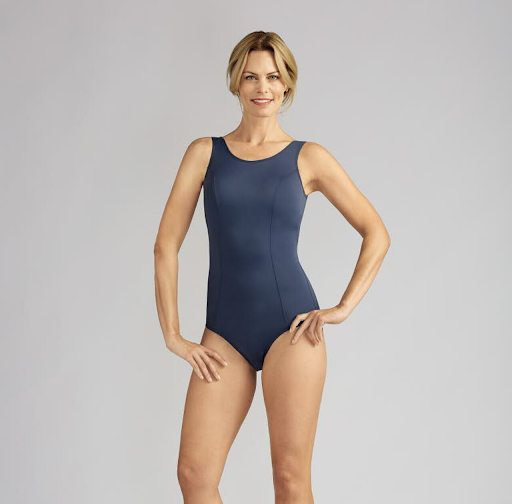 Amoena Rhodes One-Piece Swimsuit
The Amoena Rhodes One Piece Swimsuit is perfect for someone who loves spending time in the pool swimming laps. Swimming is a great way to get some gentle exercise, helping improve arm and shoulder movement after surgery.
It is made of UV and chlorine-resistant fabric for a highly durable suit that won't deteriorate even after years of use. The two vertical seams in the front create a slimming effect and give the suit a sporty look.
The quality material, soft cups, and secure fit work together to make you look and feel good while you swim. Available in a stylish dark blue or chic black and in a generous range of sizes, this flattering and cost-effective bathing suit is one you will love to wear.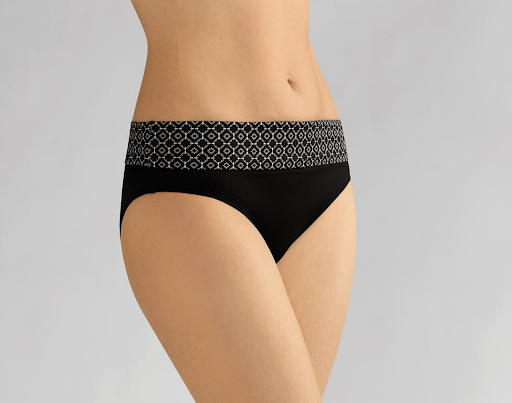 Amoena Ayon High Waist Swim Brief
These Amoena Ayon High Waist Swim Briefs offer the ultimate in swimwear versatility in addition to great style. High-waisted bottoms are popular because not only do they offer support and coverage, they also create an elegant, vintage silhouette that never goes out of style.
However, if you prefer a hip-hugging look, you can simply fold down the deep waistband to reveal Amoena's modern black and white geometric print that features on several of the swimwear brand's bathing suits.
The high-waisted bikini bottoms match Amoena's Ayon Tankini top and the Ayon non-wired bikini top, but due to their minimal look, can be worn with bikini and tankini tops of all patterns, from a solid stripe to a beachy tie-dye. These extremely affordable briefs are fully lined and made to last with LYCRA® XTRA LIFE™ a material that ensures long-lasting fit and has high chlorine resistance.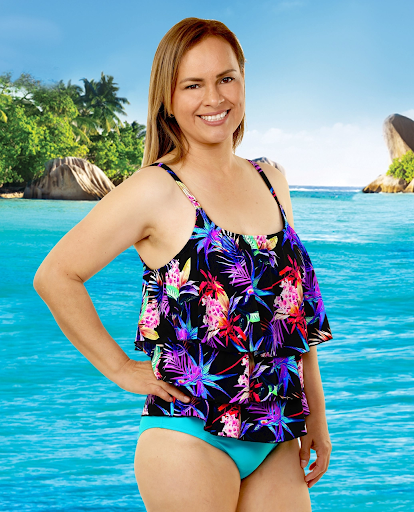 T.H.E Collection Triple Tier Tankini Swim Top
If you're looking for a flattering bathing suit, consider pairing this T.H.E Collection Triple Tier Tankini Swim Top with some bikini bottoms. The floaty-tiered style is fun and flattering for all shapes and sizes, allowing you to feel confident while on vacation. The long cut also makes it the perfect top for women with a long torso.
The pocketed bra and adjustable straps will keep your breast prosthesis securely in place, whether you've had a unilateral or bilateral mastectomy, so you can swim without worrying about slippage. This pretty tankini top is available in many sizes and four color options, three print and one plain black, ideal for color blocking with bright briefs.
Shop for Affordable Swimwear
Whatever your budget, you can find flattering, stylish swimwear that suits your needs. The key is to determine what areas of your body you want to show off and what you'd like to disguise.
Another way to ensure you get value for money is to choose high-quality fabrics that are chlorine, UV, and heat resistant. High-quality fabrics guarantee that your swimsuit will last more than a single summer, making your dollar stretch further.
At mastectomyshop.com, we stock a wide range of fantastic swimwear that can all be worn with breast forms and shapers. Peruse our site at your leisure or contact us at (877) 413-2272 to speak with one of our experienced team members if you have questions about any of our products.