For many breast cancer thrivers, hitting the beach or pool can be daunting. Worrying about how a bathing suit will look and fit following surgery can be challenging to overcome.
However, several industry-leading swimsuit brands, including T.H.E, Amoena, and Anita, now offer stylish bathing suits with features specifically designed to support women's bodies after breast cancer.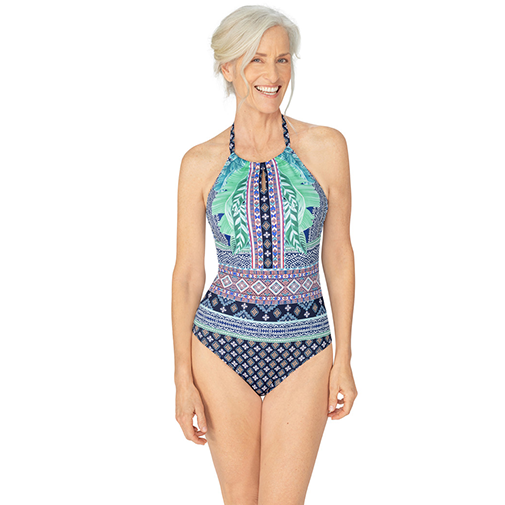 Features to Look for in Mastectomy Bathing Suits
While advances in treatment have made it possible for many women to beat cancer, the road to recovery is often long and challenging. One way to help restore a sense of normalcy is to find clothing and swimwear that fits well and makes you feel comfortable and confident.
For many women, this means finding mastectomy bathing suits that can help to camouflage scars and other visible changes from cancer treatment. Some features to look for when shopping for mastectomy swimsuits include:
Pocketed Cups
Prosthesis pockets in mastectomy bathing suits provide comfort and security for breast forms, allowing women to feel more body positive. These pockets also provide a barrier between silicone breast forms and sensitive scar tissue, keeping it from getting irritated or further damaged.
Quick-Drying Fabric
The quick-drying fabric helps to prevent skin irritations from salt water or chlorine and keeps the skin dry and free from chafing.
UV and Saltwater-Resistance
UV and saltwater resistance help keep your skin healthy and offer sun protection. UV rays can cause skin damage, sunburn, and even skin cancer, so it's essential to ensure that your mastectomy bathing suit provides UV protection.
UV and saltwater-resistant fabrics also prolong the life of your bathing suit by preventing fading and deterioration from exposure to salt and chlorinated water.
Slimming Details
Slimming details like tummy control inserts, draping, ruching, or strategic color-blocking, can help you feel more confident and in control when wearing a bathing suit.
Adjustable Straps
Finding mastectomy swimwear that fits well and provides adequate support can be challenging for many women who have undergone breast cancer surgery. Adjustable straps allow you to customize the fit of your suit, ensuring that it is comfortable and flattering. Adjustable straps also help to distribute weight more evenly across the shoulders to avoid neck and back pain.
Top Bathing Suits for Breast Cancer Survivors
There are a variety of mastectomy bathing suits on the market, so it's important to find one that fits your specific needs. Here are some of the most striking and comfortable bathing suits for breast cancer survivors: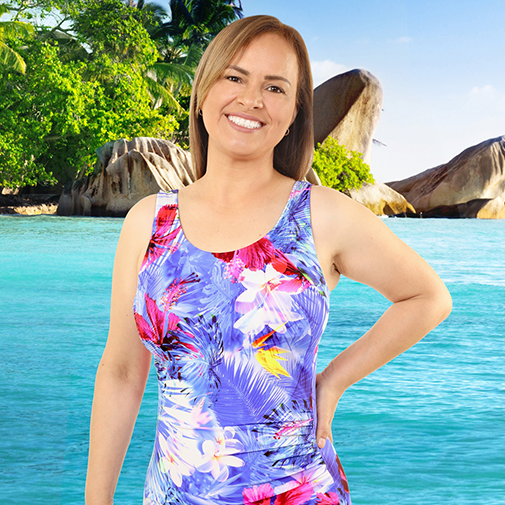 T.H.E. 915-60 Modesty Panel One-Piece Swimsuit
This swimsuit features a pocketed soft-cup bra to accommodate any breast prosthesis and a thigh-skimming modesty panel for extra comfort. The higher neckline provides additional coverage for scar tissue and chemotherapy ports, while the three-button adjustable straps ensure a perfect fit.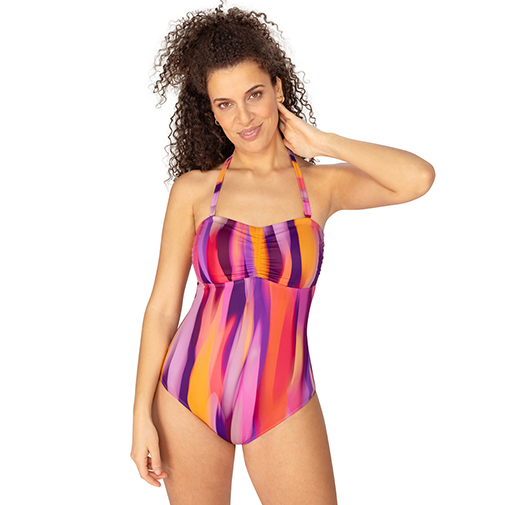 Made from a super-soft micro fabric, this vibrant bandeau swimsuit feels amazing against your skin. It features a bandeau neckline with an adjustable center front and different strap-wearing options, including straight, halter neck, and detachable.
The integrated Amoena Wave Seam under the bust will keep your prostheses secure even when wearing the suit in a strapless style. The opaque lining in front & back provides extra coverage and holds around your midriff.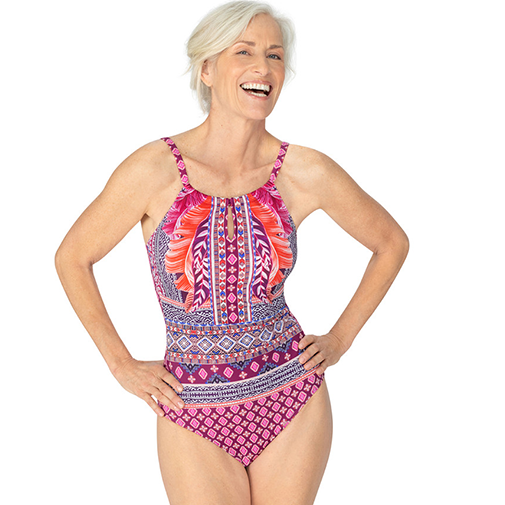 The bohemian print and geometric design make this swimsuit stand out, while the simple keyhole detail at the high neckline adds a touch of elegance. The LYCRA® XTRA LIFE™ fabric provides long-lasting fit and shape retention, high chlorine resistance, and excellent UV protection.
You can wear this swimsuit as a halter neck or with straight straps, and the integrated Amoena Wave Seam under the bust is designed for a custom fit. The opaque lining in front provides extra coverage so you can feel confident all day long.
Look and Feel Great in the Water with Mastectomyshop.com
After surviving breast cancer, you deserve to have fun in the water while feeling comfortable and beautiful.
Mastectomyshop.com offers a wide selection of mastectomy swimsuits, including one-pieces, swim tops, and swim skirts, designed to flatter your figure and make you feel confident. We also carry various sizes and designs, so you're sure to find the perfect fit to rock your next beach outing.