Exercise is one of the best ways to stay in shape and remain healthy. While breast cancer surgery can interrupt your workouts initially, it doesn't have to eliminate them. Following your doctor's recommendations, choosing beneficial exercises, and wearing the right clothing can help you be an active woman and have a healthy outlook on life.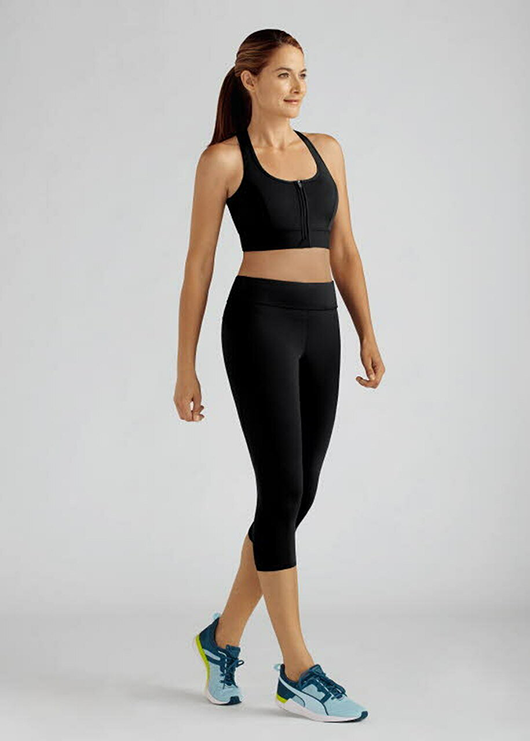 However, you need to protect your breasts following surgery. Whether you've had a mastectomy, lumpectomy, or breast reconstruction surgery, wearing the best fitting bra as you exercise is essential to reduce breast movement and discomfort. Unlike a traditional bra, a sports bra is designed with features that are beneficial for your post-surgical needs, and you have many styles to choose from.
Let's look at the reasons to choose a sports bra over a traditional bra during your next workout.
Continued Healing
Undergoing any type of breast cancer surgery is traumatic to your body. As you slowly recover, you must take steps to ensure you are keeping in line with your doctor's recommendations and best practices for healing. When it's time to return to your workouts, you need a bra that supports your recovery process.
A sports bra can secure breast forms and protect sensitive skin on the chest wall for women who've had a double or single mastectomy. The less friction you experience, the better.
Following breast reconstruction surgery, your implants will need the same type of support as your natural breasts. Wearing a sports bra can help minimize the amount of movement experienced, limiting skin stretch and keeping breasts in shape.
Sports bras also offer mild compression, which can boost blood flow to the surgical site to aid healing and pump lymph fluid away to prevent infection. This compression is also ideal for preventing implant dislocation to give you the most natural-looking breast once you've healed from reconstructive surgery.
Injury Prevention
You rarely experience intense motion and movements in your everyday life. It is primarily during high-impact workouts you encounter excessive vertical breast motion. These movements can lead to the Cooper's ligament injury, which are bands of fibrous, flexible connective tissue responsible for shaping and supporting your breasts.
Once these ligaments are injured, they cannot repair themselves and lead to breast pain and sagging long term. While this issue differs depending on your type of breast surgery, it is important to keep in mind if you have at least one of your natural breasts or have had breast reconstruction surgery.
Avoiding Discomfort
During your everyday activities, all you may need is the support your post-mastectomy or traditional bra provides. For your workouts, however, these bras quickly become uncomfortable and do nothing to reduce breast pain.
Sports bras are designed to provide optimal support, holding breasts firmly in place, which is needed during exercise. Identify if you are participating in high- or low-impact level workouts. Stretching, yoga and even slow jogging are considered low-impact, while running, aerobics, cross-fit, and team sports are high-impact activities.
If you wear a regular bra for high-impact exercises, it cannot provide the level of support you need. This includes controlling breast bounce, which can be painful, especially for larger breasts. The straps of a traditional bra can also cause discomfort, as they are not designed for the movement and support required during a workout and can dig into your shoulders.
If you are wearing a breast prosthesis after a mastectomy, a pocketed sports bra can provide firm support while also securing your breast forms in place. This provides comfort and gives you peace of mind, and allows you to focus more on your physical activity.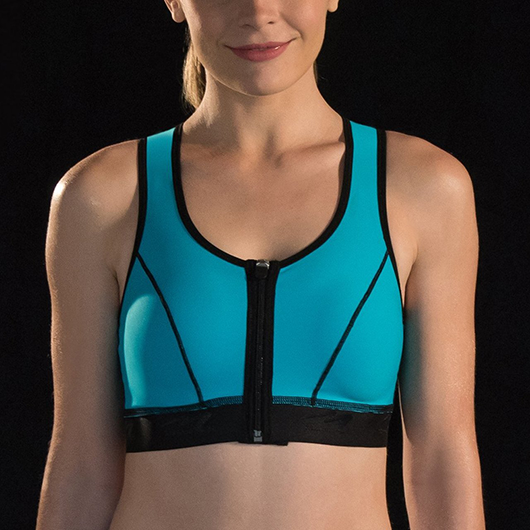 A stylish option is the Marena Sports Bra, complete with a front zipper for easy dressing and pockets for your prostheses. This sports bra is built for comfort. Its smooth elastic band fits snugly under your bust, while the wide shoulder straps provide support without digging into your skin and evenly distribute the weight of your breast to reduce bounce.
Find your Post-Surgery Sports Bra at Mastectomyshop.com
Minimizing breast movement while also providing the support needed can help you avoid discomfort, continue to heal, and prevent further injury to delicate tissue and ligaments. Regular bras can't provide this level of support and protection, so the preferred option is a well-fitting sports bra, which also offers several health benefits post-surgery.
When you're ready to get back to or get started working out following breast cancer surgery, we can help you find the perfect sports bras for your preferred activity. Mastectomyshop.com carries various types of sports bras in well-known brands to fit your body and style. Call us today at (877) 413-2272, and you'll soon be on your way to a healthier workout