If you have a breast cancer surgery coming up in the near future, then you have probably been told to invest in a post-surgery bra. Post-surgical, compression and mastectomy bras are an important aspect of the healing and recovery process and provide necessary support and comfort.
If you are unsure about which post-surgery bra will work best for you, this guide can help you before you begin the shopping process. Whether shopping for yourself or helping a loved one, knowing what to look for before you buy can help make the process less stressful and more rewarding.
Post Surgical Bras - What are They?
Post-surgical bras are designed to be worn immediately after breast cancer surgery such as a mastectomy or lumpectomy. These types of bras provide the necessary support and comfort that a regular bra is unable to give.
Post-surgical bras often feature compression as well as the capacity to support necessary drainage devices. Wearing a post-surgical bra can help reduce exposure to bacteria or infection by protecting the surgical sites as well as scar tissue. In addition, they can help reduce the risk of post-surgical complications, such as lymphedema.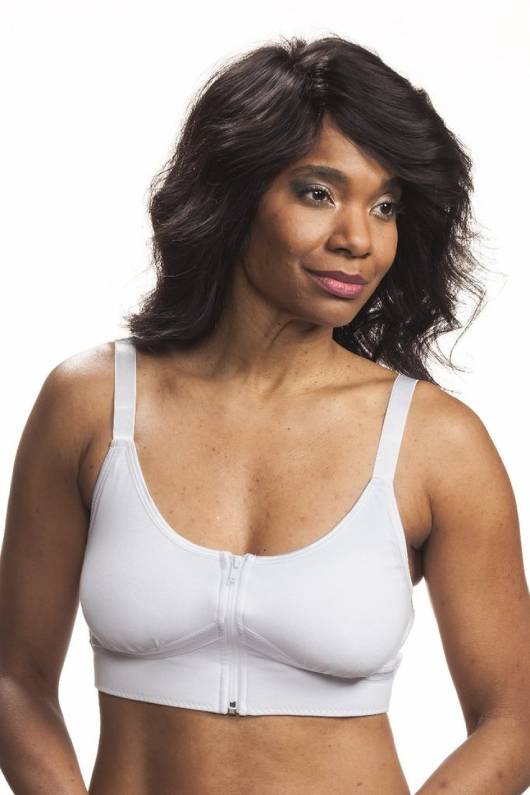 Post-surgical bras should feature front closures and straps that allow for easy access to treatment areas. Bra materials should be soft cotton or other seamless material that will not irritate sensitive skin after radiation therapy and will protect scars. The Allyson post-surgical bra by Wear Ease features wide bands and adjustable satin straps for support and comfort.
Post-Surgical Compression Bras
A post-surgical bra that also provides compression is a great tool for every woman to have in recovery. A compression bra not only stabilizes the surgical area and keeps it clean and protected, but it may speed up the recovery time as well. Compression helps to reduce swelling and pain and increase blood flow to the area.
Proper circulation and stabilization of the area both may contribute to decreased recovery times. Compression bras are important as well as they have been shown to reduce the risk of lymphedema, or abnormal swelling following breast cancer surgery or radiation therapy. Speak with your doctor about how long they recommend wearing a post-surgical compression bra.
Post Surgical Bras - Stylish and Supportive
Following breast cancer surgery, many women may face body image challenges and struggle to feel comfortable in their bodies. A common misconception is that post-surgical wear such as bras will be unattractive or unflattering.
Post-surgical bras come in many styles, colors, and sizes for women of varying tastes. The best bra after your surgery is one that will provide you support and comfort as well as help you feel sexy and feminine.
Mastectomy Bras
A post-surgical bra is necessary for healing for the amount of time required by your doctor. Once you have successfully completed the healing period, you may choose to move on to a mastectomy bra.
Mastectomy bras are designed similarly to post-surgical bras and should provide the same levels of comfort and support. Features to look for when shopping for post-mastectomy bras include wide straps and bands to reduce digging into sensitive post-surgical areas.
Soft and seamless fabrics reduce the chance of irritation in vulnerable and sensitive areas. Front closures for easy access are helpful on mastectomy bras as well as the areas affected by twisting and turning may still be sensitive. Molded cups provide excellent support while minimizing discomfort associated with an underwire.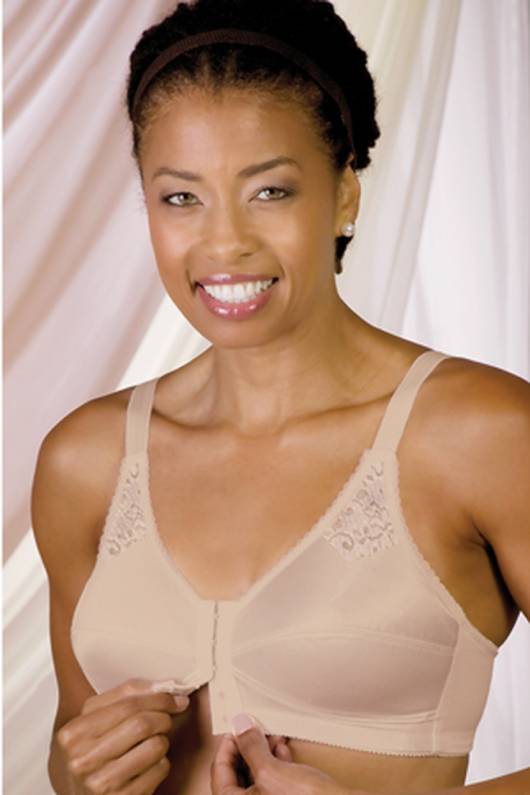 One of the most important features of mastectomy bras is that they feature sewn-in cups in the breast pockets. These cups are designed to securely hold breast prostheses in place, should you choose to wear them. The Jodee Contemporary mastectomy bra features lace-trimmed cups and padded shoulder straps to provide you with elegance and comfort throughout recovery.
Mastectomy Bras and Breast Forms
For many women, the idea of undergoing breast reconstruction surgery after breast cancer surgery is unappealing. If you choose not to have reconstructive surgery, breast forms may be right for you. Breast forms are a prosthesis designed to emulate the natural breast.
They are typically made out of a soft foam or fiberfill material or a heavier silicone. Depending on the look and feel that you desire, like mastectomy bras, there are different breast forms available for different women. Additionally, there are breast forms available that are designed custom made to fit your body.
Breast forms renew the feminine shape of your body and allow you to resume wearing your regular clothes. In addition, they can help to restore balance and symmetry and promote good posture, preventing future chronic neck and back pain.
How to Find the Perfect Fit
Whether shopping for post-surgical bras before or after your surgery, one of the best things you can do in this process is to work with a board-certified mastectomy fitter. Certified fitters are accredited by the American Board for Certification after an extensive educational program.
The fitters are trained and educated to work with women in all areas of post-mastectomy necessities. If you decide to schedule a consultation with one of our certified fitters, they will take measurements and provide valuable insight into post-surgical bras and bras and breast forms. Whether you meet with them before or after your surgery, they can help you to plan and prepare for a healthy and successful recovery.
Certified fitters can help to ensure that both your post-surgical and mastectomy bras fit perfectly and provide the support you need throughout healing. Working with a board-certified mastectomy fitter can be a great way to support yourself in the recovery stages and beyond.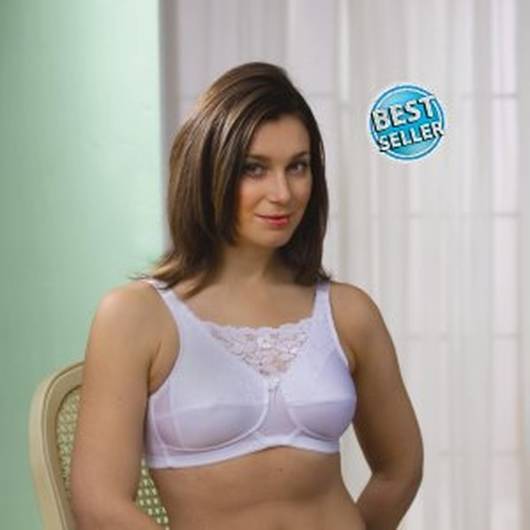 Some of Our Favorites
Mastectomyshop.com has been a leading online provider and resource to the post-surgical community for over 30 years. We have an expansive inventory and are proud to feature some of the best name brands when it comes to post-mastectomy products. There are many great bras available for women in recovery, but a few stand out as exceptional.
Amoena Frances Leisure Recovery Bra - This soft cotton bra is ideal immediately following surgery and features front closures for easy access. This comfortable bra can even be worn during sleep for extra protection. It comes in a variety of patterns and colors and sizes XS-XXL.
Classique Romantic Lacy Mastectomy Bra - A sophisticated and sensual bra with lace and coordinating panties. Features cotton and spandex pockets to accommodate a prosthetic breast form. It comes in sizes 34A to 34DD.
Almost U Bandeau Camisole Bra - This camisole style bra features a feminine lace overlay and easily accessible side pockets. It comes in a wide variety of colors from white and black to lavender and midnight blue. Available in sizes 32A to 48DDD.
Final Thoughts
Whether preparing for surgery or currently in recovery, we understand the life-changing effects that breast cancer and breast cancer surgery has on a woman. At Mastectomyshop.com, we strive to make the shopping experience for all post-surgery products as simple and rewarding as possible.