After undergoing a mastectomy, finding the perfect bra is more than just a matter of style. The right bra is essential for your comfort, support, and confidence during the recovery. There are two types of bras that many women consider wearing immediately after surgery: mastectomy compression bras and sports bras.
Understanding the similarities and differences between a mastectomy compression bra vs. sports bra and when to wear them can help you recover faster and prevent potential health complications that can occur after mastectomy surgery.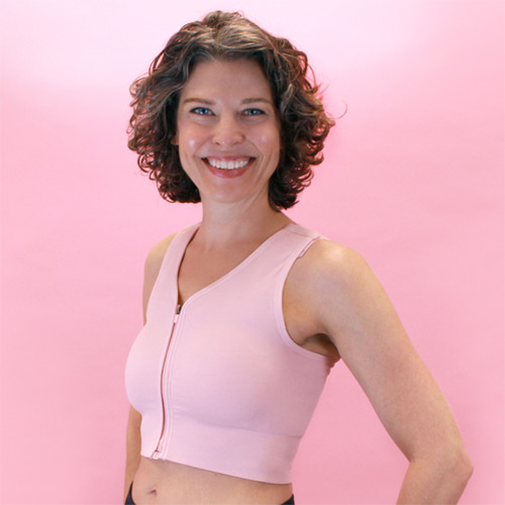 What is a Mastectomy Compression Bra?
A mastectomy compression bra is a specialized garment designed specifically for women who have undergone breast cancer surgery. It provides gentle targeted compression and support to the chest and armpit area, aiding in the healing process and promoting optimal comfort by promoting proper circulation and reducing swelling.
These bras are typically made from soft, breathable materials like cotton or cotton-poly blends and feature adjustable straps and front closures for a customizable fit. Mastectomy compression bras may also have pockets to accommodate lightweight foam or fiberfill breast prostheses, ensuring a natural appearance and maintaining body symmetry.
What is a Mastectomy Sports Bra?
A mastectomy sports bra caters to the unique needs of active women who have undergone a mastectomy. These bras combine the support and functionality of a sports bra with the specific requirements of post-mastectomy care.
Mastectomy sports bras offer excellent support, minimize breast movement during physical activity, and provide additional features like adjustable straps and moisture-wicking materials. They are designed to accommodate breast prostheses and ensure comfort and confidence while engaging in various sports and fitness activities.
Mastectomy Compression Bras vs. Sports Bras: Similarities and Differences
While both bra types are excellent additions to your post-mastectomy wardrobe, several similarities and differences can impact which one you wear during your recovery.
Comfort
Both mastectomy compression bras and sports bras prioritize comfort. Mastectomy compression bras are typically made from soft, breathable materials like cotton or microfiber to minimize irritation on sensitive post-surgical areas. They may also feature adjustable closures, allowing for a personalized fit and accommodating potential swelling or fluctuation in breast size.
Sports bras are often constructed using moisture-wicking fabrics that draw sweat away from the body, keeping you dry and comfortable during workouts. These bras may incorporate mesh panels or perforated materials for improved ventilation and breathability. Seamless or flatlock stitching minimizes chafing and irritation, enhancing overall comfort during physical activities.
Support
Mastectomy compression bras provide gentle yet effective support to the chest area. They are specifically designed to accommodate changes after a mastectomy, such as breast tissue removal or breast reconstruction. These bras often feature a wide band under the bust and wider straps to distribute weight evenly and reduce strain on the shoulders. They may incorporate additional support features, such as reinforced side panels or underwire, for added stability.
Sports bras are engineered to provide excellent support and reduce bounce, ensuring optimal comfort and preventing discomfort or potential damage to breast tissue. They often feature a compression design that compresses the breasts against the chest wall, minimizing vertical and lateral movement. They may also use an encapsulation design that lifts and separates the breasts. Sports bras also have a snugger fit, wide straps, and a supportive band to enhance support during high-impact activities.
Compression Level
The compression level is important to consider when comparing sports bras and mastectomy post-surgical compression bras. Both types of bras provide some level of compression, but the intensity and purpose of compression differ.
Sports bras typically aren't categorized according to compression level like post-surgical bras. Instead, there are various types of sports bras suited to different activity levels. Generally, mid to high-impact bras offer moderate compression to minimize breast movement during physical activities.
Mastectomy post-surgical compression bras provide a gentler and more targeted compression, typically focusing on the chest wall and underarms. They are specifically designed to promote proper circulation, reduce swelling, and aid in the healing process after a mastectomy.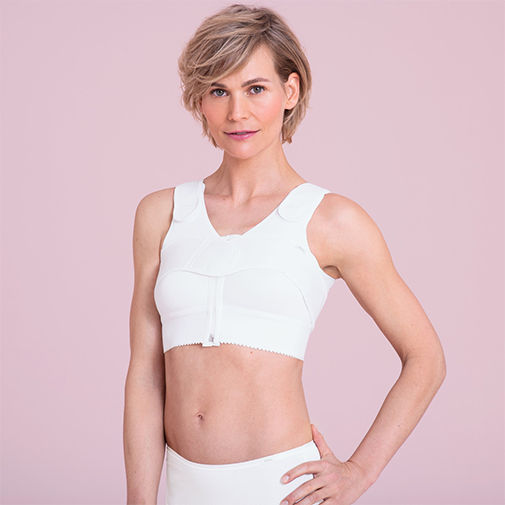 Many models, like the Anita Marbella Compression Garment, can also be worn with an additional chest belt that wraps across the upper chest wall, providing additional compression. This type of bra is ideal for women who have undergone breast reconstruction following surgery, as it prevents implant dislocation.
Which Bra is Right for You?
There are several stages to your recovery, and you need the right bra to help support your health and well-being through each phase. During the immediate post-operative stage of your recovery, you need a highly supportive yet gentle bra that won't irritate sensitive surgical sites and allows for optimal circulation.
A post-surgical mastectomy compression bra is the ideal choice immediately after surgery. The targeted pressure helps move lymph fluid and pathogens away from the surgical site, reducing the risk of infection and other complications like lymphedema.
Many post-surgical compression bras also come with pouches for drainage tubes so you can discreetly carry and change drains and bulbs. They also come with front closures for easy dressing, access for radiotherapy equipment, and over-the-shoulder straps to streamline wound care.
A sports bra is a perfect option approximately six to eight weeks post-surgery (or when your doctor permits you to exercise). By this time, the surgical site will have healed, and you may feel like you have more energy.
Exercise can be an excellent way to boost recovery and help you transition to your life post-surgery. A high-quality sports bra minimizes irritation to scar tissue and sensitive skin on the chest wall by allowing for optimal sweat management and temperature regulation. These bras also stabilize your breast tissue to prevent stretching or straining delicate skin and connective tissue.
Top Mastectomy Compression Bras
At Mastecyomshop.com, we carry the top mastectomy compression bras available. These bras are designed to provide optimal support, comfort, and healing benefits for individuals who have undergone mastectomy surgery.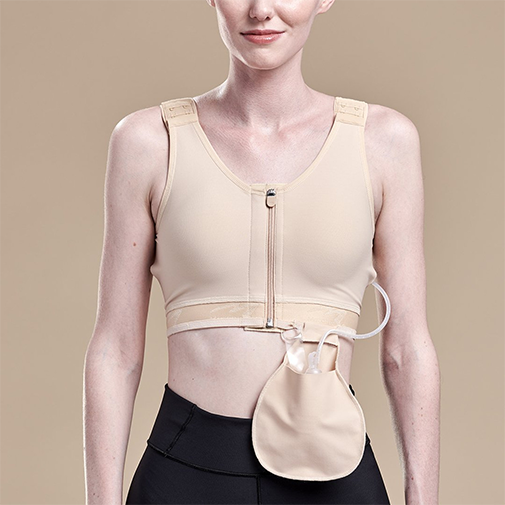 Marena Caress™ Pocketed Drain Bulb Management Bra
The Marena Caress Drain Bulb Management Bra is a revolutionary compression bra developed for immediate recovery following breast surgery. This patent-pending bra offers maximum support, comfort, and drain and tube management after breast surgery.
Featuring a repositionable pouch and two rings, it securely supports the drain bulb and reduces movement around incision sites. Engineered with FlexFit™ cups, it allows for fluctuations in breast volume if you need to wear a tissue expander for breast reconstruction or choose to wear a prosthesis. High-back coverage, a combination of hook-and-eye and zippered front closure, provides convenience and protection. Crafted with TriFlex™ fabric, it offers efficient wicking, cooling, and antimicrobial protection.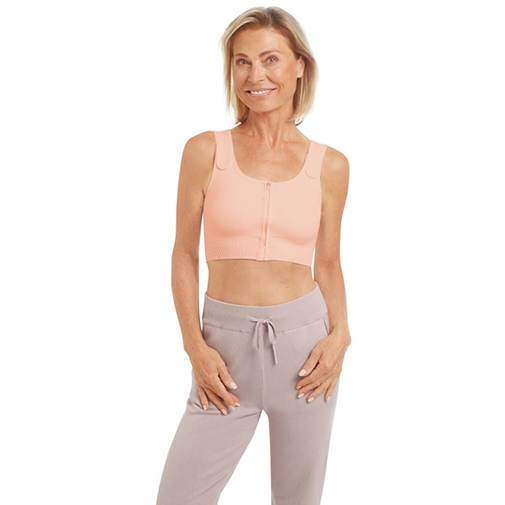 Amoena Pamela Seamless High Compression Mastectomy Bra
The Amoena Pamela Seamless High Compression Mastectomy Bra offers optimal stabilization and support for the post-surgical breast area. Its seamless fabric is gentle on sensitive skin, providing exceptional comfort.
Adjustable, wide straps with Velcro® fasteners offer easy dressing and undressing while ensuring exceptional comfort. Crafted from 98% Nylon and 2% Spandex, it is free of latex, silicone, and nickel, and the special knitting zones in the lower cup area immobilize and stabilize the operated breast, promoting healing.
Best Mastectomy Sports Bras
If you are ready to return to your favorite activities after surgery, ensure you have one of the following high-quality sports bras in your wardrobe to provide support and protection.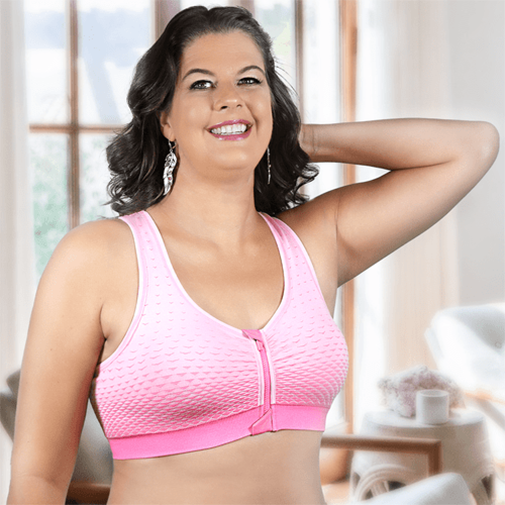 ABC Active Mastectomy Bra
The ABC Active Mastectomy Bra is a comfortable and airy addition to your active wardrobe. This front-closing, wire-free sports bra offers optimal support for a high-impact exercise routine. Its trendy racerback design easily blends with most active sportswear. The lightweight fabric enhances breathability and dries quickly, ensuring comfort throughout your workout.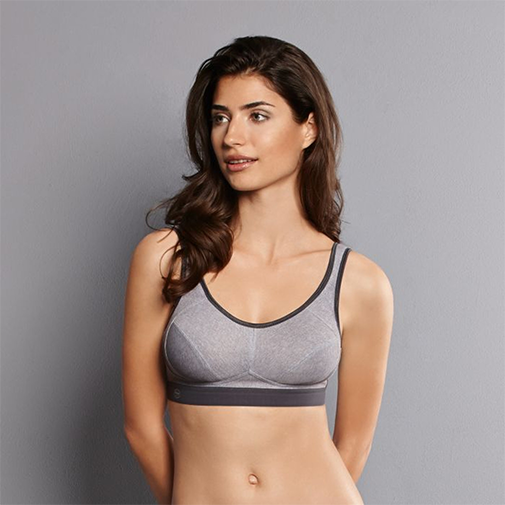 Anita Extreme Control Post Mastectomy Bra
Experience unparalleled support and comfort with the Anita Extreme Control Post Mastectomy Bra. Specifically designed for women after a mastectomy, this bra is crafted with super soft materials to prevent friction and skin irritation. The hydrophilic terry prosthesis pockets wick away sweat, providing a comfortable feeling against the skin. With padded straps for a secure hold and added comfort, this bra ensures a comfortable and supportive fit throughout the day.
Find the Perfect Bra for Your Mastectomy Recovery
Choosing the right bra after a mastectomy is essential for comfort, support, and overall well-being. Both mastectomy compression bras and sports bras have their unique benefits and features to consider.
At Mastectomyshop.com, we offer a wide range of high-quality mastectomy compression bras and sports bras specifically designed for mastectomy patients. Explore our collection and find the perfect bra for your needs. Take the next step towards comfort and confidence on your post-mastectomy journey.
Contact us if you have any questions about our products or need help deciding which is the better option for your stage of recovery, a mastectomy compression bra or a sports bra.