Whether undergone as a preventative measure or a treatment method, mastectomy surgeries are becoming more common, and the availability of products such mastectomy breast forms and medical alert jewelry have increased significantly.
As the holidays roll around, you may be searching for a gift that is meaningful and practical. Medical alert jewelry makes an excellent gift due to the peace of mind it offers. Medical alert jewelry such as a beautiful and functional lymphedema bracelet can be the life-saving difference in a medical emergency.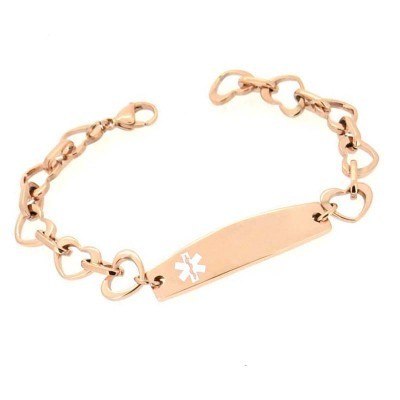 Understanding lymphedema
Lymphedema is a painful condition which causes swelling due to a build-up of lymph fluid in the soft tissues. It is common in patients who have cancer or have undergone cancer treatment.
Lymphedema often occurs in the limbs due to the removal or damage of the lymph nodes. It can occur in the arm on the side of the surgery after a lumpectomy or mastectomy. Depending on the surgery, it can also occur in the chest or abdomen. Left untreated it can lead to widespread inflammation and sepsis.
Lymphedema can occur at any time following breast cancer treatment, and it may take several days, months, or even years before it transpires.
Why a lymphedema bracelet?
A lymphedema bracelet is a piece of jewelry that is worn at the wrist to communicate to EMT's and other medical staff that the wearer is at risk for lymphedema. It is an excellent and thoughtful gift option to express care for any woman in your life who is being or has been treated for cancer.
While it is something that might be overlooked in the midst of the healing process, it is a critical tool for communicating in cases where she cannot. Medical staff and paramedics who respond to emergencies are trained to check for any medical alert jewelry, and a lymphedema bracelet quickly conveys vital information to caretakers and EMTs.
Medical alert jewelry clearly displays the internationally recognized medical symbol. It assures your loved one's risk will be properly communicated and that correct treatment is administered in an emergency.
Choosing the right medical alert bracelet
MastectomyShop.com carries a large variety of lymphedema bracelets. They come in various colors, including silver or rose gold colored stainless steel. Bands are also completely customizable, and options include mesh, beads, leather, and chains. The selected jewelry can even be engraved with information as to which arm carries the lymphedema risk.
Medical alert jewelry is a versatile gift because you are giving the recipient the gift of safety and reassurance as well as a beautiful accessory.
Other gift ideas for women post-mastectomy
MastectomyShop.com offers various products which cater specifically to women who are living post-mastectomy. You can find other thoughtful gifts in the online shop, including Juzo Signature Boho Collection Compression Gauntlets, robes, hats with hair, and a large range of mastectomy breast forms for sale, and so much more the lady in your life will appreciate and love this holiday season!