Camisoles are a must-have wardrobe essential for every woman. This versatile garment is great for layering for added warmth and looks equally chic when worn on its own. To make the most of your camisole, styling is key. Here are four inspirational outfit combinations and our tips on how to wear camisoles in stylish ways.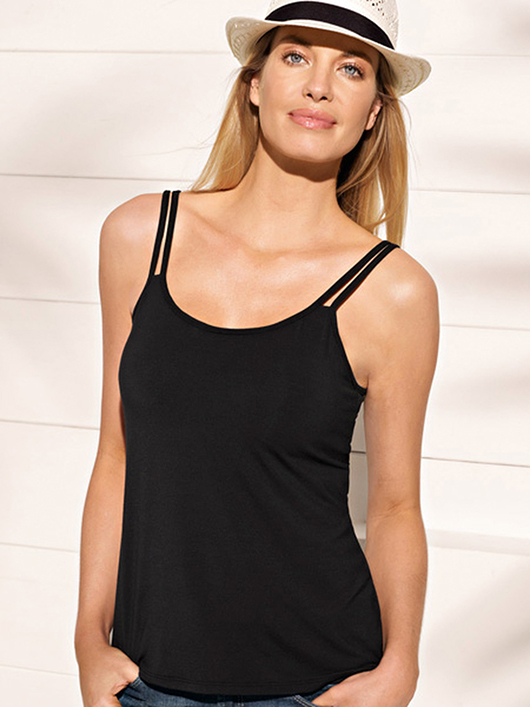 1. Skinny Jeans and Strappy Sandals
For balmy summer days, a breezy cami paired with your best pair of high-waisted skinny jeans is the perfect combination. Accessorize with strappy sandals or ballet pumps for the perfect outfit for brunch with the girls.
When wearing a cami on its own, choose one with interesting strap details such as the Amoena Valetta Camisole which has a chic double spaghetti strap and a flattering rounded neckline.
2. Cozy Cardigan and Wide Leg Blue Jeans
Pair a soft snug camisole in a neutral shade with a cozy knitted cardi and your favorite pair of wide leg jeans for the perfect early fall style.
The Still You Alise Lace Mastectomy Camisole comes in a range of elegant shades and the floral lace overlay adds an eye-catching textural detail to your outfit.
3. Pencil Skirt and Blazer
Perfect for spring or summer at the office, a silky cami combined with a pencil skirt and a blazer give you a tailored feminine look that can take you from day to night.
Choose a more modest cut neckline for the office such as the Luisa Luisa Mastectomy Tank Top which features a chic cowl neck to provide ample coverage.
4. Leather Biker Jacket and Pleated Skirt
Find the ideal balance between masculine and feminine aesthetics by matching a lacy cami and flirty pleated midi skirt with a bold leather biker jacket.
The Coobie V-Neck Camisole has a touch of delicate lace along the neckline and comes with a built-in bra with removable padded cups to enhance your shape.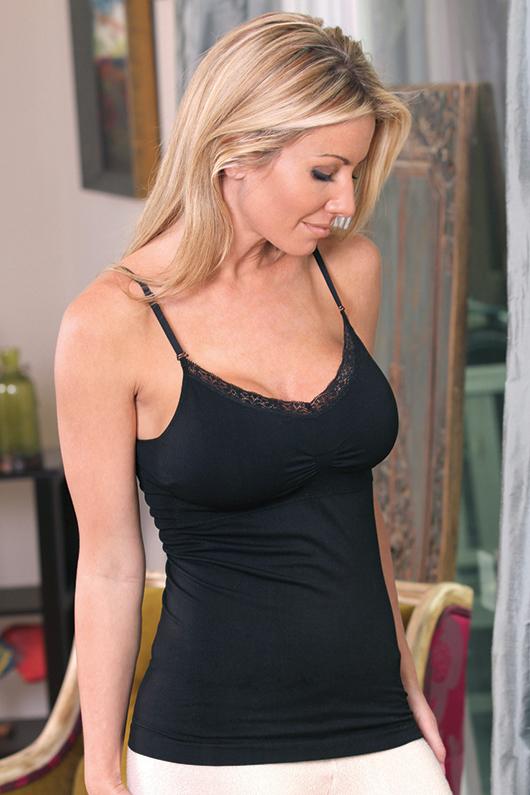 Tips for How to Style a Cami
Do:
Wear a seamless strapless bra to avoid exposed bra straps. The ABC Strapless Mastectomy Bra features padded underwire for added support and foam cups to enhance your natural shape.
Tuck your camisole into a skirt or jeans to create a more pulled-together look.
Contrast colors when layering camisoles with darker shades layered on top of lighter colors.
Go braless. Camisoles look best without bra straps showing, many styles of camisoles come with a built-in shelf bra to provide support if you choose not to wear a bra.
Don't
Pair a skin tight camisole with skinny jeans. For a well-styled outfit your top and bottom should have opposite proportions. Choose a billowy silk cami with form fitted bottoms, or a snug fitting cami with voluminous bottoms such as a midi skirt or wide leg pants.
Layer too many camisoles. If you are wearing your cami as a warming layer underneath other clothing, layering too many pieces can make your outfit look bulky and unsophisticated. Opt for one warm layer underneath your favorite sweater or cardi.
The Take-home Message
Camis are the perfect piece for every season and pair well with almost any wardrobe item. Mastectomyshop.com carries a wide range of stylish post-surgical and fashion mastectomy camisoles to suit any style.