Large breasts can have uncomfortable side effects. Women with large breasts report suffering from chronic back, shoulder, or neck pain, nerve pain, and even skin irritation under the breasts. Large breasts can also interfere with everyday activities such as sleeping or taking part in aerobic activity and sports.
Breast reduction surgery is the solution to ending this discomfort. It can bring a new lease on life, more freedom, and help your self-image. A skilled plastic surgeon can reduce your breast size to be more proportional to the rest of your body.
What to Expect After Surgery
Like any other kind of surgery, you can expect general soreness, restriction of movement, swelling, and some pain. However, with wise post-op practices, you'll be able to reduce this discomfort as well as your recovery time.
One of the critical parts of a successful surgical recovery is support. You'll need a specially designed compression bra for early post-surgery days. This kind of bra is designed to be worn day and night, providing round-the-clock support and allowing the tissue to recover without excessive movement. A specially designed surgical bra reduces your overall healing time by encouraging healthy circulation and minimizing certain risks that accompany any kind of breast surgery.
Unlike standard underwire bras, compression bras feature no wires, no dye, or intricate trim. They're constructed from stretch fabric that provides targeted pressure to critical areas around the chest.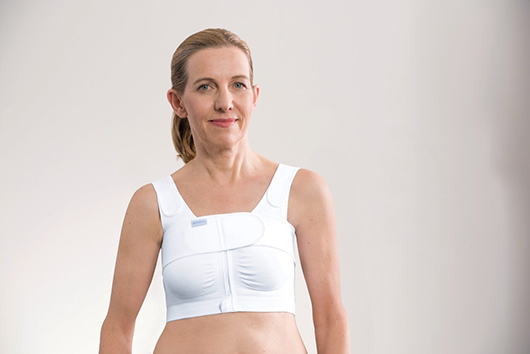 The AMOENA Leyla Surgical Mastectomy Bra is specifically made for breast reduction surgery. Its seamless, high-quality construction allows for easy access, minimizes skin irritation, and provides the optimal support required for a speedy recovery. It features a zip front closure for easy dressing and access to surgical sites to monitor healing.
Making Progress
You'll need to wear a bra 24 hours a day for around six weeks after surgery. After this period and as you continue to heal, you can start wearing regular bras; however, you must avoid underwire. An underwire bra will irritate the tissue and compromise your healing.
Sports bras are naturally suited to post-operative care. They aren't underwired, they offer premium support, and frequently include easy-access front fastening closures. All in all, sports bras are ideal for your breast reduction recovery time.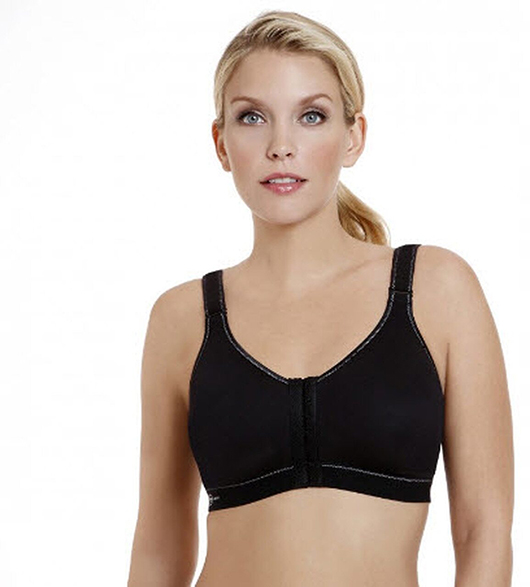 If you want a specially designed sports bra, one that will encourage your healing and give you the support you need, the ANITA Firm Support Sports Bra is the ultimate choice. Made from breathable cotton microfiber, with a front opening, comfort straps, and seamless pre-shaped cups, this bra will help you keep up with the pace of your life with 100% comfort.
Exploring Your Options
Mastectomyshop.com offers a full range of functional and beautiful postoperative clothing. Ensure you have everything you need for your breast reduction by exploring our range online or calling 877-413-2272 to talk to one of our experienced staff members.