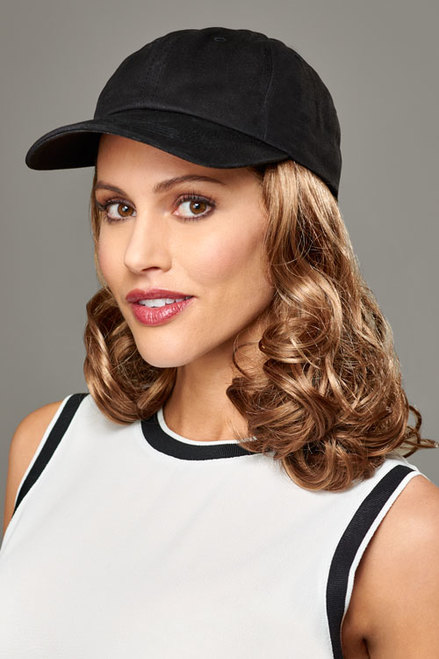 Many women begin wearing a wig to restore their pre-treatment appearance when undergoing chemo-induced hair loss. Wigs can help women feel confident and look great, provide a sense of normalcy, and minimize unwanted attention.
Henry Margu wigsare designed to be comfortable, realistic, and durable, but in order to get the most out of a wig, it's important that you care for it properly. The steps you'll need to take to keep your wig in tip-top shape will vary based on your desired look, the climate, and how you use your wig.
Henry Margu Wig Care
Like with natural hair, you'll need to regularly wash and brush your wig for it to look its best. By tweaking the way you care for hair to suit synthetic fibers, you can create a simple and effective wig care routine.
Washing the hair
Gently wash your wig in cold water with a mild shampoo, preferably one specifically geared toward washing wigs. Rinse the wig thoroughly to remove the shampoo, and then let the wig air dry by laying it flat on a towel. Shorter styles can also be hung on a wig stand to dry.
The wig fibers are most delicate when they are wet, so don't brush the hair until it has completely dried. A gentle shake to the dry wig should return the hair to its original style, thanks to Henry Margu's exclusive fiber processing style.
Styling wigs and hairpieces
Gently brush your wigs to avoid pulling the hair out of the cap. It can be helpful to lay the wig on a flat surface and brush the ends of the hair before moving upwards.
Avoid using hot tools, like blow dryers and curling irons, to style your synthetic wigs, as heat can damage the fibers and cause frizzing. Instead, use a brush or pick designed for wigs to add volume or style updos.
Wig Care Accessories
Using tools specifically designed for wigs can prevent you from inadvertently damaging your wig. Look for shampoos designed for synthetic fibers and other wig care products like spray-on conditioner and wire brushes.
Tips for Handling Your Wig
When you're not wearing your wig, store it on a foam head or a wig stand. Longer styles can also be laid flat, but you should avoid folding, boxing, or bagging your wigs as that can create creases and tangles.
Be careful around stoves, ovens, fireplaces, and other sources of extreme heat. Henry Margu wigs are not flammable, but heat can damage the synthetic fibers.
About Henry Margu Wigs
Henry Margu's monofilament wigs look like natural hair; pieces of synthetic fiber are hand-tied to a fine lace cap material that, when worn, is indistinguishable from the scalp.
Synthetic wigs are often more durable and require less upkeep than wigs made from human hair, as synthetic fibers retain their shape and aren't affected by humidity. Henry Margu creates wigs using varying synthetic fibers that create a realistic appearance and texture.
Henry Margu is the oldest wig manufacturer in the US and is constantly working to improve upon wig technology. These high-quality wigs are prided for being lightweight and comfortable to wear. Many people don't need to wear a wig cap with Henry Margu wigs, meaning they can stay cooler during hot days.
Types of Wigs and Hairpieces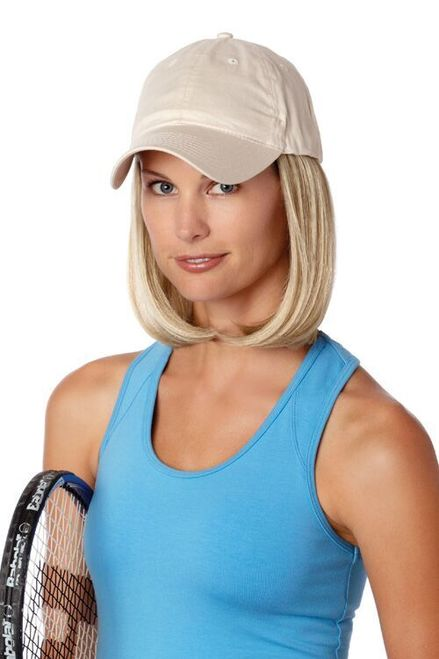 Mastectomyshop.com carries hats-with-hair wigs by Henry Margu. These styles are lightweight and comfortable to wear and create an easy-going, effortless appearance. Henry Margu cap wigs come with beige or black, 100% cotton baseball caps that have sewn-in hairpieces.
You can choose between 12 different hair colors and lengths from 5.5" to 14" for the style that best suits your complexion and facial structure. To match your ideal hair length, try giving a longer style a hair cut.
A hat with attached hair is a great option for the summer months. It can be difficult to wear a hat with a full wig without worrying about shifting your wig or overheating with all those layers. A hat is a comfortable solution that provides extra breathability and shields your face from the sun.
Henry Margu Hair Pieces from Mastectomyshop.com
Wigs can help women undergoing cancer treatment feel confident and stylish, but some people are intimidated by the thought of caring for a wig. Synthetic fiber hairpieces are low-maintenance and natural-looking, but it's still important to care for your wig in the way you'd care for natural hair.
Regularly washing your wig and brushing out the tangles is the main aspect of a wig care routine. By remembering to store your wig properly and avoid intense heat or brushing your wig when it's wet, you can refrain from damaging synthetic hair and keep it looking great for longer.
Mastectomyshop.com carries stylish hats with hair by the trusted and experienced manufacturer, Henry Margu. Throw on an effortless style to shade your face and stay cooler outside. If you have any questions about wig care or headcarves and turbans or other headpieces, call Mastectomyshop.com at (877) 413-2272.