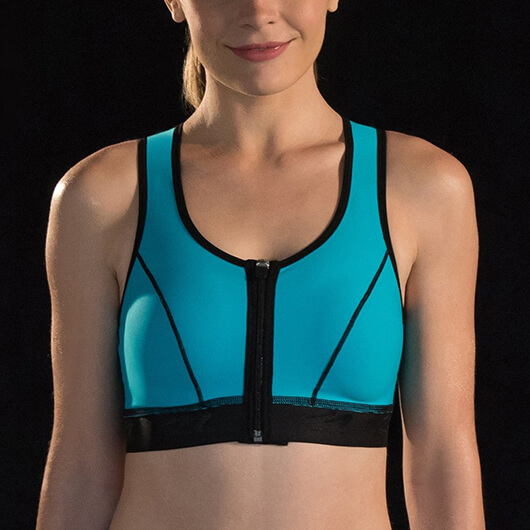 Sports bras are designed to provide optimal support during any activity. These specially formatted bras are often favorites for breast cancer survivors. Whether you've had a lumpectomy, partial or full mastectomy, breast reconstruction surgery, or wear breast forms, a good sports bra can allow you to get back to your workout routine, start yoga, or just feel secure doing your daily activities.
Can you also wear these supportive wonders while swimming? Although they may seem like an excellent alternative to a bathing suit, before diving into the pool or ocean while wearing your favorite sports bra, there are a few things to consider. Saltwater or chlorine can damage or degrade the material, while the highly structured design may restrict movement and limit range of motion, limiting what you can do comfortably in the water.
Benefits of Wearing Sports Bras
If you've had breast cancer surgery or reconstruction surgery, wearing a sports bra is recommended during your recovery. They restrict lateral and horizontal breast movement and provide support for your upper body, which is important for healing and safely exercising.
While a sports bra may impede casual swimming and frolicking in the water, they can provide benefits while swimming laps or other in-water activities such as playing water volleyball.
If you're looking to feel comfortable, supported, and more secure, wearing a sports bra while swimming can do that for you. It can also boost your confidence by providing extra coverage for your new body.
Sports Bra Fabric Durability
Sports bras overall are vulnerable to damage caused by both chlorine and saltwater. They are not as durable as bikini tops, which are designed from fabric made to withstand these environments. To prolong the life of your sports bra, you'll need to seek out one that is made of at least 70% synthetic fiber, such as polyester or nylon. Nylon is stronger and more durable.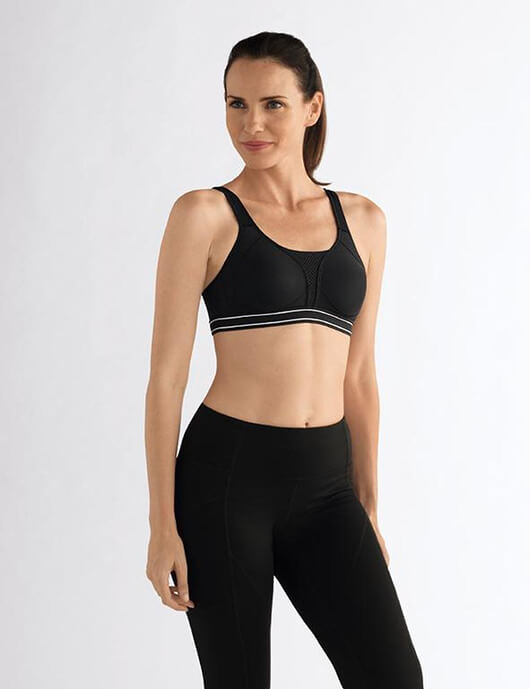 The Amoena Performance Sports Mastectomy Bra is made of 72% nylon and 28% spandex, providing toughness and a stretch fit. This bra also comes with pockets for swim breast forms. You can easily add it to a bikini bottom, a stylish swim skirt, or other swimsuit bottom style.
Sports bras generally soak up more water and take a longer time to dry. Look for one made out of a lighter-weight and quicker-drying fabric, and avoid any bras made of more than 80% cotton. Cotton is the most absorbent of materials and may weigh you down in the water.
Maintain your sports bras as long as possible by hand washing after every use and letting them air dry. This is especially important to help prevent fading and material deterioration.
Sports Bra Strap Options
When you're jumping over waves or playing with your children in the pool, you need a wide range of motion to move your arms. Normal sports bra straps prevent this, again restricting movement overall.
If you want to wear a sports bra in the water, look for ones with cross back or racerback straps. These still provide strong breast support but also allow you to move your arms more freely. Swimming requires repeated shoulder rotation, and a racerback will prevent straps from slipping or rubbing, causing skin irritation.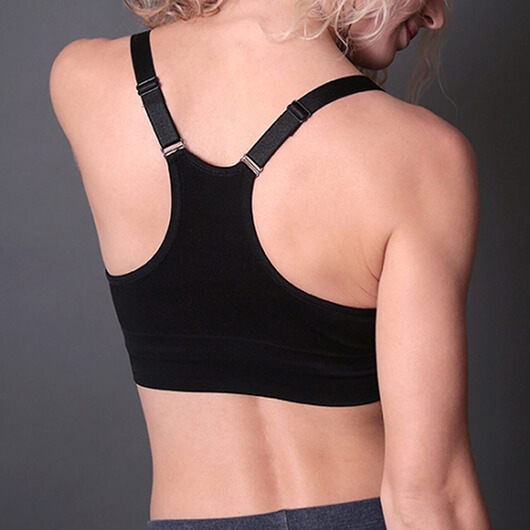 The Coobie Seamless Fusion Racerback Bra comes with wide racerback straps, providing support and a wider range of motion for all your activities. These straps are also adjustable, so you can always have the right amount of support, whether wet or dry. The fabric itself is a combination of ultra-soft nylon and spandex, providing durability as well as comfort.
Hooks, Eye Clasp, or Zipper Closures
While many sports bras are put on by pulling over your head, others come with hooks, eye clasp, and zipper closures for ease of wearing, especially after breast cancer surgery.
These metal features can deteriorate or rust quickly when often immersed in chlorinated or salty water. This doesn't mean you shouldn't wear them while swimming. Look for ones with coated metal closures to help keep corrosion at bay and make your sports bra last well beyond the summer.
Find Your Sports Bra for Swimming at Mastectomyshop.com
You have many attractive options when it comes to what to wear while swimming. If you prefer more support for safety and confidence, a sports bra may be exactly what you need.
Our knowledgeable staff at Mastectomyshop.com can help you explore your options and choose the right bra for your circumstances. Call today at (877) 413-2272 or explore our extensive catalog online.