There is no such thing as one size, or one type fits all when it comes to bras. There is a bra for every occasion, for every body shape, and every woman. At Mastectomyshop.com, our range of Anita bras caters to the needs of mastectomy patients of all shapes and sizes. Whether you've had a single or double mastectomy or are preparing for an operation, the bras we offer will make you feel comfortable and radiant in your own skin.
Anita Bras
Since 1886, Anita has been catering to the needs of women. Aware that women's bodies are constantly changing, Anita Bras has been a pioneer for underwear made for "real women" and has evolved their functional and beautiful lingerie range to include mastectomy bras, mastectomy sports bras, and breast forms.
Women's Anita Bra Styles
Whichever style Anita bra you choose, know that each product is comfortable and easy to care for. Simply wash on a gentle cycle, and lay flat to dry.
Anita Firm Support - Front Closure Sports Bra Without Pockets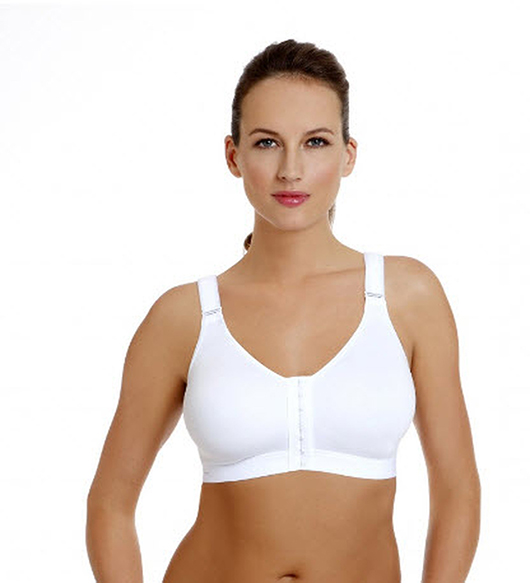 This Anita Firm Support - Front Closure Sports Bra Without Pockets is the perfect Anita sports bra for those who need something simple but also comfortable and attractive. The bra has a sporty front fastener that makes the product easily accessible when changing. It has pre-shaped cups that provide optimum support and allow you to enjoy low to medium-impact activities comfortably. Ideal for active women, this bra is available in black and white to match your activewear outfit.
Anita Antonia Mastectomy Bra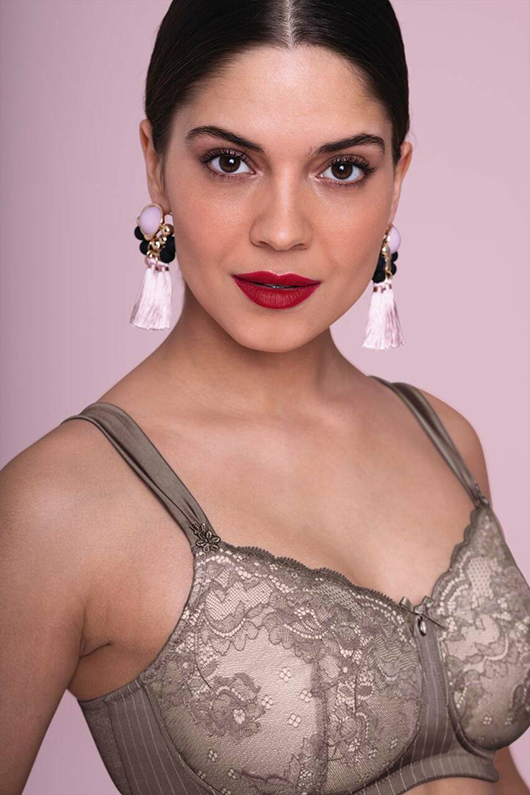 This Anita Antonia Mastectomy Bra is the epitome of elegance and will leave you feeling confident and attractive. The bra has pockets on both sides for your breast forms and is made from a comfortable cotton jersey material in the lower cup. The cups are made from sensuous stretch lace and are lined with fine tulle. The neckline has a soft stretch band for a snug fit.
Anita Ella Wire-Free Embroidered Bra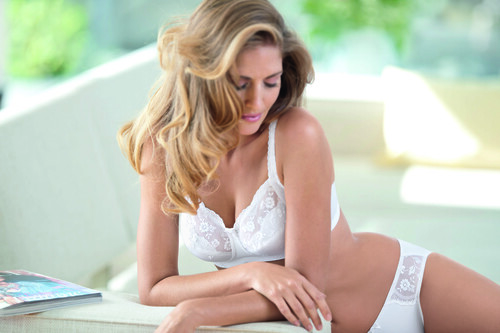 Anita's Ella Wire-Free Embroidered Bra is the ultimate combination of elegance and comfort for those who prefer the wire-free option. The bra features romantic floral embroidery, leaving you feeling feminine and beautiful, while the straps are soft on the skin and shoulders and are adjustable to your preferred level of comfort. Suitable for everyday wear as well as special occasions, the breast pockets in the lower cup are made from soft cotton.
Anita Lisa Seamless Wire-Free Bra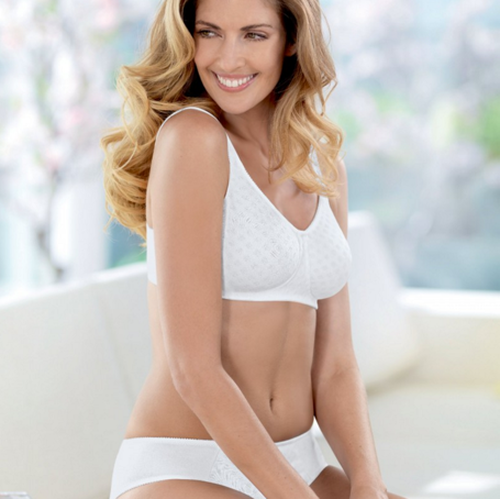 The Anita Seamless Wire-Free Bra offers a minimalist style that will never go out of fashion. The bra is available in various sizes to suit all women and has a pocket opening for breast forms. From large cup bras such as a DD to a smaller cup size like an A, this is the perfect underwire-free bra that gives you uncompromising comfort.
A highly breathable lingerie product, the bra also offers fast moisture-wicking technology. Made from high-volume, unique jacquard fabric, the bra has a concealing effect to give you the confidence you deserve. The product has flat, wide, padded comfort straps, and the sides at the back are double-layered, making this a standout product in the Anita seamless bras collection.
Anita Safina Post Bra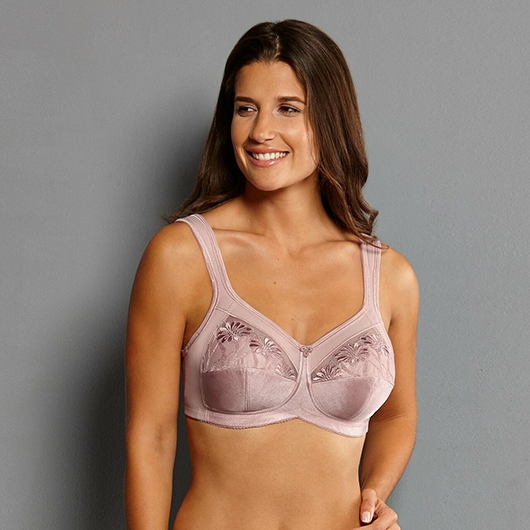 Feel fabulous in the Anita Safina Post Bra. This post-mastectomy bra comes in an assortment of desirable shades, with the upper cup embellished with tulle embroidery in a semi-sheer. This supportive bra has wide padded shoulder straps and has pockets for breast forms in skin-friendly cotton. Choose from various sizes, ranging from an A cup to a DD, and feel comfortable as well as beautiful in this delicate lingerie product.
Beautiful Bras For Every Occasion
Who doesn't want to look and feel beautiful in their undergarments? If you've recently undergone surgery, you may not be feeling like your former self, however, feeling great in your skin is just as important as your physical recovery. While no one else may be able to see your undergarments, it's still wonderful and empowering to feel attractive, feminine, and sensual for yourself. Here are some of our favorite Anita Bras to make you feel beautiful whatever the occasion.
Anita Clara Art Bra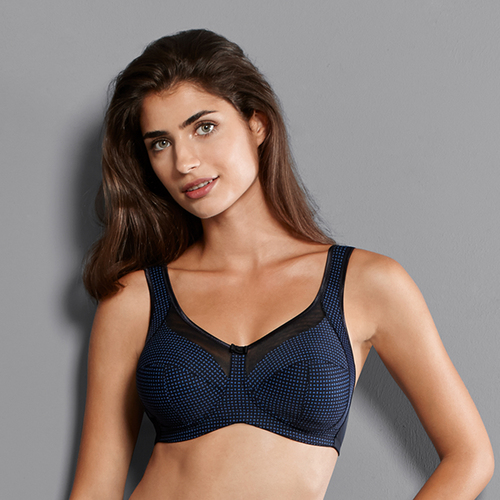 Anita's range of Clara Art bras offers functionality, comfort, and accessibility. This Anita Clara Art bra is an underwire bra perfect for those who may have recently undergone surgery and want to avoid putting pressure on their tender surgical area.
Instead, it offers a unique support system that is extremely comfortable. The three-section cups run into the straps and are framed by a side shaping panel that ensures the fit is smooth on the skin. The wide straps have stabilizing padding in the shoulder, with a wider back being available in larger sizes.
Anita Clara Post Bra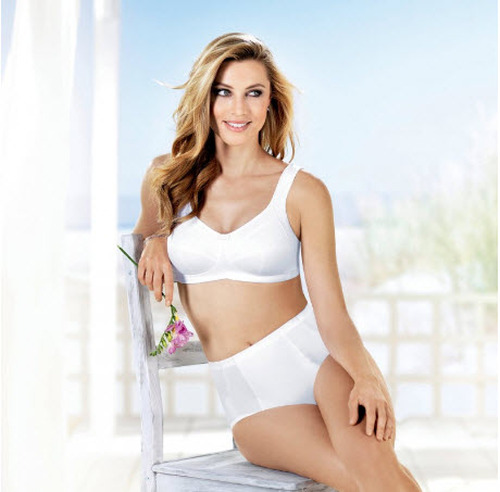 The Anita Clara Post Bra offers pure sophistication as well as extreme comfort post-mastectomy. Made from delicate microfiber material, the clean lines and crisp white color make this one of Anita's finest designs for those who love simplicity. Adorned with three-section cups with bilateral interior pockets to place breast forms on both sides, the bra also features a panel on the side that offers extra support.
Anita Clara Bra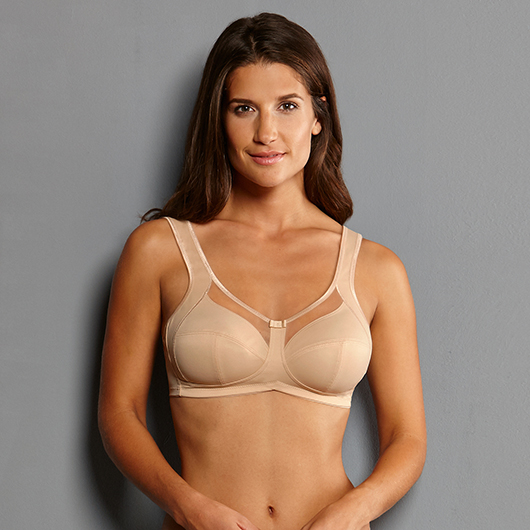 Offering straight-up functionality and comfort, the Anita Clara Bra is a no-nonsense, modern classic. It has semi-transparent panels with gently curved lines. The bra has three-part cups made from a comfortable knitted fabric. These cups are stabilized by side panels that gracefully blend into the padded comfort straps. This bra is truly one-of-a-kind, as it offers exceptional mastectomy support for active women and maintains extreme comfort for the wearer throughout the day.
Soft Bras
After a mastectomy, you need a bra that caters to your healing body. With this in mind, you need your lingerie to be soft on your tender skin and one that won't irritate surgical scars or impede blood circulation.
Anita Calmia Seamless Wire-Free Soft Bustier Bra Without Pockets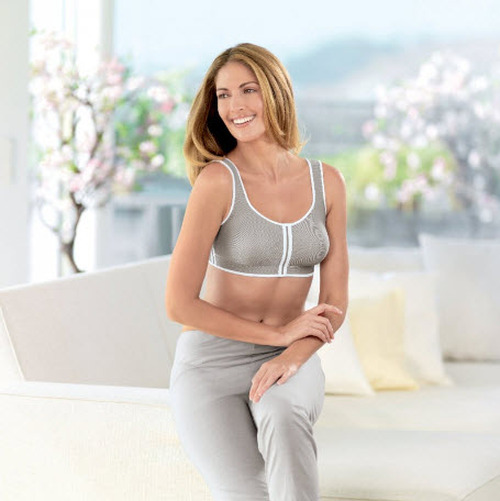 The Anita Calmia Seamless Wire-Free Soft Bustier Bra Without Pockets is a perfect choice for those with sensitive skin and who require a soft bra. Providing relaxation for both the body and soul, this bra is super-soft and soothing on post-mastectomy skin. The bra has double-layered, pre-shaped cups made of a cozy microfiber, and the shoulder straps have wide, soft edging bands that offer extreme pressure-free comfort.
Supportive Bras
After a mastectomy, you need a bra that offers the most support and slight compression to help with faster recovery. Anita has great bras that provide women with extra support following their surgery and recovery period.
Anita Vivana Active Bra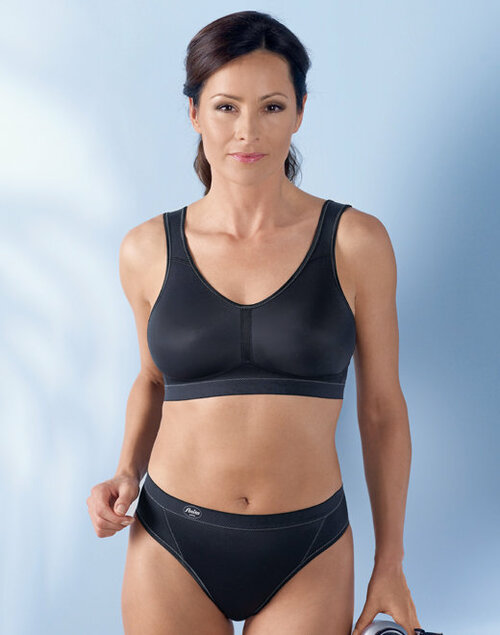 If you're an active woman following a mastectomy, you will require an extra supportive bra to alleviate pressure when exercising. The Anita Vivana Active Bra is the perfect choice if this is the most important factor in your bra hunt.
Fast-drying and breathable, this bra comes with pockets on both sides for your breast forms. Designed with pre-shaped cups and a high-cut neckline, these features are what make this particular bra so supportive. The Viviana also comes with matching sports panties for an all-over athletic look.
Get The Look
From wireless bras, comfortable bras, soft cup bras to mastectomy bras, Anita is one of the best mastectomy brands that put women and their incredible bodies first. To find out more about the collection of Anita products, visit our Mastectomyshop.com website. Our team of experts is on hand via live chat to help answer any questions you may have.
If you're ready to feel confident, feminine, and beautiful, order your perfect bra today and be amazed at the results when you look back at your stunning self in the mirror. You can create an account with Mastectomyshop.com to keep up-to-date with the best offers, prices, deals, sale items, and Anita Bra products.
FAQS
Where are Anita bras made?
The Anita bras sewing facility is based in Herálec, the Czech Republic. Currently, the Anita bras company is under the management of Elisabeth Volárová. She has been in charge of the brand since 2007. She has built the company into an excellent producer of swimwear and shapewear fashion, as well as being a prominent label in the world of mastectomy lingerie.
Why are mastectomy bras important?
For women who are about to undergo surgery for breast cancer or have already had a single or double mastectomy, these specific bra types are extremely important. Mastectomy bras are wider than standard bras and are often designed to cover scarring.
They are often wire-free to reduce pressure on the scar tissue and offer extra support for women as they go through the healing process. Women need to wear the right mastectomy bra post-surgery to accelerate healing time, as well as protect the skin and body during this sensitive period.
What should you look for in a mastectomy bra?
The most important features your mastectomy bra needs to include are soft seams, wire-free cups, a wide under band, pockets for breast forms, deep front and side panels, adjustable straps, and cup separation.