Getting the right fitting bra can be a challenge at the best of times, but after a mastectomy, you face additional factors that can make you feel entirely out of your depth. Before you give up, it's essential to know your options and do the research. Having access to the right information can transform your post-mastectomy life and help you feel comfortable and beautiful in your skin.
Sports bras are a fundamental component of life after breast surgery. They offer multiple benefits and extra support that's ideal for post-operative wear, and the Amoena brand provides a range of specialist pieces that perfectly combine functionality and beauty.
The Role of Sports Bras
Having an active life is an integral part of any healthy lifestyle, and sports bras make it possible for women to enjoy various activities without feeling inhibited or uncomfortable. No matter what kind of sport or exercise you love, there's an appropriate sports bra that can give you the right support.
Sports bras come in three categories: low, medium, and high. These cover all kinds of exercise intensity levels, with each subsequent type offering firmer support. While you're the best judge for which intensity level feels best. The more jumping around and movement you're performing the more support you'll need.
If you've had breast reconstruction, wearing a sports bra can be a crucial component of your post-surgical wardrobe. Your implants require the same support as your natural breasts, and this is especially true when exercising or performing any activity that involves vigorous movement. Sports bras help minimize movement that could cause the skin to stretch.
Sports bras come in two main design types: encapsulation and compression. The encapsulation design features two individual soft cups to support each breast separately, while the compression design uses tight, elastic material to compress the breasts and minimize movement.
Mastectomy Sports Bras
Sports bras specially designed for post-mastectomy wear aren't vastly different from their regular counterparts; the differences are in the details.
Sports bras are inherently suitable for mastectomy wear, as they include features that minimize movement and offer full support without harsh detailing. This is precisely what women need after they've recovered from a mastectomy, making sports bras a natural choice and wardrobe staple for every breast cancer survivor. Look for the following features in your post-mastectomy sports bra:
Fully adjustable straps
Soft seams
Wide underband
Soft material
Deep front and side panels
No underwire
Get the Right Support With Amoena
Amoena offers a wide selection of post-mastectomy bras, swimwear, and breast prosthetics to create a natural-looking form and overall symmetry.
Founded in 1975 by Cornelius Rechenberg, this man's vision has created an empire dedicated to making stylish, functional, and comfortable post-mastectomy pieces. This company has designed specialist products with mastectomy patients in mind throughout the decades and is supported by a wonderful community with top-notch customer service.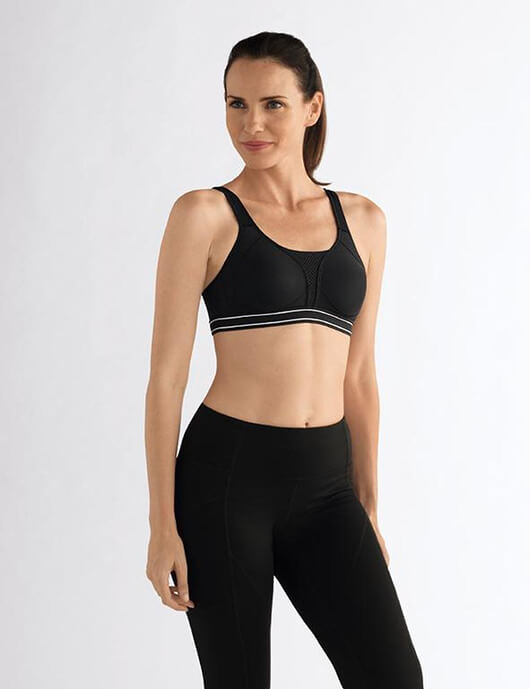 The Amoena Performance Sports Mastectomy Bra
The Amoena Performance Sports Mastectomy Bra is the high-impact sports bra you need in your post-mastectomy wardrobe. Comfortable, supportive, and suitable for a range of moderate to intense activities, this bra features everything you'd want in the ultimate mastectomy sports bra.
Its soft fabric molded cups feature frame construction at the side and lower cups, giving you a soft cup style that doesn't irritate your skin but still offers solid structural support. The reinforced side panels provide ultimate support, ensuring you feel held all around. With this combination of soft microfiber cups and reinforced sides, you're guaranteed comfortability from every side and angle.
The wide, flat adjustable shoulder straps complete the design, ensuring a close fit and rounding out this bra's comprehensive support structure.
This practical Amoena sports bra includes built-in pockets, a must-have for any woman who intends to wear breast forms or other prostheses. Like the rest of the bra, these pockets are made from ultra-soft, moisture-wicking fabric for intense workouts.
This style is available in several cups sizes, from AA to DD, so you'll get the right fit for your post-mastectomy shape, regardless of whether you use breast forms, have undergone breast reconstruction, or prefer to enhance your natural shape.
This sports bra is packed with convenience-enhancing features and is made to support any woman's active life and healthy lifestyle.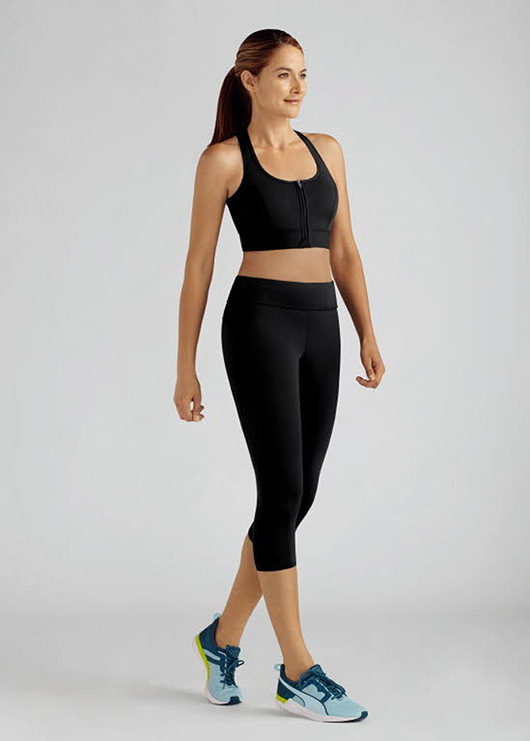 Amoena Medium Support Sports Bra
If you want an efficient sports bra but don't need ultimate support, the Amoena Medium Support Sports Bra is a great alternative to the ultra-firm construction of a high-impact style. This style is ideal for women who want to avoid feeling restricted without sacrificing support, with a medium-impact design that allows you to move unencumbered to continue your healing journey.
This bra is ideal for women still in the early days of recovery who need firm support but don't yet have a full range of motion or the desire to do intense exercise. This front zipper bra is easy to slip on or off and is suitable for a range of activities. The bra comes in a racerback style—the classic sporty look—and is made from soft microfiber fabric, ensuring a comfortable fit with no irritation.
Feel the Joy of an Active Life
Enjoy an active life and feel the joy of movement again with the right Amoena sports bra. Mastectomyshop.com offers a full range of Amoena products, so you can choose the best option for your needs.
Browse our website to view our specially designed supplies for post-mastectomy life or call (877) 413-2272 to consult with one of our friendly and experienced staff members.