For women who have undergone mastectomy surgery, finding the perfect bra for their new body can be a challenge as most stores only carry a limited range of bras and sizes. Buying online is not only convenient but can give you access to much more variety in styles and sizes than you would find in-store. However, to make sure you get the mastectomy bra you need, here are some tips to help you buy the mastectomy bras online.
1. Get Properly Fitted
Up to 80% of women are wearing the wrong bra size, and when it comes to mastectomy bras, you need the right fitting bra for the most comfortable wearing experience. Knowing your true bra size will also make shopping for a mastectomy bra online so much easier and help to avoid any disappointment or the hassle of returning for items that don't fit.
You can measure your bra size with a fabric measuring tape and a sizing chart, or contact our professional American Board for Certification or BOC accredited fitters for advice.
2. Know the Right Type of Bra for You
Different mastectomy bras are better suited to the different stages of your recovery. Immediately following surgery, it is recommended you wear a compression recovery bra to help boost blood circulation, assist drainage and speed up the healing process. Once your doctor has given you the okay, you can try soft cup or wireless bras.
One of our favorite brands, Amoena have an excellent range of post-surgical bras to help you regain your natural shape, as well as an extensive range of everyday bras that let you feel comfortable and confident.
3. Secure Hold
A good mastectomy bra has intelligent features that are uniquely suited to the needs of mastectomy patients. Look for mastectomy bras that feature bilateral interior pockets that securely hold all types of breast forms, and molded cups that not only hold breast forms securely but also give your body a more natural shape.
4. Comfortable Fit
Mastectomy bras should feature wide, padded and adjustable straps for creating a more customized fit for your body and for evenly dispersing weight across your shoulders.
Wide underarm and underbust bands offer added support for breast forms and provide a more comfortable fit. While slightly wider set cups allow for the central cup divider to sit closer to the chest for additional security and better shaping.
For maximum comfort, try mastectomy bras predominantly constructed from super soft microfiber material or breathable cotton as this material won't irritate scars or surgical sites.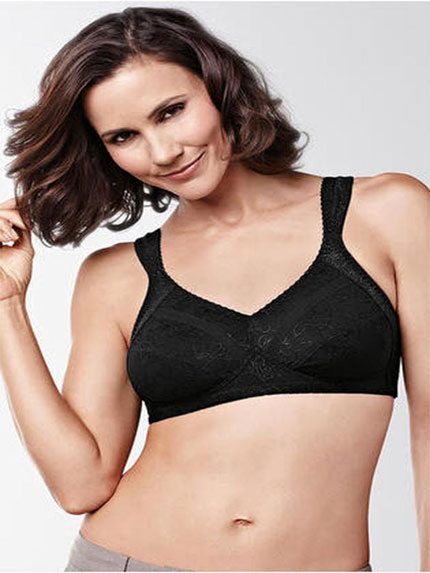 5. Luxurious Details
While cotton and microfiber are the best choices for the primary material used for your bra, you don't need to opt for plain designs. Many mastectomy bras are not only designed to be comfortable but to also make you look and feel good.
Fine details like scalloping, lace trim, bows and other embellishments add a touch of glamor to your everyday look and can help you to both look and feel great outside and in. Anita have created a range of sexy, lux bra designs that offer all the features you need and all the style you want.