It's a fan favorite for a reason! This gold-star boyshort shaper employs our exclusive PowerSlim® fabric to firmly compress your whole torso. The inside is lined with smooth microfiber fabric for a soft and fresh feeling against your skin. The bottom has microfiber cutouts for a butt-lifting effect. For ease of wear, this shaper has an ultra-flat front zipper, which is invisible under clothing. It has an open bust, wear your own bra design. Comfy, multiway straps allow versatility, and you can even hook your bra straps to the back of this shaper for extra support.
Detailed Features
A body shaper that's made of PowerSlim® to sculpt your entire torso.
Lined in microfiber for a soft feel.
Microfiber cutouts in the bottom for a no-flattening, butt-lifting effect.
Flat hook-and-eye closure for easy wear.
Adjustable, removable, thermafused straps are designed for comfort.
You can hook your bra straps to the loops in the back for extra support.
Anti-slip grip lining on the leg bands.
Open gusset.
Can be worn daily or for post-surgical recovery from liposuction, hysterectomy, or postpartum.
Fabric content: 85% polyamide, 15% elastane.
HOW TO WEAR IT
• Your body should be dry with no oils.
• Be careful with nails, jewelry & pointed objects.
• Hold the garment with your fingertips.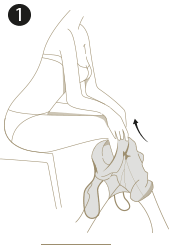 1. Make sure all hooks, clasps and zippers are open. From a seated position, take the bodysuit by the sides and put one foot at a time into it. Pull the bodysuit up to your knees.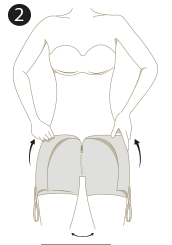 2. Stand up, and spread your legs apart and continue to pull the garment up to a comfortable fit.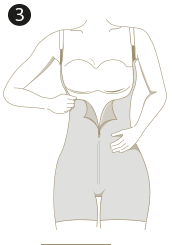 3. Put on the straps and adjust them to your comfort. Use a mirror to check that the garment has not rolled up and is in its rightful position.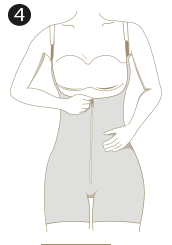 4. To close it, hook up the inner hooks from the bottom up and then close the zipper. If open-bust, the shaper should be placed to surround the bra on the bottom.