Oncologists agree that swimming is a great, low impact form of exercise. Still, following a double mastectomy, it can be difficult for breast cancer survivors to know precisely how to feel confident in a post-mastectomy bathing suit.
Mastectomy swimwear is a specialized type of garment that women who have undergone breast surgery can wear with a breast insert. Like any other swimwear piece, they come in all sizes and styles with options to mix and match swim tops and bottoms.
When dealing with sensitive skin and high necks, it can be hard to decide what suit will help you feel most comfortable when trying to get your laps in or just want to relax next to your pool. There are some great options for mastectomy swimwear; you just need to figure out what makes you happy.
Pocketed Swimwear
Pocketed swimwear is an excellent choice for women who have opted to use breast prosthesis or breast forms following their mastectomy. These swimsuits have an extra pocket sewn into the breast cups to insert and remove the prosthetics as you'd like.
Be aware, though: if you opt for pocketed swimwear, you should wear them with the right swimming prosthetics. Prosthetics used for swimming are a bit lighter and will not absorb water. Should you use a foam form instead, the form will absorb moisture, potentially damaging it and weighing the suit down.
Two-Piece Suits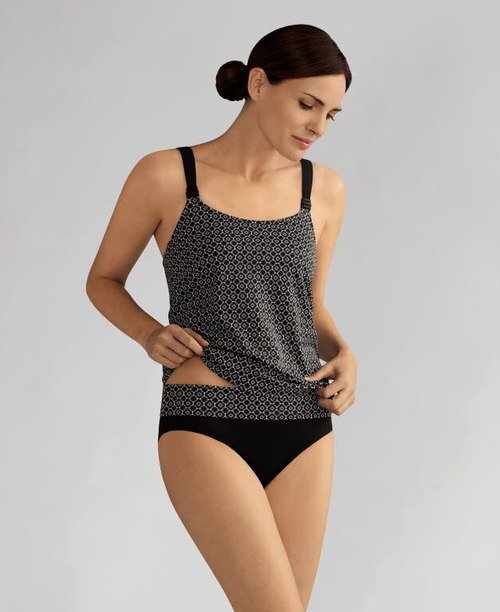 These swimsuits are very trendy right now and are characterized by having a separate top and bottom to switch out. You can easily mismatch the tops and bottoms to create new looks every time you put them on. You can match colors or patterns; however, you see fit. There are shorts, high waisted options, tankini tops, and traditional bikini tops to choose from, so there's a style for every body type.
Adjustable Tops
An excellent feature of mastectomy swimwear is adjustable straps. Having straps to adjust means you'll easily be able to tighten and loosen your top to your comfort level. Additionally, you can change the way your suit fits if you need to lift one breast higher than the other.
Halter tops are a particularly attractive choice for mastectomy swimwear. Not only do they offer the adjustable straps recommended here, but they also provide additional, upwards support when compared to regular suit straps.
Swim Dresses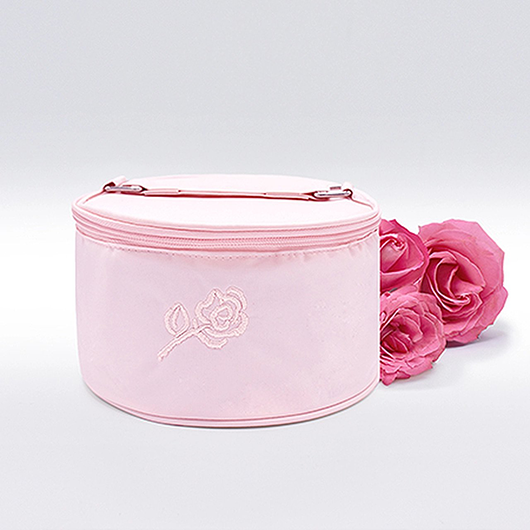 Popular with standard swimwear, swim dresses have become a trend with the younger crowd lately. These dresses offer coverage that many women prefer and tummy control.
Own Your Look
Many women who have opted for a mastectomy are proud of their scars, and so they should be. These warriors wear their scars proudly as a way to proclaim survival to everyone around them. These bold women should try to find suits that have rouging around the front or other accessories like metal or faux zippers that will draw attention to and complement their figure. Your swimsuit should be as bold and as beautiful as you are.
Bottom Line
If you're swimming for exercise or just taking a stroll on the beach, it's an inherent desire for women to want to look and feel good in their swimwear of choice. That doesn't have to change after a mastectomy.
No matter if you prefer bold patterns and loud colors or reserved solids and swim dresses, you can find terrific options by well-known brands like Jodee, Amoena, and Penbrooke to suit your style in mastectomy swimwear at Mastectomyshop.com. Enjoy your time catching some sun next to your pool or walking along the boardwalk without ever missing a step.