Searching for the perfect swimsuit is a daunting task for many women. For those of you undergoing mastectomy surgery, it can even seem even more challenging. You'll have to contend with changes to your body, scarring, and potentially wearing a breast prosthesis.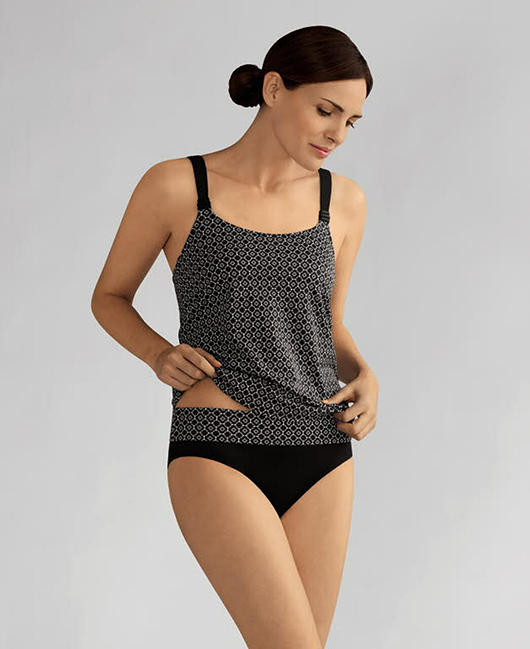 Understandably, you won't feel ready right away to get back out on the water following your breast cancer treatment. When you begin to feel comfortable with the idea, it's time to peruse what's available in mastectomy swimwear. One way to start is by going online.
While you can look all you want, keep in mind where you are in your recovery journey. Your post-breast cancer surgery decisions can help you determine how to find the best swimsuit for your body.
Steps to Take Before Buying Your Swimsuit
Whether you're anxious to get back to swimming laps for exercise, play with your kids on the beach, or leisurely soak in a pool or hot tub, there are a few steps to take before buying a mastectomy bathing suit online and diving in the water.
Allow Healing Time
Recovery times can vary, so make sure you allow enough time for your body to heal completely. Also, wait on your doctor's permission to resume exercise, such as swimming.
Decide Whether to Wear Breast Prosthesis or Not
Whether you've had a double mastectomy or need one breast form to match your remaining natural breast, you have various choices to help create a natural look. Work with a certified fitter to find the correct size and perfect fit for your body.
Consider Swim Forms
You can also buy swim forms for wearing with your new bathing suit. Mastectomy swim forms are lighter and retain their shape in the water, both chlorinated and saltwater. You can wear these in place of your regular or custom breast prosthesis when in the water. The Amoena Aqua Wave Silicone Swimform is an excellent choice. Made from clear, water-resistant silicone, these swim forms dry quickly and are lightweight.
What is Unique About Mastectomy Swimwear?
Mastectomy swimwear is designed with your needs in mind. Its unique attributes include:
Built-in breast pockets for your prosthesis or swim forms

High necklines and arm openings to hide scarring and provide more support
Wide, adjustable straps to allow for a balanced and supportive fit
Removable soft cups
Tummy control features to flatten or firm the midsection
The right amount of pressure to hold breast forms securely in place
Choose a Style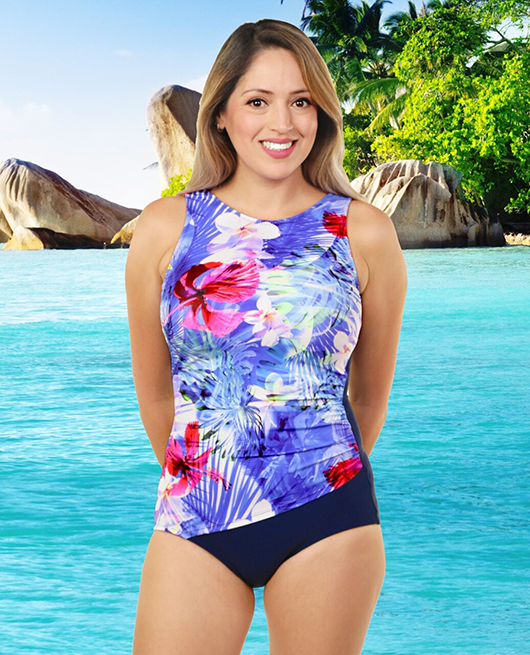 As you review the type of swimsuit styles online, consider each one based on where you plan to wear your suit and your individual preferences.
One-piece swimsuits, like T.H.E. Collection High Neck Print Drape Swim Suit, are a popular choice overall, thanks to the varying designs available. They provide full coverage for your chest and backside with supportive features, like slimming panels and ruching to make you feel comfortable. One-piece styles are ideal for recreation and exercise as they keep your swim forms contained more securely than other styles. Opt for a racerback style for better mobility while swimming laps.
Tankinis are another popular swimsuit style for breast cancer survivors, allowing for different designs, colors, and even mix-and-match possibilities. Tankini tops are an excellent choice if you want more coverage for your midsection. The tops gently drape without restricting your range of motion. Wearing these, you have more freedom of movement over a one-piece as well.
If you still prefer the bikini, however, then go for it. In mastectomy swimwear, bikini tops come with built-in pockets for breast forms and usually higher necklines for more coverage and security. You can match your bikini tops with a wide variety of bottoms, from classic high waisted briefs to tailored swim shorts to flirty swim skirts.
You have your choice of colors when it comes to mastectomy swimwear. Choose brighter shades or dynamic prints to show your confidence and boost your style. If you want a more slimming effect, go with a darker solid color with or without a color-blocking design element.
Shop Online at Mastectomyshop.com
Buying your swimsuit online from a shop catering to breast cancer survivors provides you with the expertise and carefully chosen inventory that only those in the know can provide. Mastectomyshop.com offers a wide selection of swimsuits to choose from, and our staff is standing by to answer any questions you have. Call us at (877)-413-2272 today.