Nearly half of breast cancer survivors who undergo mastectomy choose not to undergo reconstruction. For health, financial, or personal reasons, reconstruction can be unfeasible or undesirable. As an alternative, many women opt for a breast form to look and feel healthy and confident after surgery.
It's important to keep in mind that breast forms aren't a one-stop, ideal solution. Breast forms can be uncomfortable or burdensome when they must be worn with complicated adhesives, magnets, or straps. While choosing a breast form is ultimately a personal decision, it can be helpful to learn about the different technologies and new products that might make a breast form right for you.
The right breast form can help you feel and look great post-mastectomy. For added ease, look for a breast form that uses self-adhesion and temperature regulating technology so you can have a pre-surgery natural look without unnecessary annoyance. We think the Contact Comfort+ Breast Form is a great option - here are our top 7 reasons why.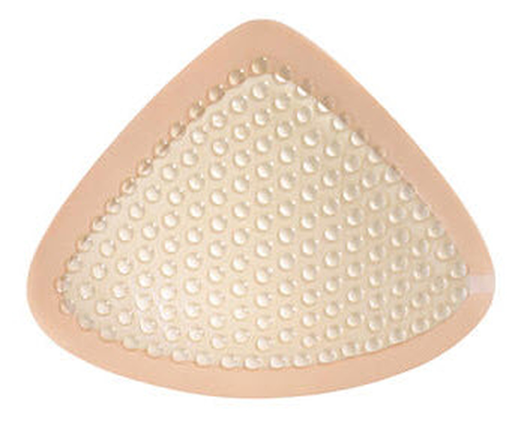 1.Comfort+ Technology is Temperature Regulating
Mastectomy patients often find their body temperature fluctuates for months after surgery. Don't settle for a breast form that traps heat against your chest and leaves you feeling sweaty and uncomfortable when you can choose a breast form that absorbs excess body heat.
The Amoena Contact Comfort+ breast form reduces perspiration behind the form by storing body heat in thousands of microcapsules that comprise the patented phase-change material.
This ingenious design also releases body heat back to your body from the breast form when your body temperature drops, making the Comfort+ material a true temperature regulating feat of engineering.
The Amoena Contact Light Silicone Breast Prosthesis is a great option for a silicone breast form that helps to control your body temperature for a comfortable, natural feel.
2.Gentle and Secure Adhesive
Many self-adhesive breast forms come with roll on adhesives or tape to stick the breast form to your skin. While these adhesives are designed to be skin-friendly, often the forms are hard to remove at the end of the day and leave a sticky residue behind that requires scrubbing to get rid of.
The Amoena Contact Comfort+ breast form comes with a medical-grade back layer that adheres to the skin without causing irritation. The breast form remains securely in place all day, and when you're ready to remove it at night it leaves no sticky residue. The secret is in the pearl silicone beads that create a bond with the body for a peace of mind throughout the day.
3.Works with Pre-surgery Bras
A byproduct of a state-of-the-art contact technology is that it allows you to wear a breast form with your pre-surgery bras. These breast forms adhere to your body without any additional adhesive no matter what type of bra you choose to wear with them, although it is recommended that you wear a bra with your Contact Comfort+ breast form for optimal support.
If you like, you can wear these breast forms in the pocket of a mastectomy bra. The mesh pockets inside the bra cups break the seal between your skin and the breast form allowing for increased airflow. The pockets are also designed to hold breast forms securely to prevent shifting to give you an added level of security and peace of mind.
4.Comfortable Weight Distribution
Because the Contact Comfort+ breast form adheres snugly to your chest, this breast form feels lighter than traditional breast forms. This creates a more natural weight distribution that alleviates neck and back discomfort even with larger cup sizes.
Finding a lightweight breast form is especially important for reducing lymphedema and flare-up risk. The Contact Comfort+ breast form is created with a new, improved silicone formulation that is significantly lighter than standard silicone forms.
5.Moves Like a Part of You
With a secure, all-day adhesion to your body and natural-feeling silicone construction, the Contact Comfort+ breast form will feel like a part of your body. The realistic look and feel of a soft silicone breast form won't inform others, and even helps you forget you're wearing a breast form.
You'll have the freedom to move as you like without worrying about fixing or adjusting your breast form. This means you can use it for a wide range of activities whether you're out shopping, relaxing at home, or enjoying some gentle exercise to boost your recovery.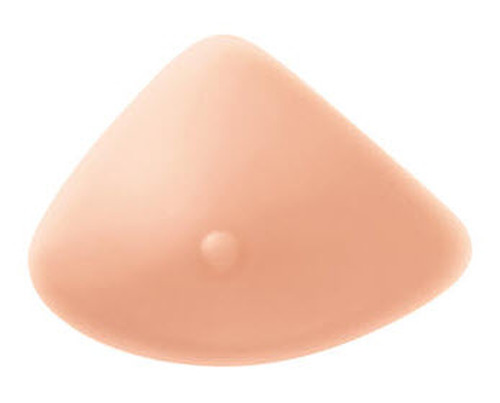 6.Easy to Wear
The all-day pearl adhesion is so easy to wear all day long with your bra of choice. It won't limit your outfit options, either. A quality breast form looks natural and effortless with your go-to tank top, stylish night-out dress, and even sexy lingerie.
The Contact Comfort+ breast form is meant to be an everyday staple and a special occasion essential. After a quick clean at the end of the day, the medical-grade silicone is revitalized to contact snuggly with your skin for another day.
7.Easy to Put on and Remove
The Contact Comfort+ breast form is easy to wear, and so is its application. Simply ready your skin with skin preparation wipes before placing your breast form in the cup of your bra and pressing it to your skin.
The Contact Comfort+ breast form loosens from your skin effortlessly at the end of the day and won't leave behind any sticky residue often found with other adhesive breast forms. After every use, wash your breast form to remove dead skin cells and ensure optimal adherence to your skin the next day.
It's also a good idea to use a moisturizing cream to care for your skin, like the Amoena 082 Skin Balance Gel Cream. This cream is specifically made to rejuvenate your skin without hindering your breast form's ability to adhere securely to your skin.
Additional Considerations to Find the Right Breast Form
It's a good idea to take stock of the many options and variations in breast forms to find your optimal fit. Consider the breast form material, shape, use, and fit before making a decision.
Material
Silicone is the most common breast form material and produces the most lifelike results in weight and feel. The realistic shape that conforms to your body is made by pouring silicone into a mold and filling the shell with flexible silicone gel or beads.
Silicone breast forms can be expensive, especially if you opt for a medical-grade form. It's important to protect your investment by cleaning the form daily and storing it away from heat or sharp edges.
Polyurethane foam is an alternative to silicone forms and is often used in lightweight breast forms. These forms are often covered in a seamless fabric for a comfortable experience. Foam breast forms are less expensive than silicone breast forms, but they can retain excess heat for a sometimes uncomfortable fit.
This lightweight material is usually recommended for travel, resting, exercise, and sleeping and is often the best choice for early post-surgery use.
To get the best of both worlds, choose the Amoena Contact Comfort+ breast form for a lightweight prosthesis that regulates your temperature and offers the look, weight and feel of natural breasts.
Shape
Breast forms come in triangle, round, teardrop, and partial variations and can be symmetrical or asymmetrical.
Triangle
The classic triangle profile has a wider bottom to fill out your bra cup to look like a natural, mature breast. Some triangle forms also have shorter heights to accommodate low-cut tops. This shape even is designed for women who have intact pectoral muscles and less breast tissue removed, as well as women with a wide chest wall.
Teardrop
A teardrop breast form is more suitable for women who have had some underarm or lymph gland removal. The oval body and tapered top create a natural-looking profile and add volume to the underarm area for a streamlined silhouette.
Teardrop shaped breast forms can also be worn vertically and are ideally suited to women who have more breast tissue volume towards the base of the breast than on top.
Round
Round breast forms are a symmetrical variety that is suitable for women with a fuller projection and cup profile, and who have not had lymph node removal surgery. These are the perfect choice for women who have had a bilateral mastectomy.
Partial Breast Forms and Shapers
Partial breast shapers are designed for women who have had breast conserving surgery but still retain a significant amount of breast tissue. These products can fit over your remaining breast to even out your figure for a beautiful silhouette, or add volume to areas that lack definition such as under the arm.
Symmetrical and Asymmetrical Forms
A symmetrical breast form can be worn on either side, while an asymmetrical breast form provides a more realistic silhouette by distinguishing between the right and left breast. Symmetrical forms can be purchased in pairs and used by women who have had a radical double mastectomy. Asymmetrical forms are best suited to women who have had a unilateral surgery.
Use
Different breast forms are designed to be worn for different activities. For the best experience, it's important to choose a breast form best suited for your lifestyle.
High-quality silicone breast forms can be worn for all your daily activities, even during exercise and swimming. Other breast forms are meant for more specialized times, such as directly after breast cancer surgery or for exercise.
This Anita 1086x Silicone Swim Form is designed to provide an optimal exercise experience with a lightweight and breathable construction. This breast form won't be damaged by hot water, chlorine, or saltwater and is extra soft for added comfort while exercising.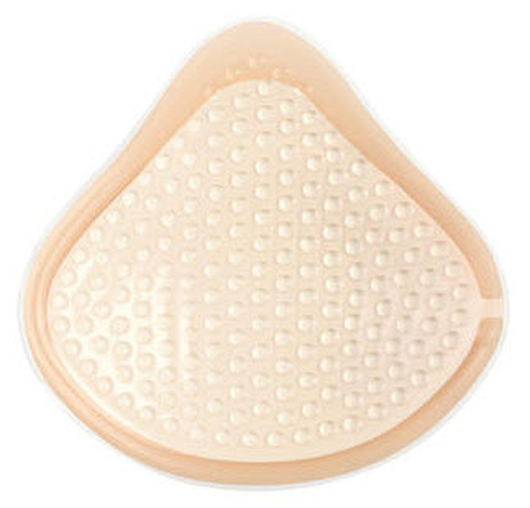 Fit
Regardless of what shape and style breast form you decide to use, the correct fitting can make the difference between a comfortable and natural-looking solution and an uncomfortable and insecure addition. To avoid an improperly fitting breast form, consider having a trained, certified fitter take your measurements to help you find the right size.
If working with an expert isn't an option, consult the size charts and measure yourself carefully to find the right fit. Most size charts ask you to measure your band and cup size. Keep in mind that the size chart is only the start of finding a well-fitting breast form. It may be necessary to size up or down as needed depending on how the breast form fits.
Fits vary with different manufacturers, so it's important to look at the chart that corresponds with the relevant company. Additionally, never hesitate to call our customer care staff. They are there to support you and help you find the best breast form for your unique needs and lifestyle.
The Takeaway
Finding a breast form can be overwhelming, but the right breast form can become an appreciated item that you wear every day for confidence and a sense of normalcy.
The Amoena Contact Comfort+ series of breast forms has been a beloved product for over 20 years and women continue to enjoy the comfort and security the breast forms bring to their life after breast cancer.
Browse our online inventory at Mastectomyshop.com for a wide range of high-quality breast forms from a wide variety of trusted brands. For more information about any of our products or to discuss your personal needs, call us at (877)-413-2272.